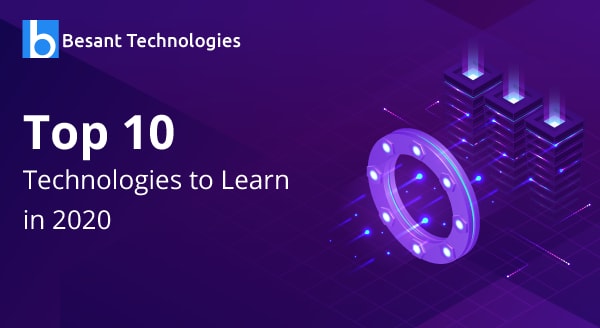 Top 10 Technologies to Learn in 2021
Top 10 Technologies to Learn in 2021
Welcome to the world of trending technology! 2021 arrives now! 2019 has given us more opportunities and life lessons to improve and mold us in the right way. 2021 is also waiting to give us more new experiences and a luxurious lifestyle. I hope this 2021 will fill you with the utmost career opportunities and will grant you an awesome salary package!
Now let's enter into the blog today! This blog, I have covered all the important or top technologies that will change your lifestyle in 2021! This blog will be a game-changer blog for most of the aspirants looking for a job.
As we all know technological advancement is improving and changing every day and we see new technologies every day. A technology today will turn out of fashion tomorrow, so it is very essential to update yourself now and then so that you will be the top preference for most of the recruiters.
Likewise, 2021 is also going to be a year of advanced technologies! Today we will discuss some of the top technologies that will rule 2021!
In this blog, you'll be detailed with the Top 10 Technologies to Learn in 2021 from 10 to 1, a crispy note and the pay scale associated with those technologies.
List of Top 10 Technologies
No.10 – Robotic Process Automation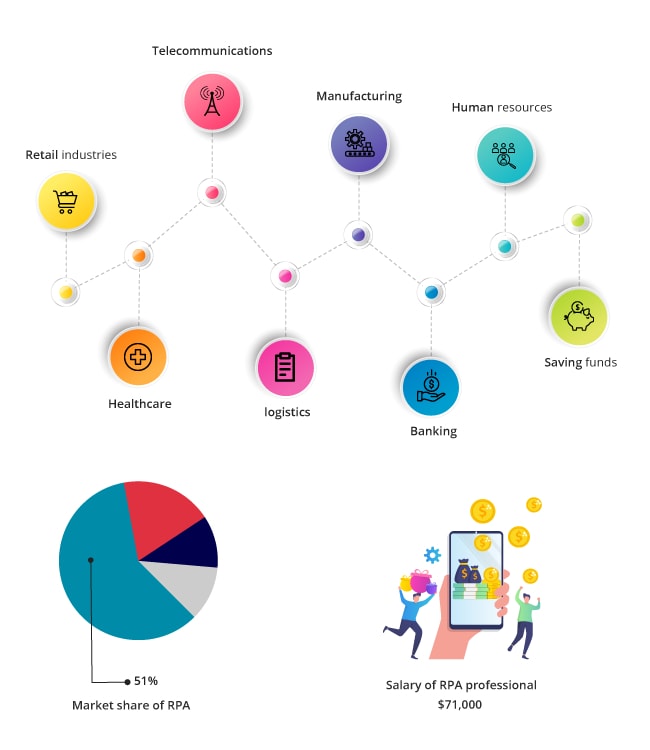 RPA or Robotic Process Automation which allows you to automate routine and repetitive tasks. RPA is gonna be an invaluable skill in 2021.
Do you know? Retail industries, healthcare, telecommunications, logistics, manufacturing, banking, human resources, saving funds, and much more business sectors are adopting RPA technology for its highly innovative and technically feasible offerings. The market share of RPA is approximately 51% and The RPA professionals are paid well with a minimum of $71,000.
No.9 – Cyber Security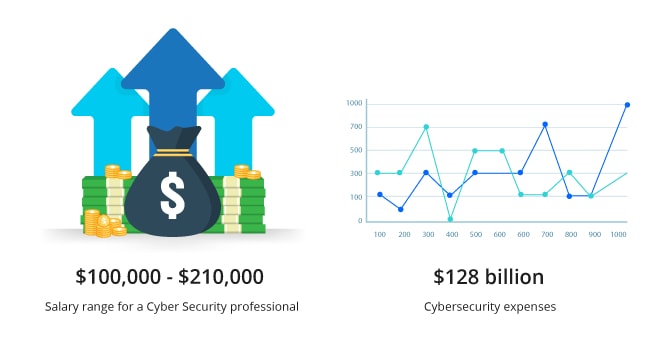 As there are many hackers in this techie field, cybersecurity has become an emerging technology in 2021. The salary range for a Cyber Security professional is $100,000 to $210,000 per year. Every organization that requires its data to be in the safe hands uses the technology of cybersecurity. In the year 2021, cybersecurity expenses will reach $128 billion. The shortage of people in this technology is creating a huge demand for persons with these skills, so boost your skill in cyber technology.
No.8 – Virtual Reality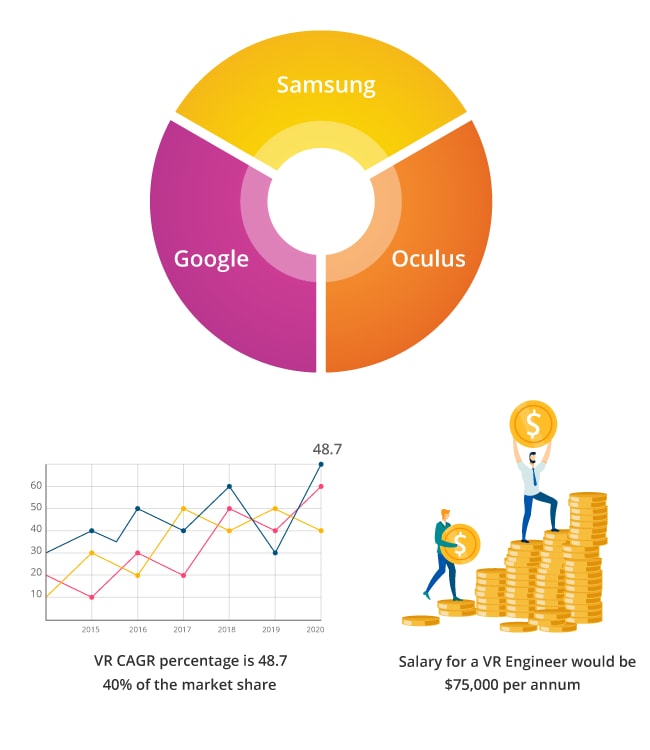 Samsung, Google, and Oculus are some of the major players in the VR market. Many startups are rising with VR and aspirants will get more job opportunities in this field in 2021. The VR CAGR percentage is 48.7, covering 40% of the market share and the starting salary for a VR Engineer would be approximately $75,000 per annum.
No.7 – Machine Learning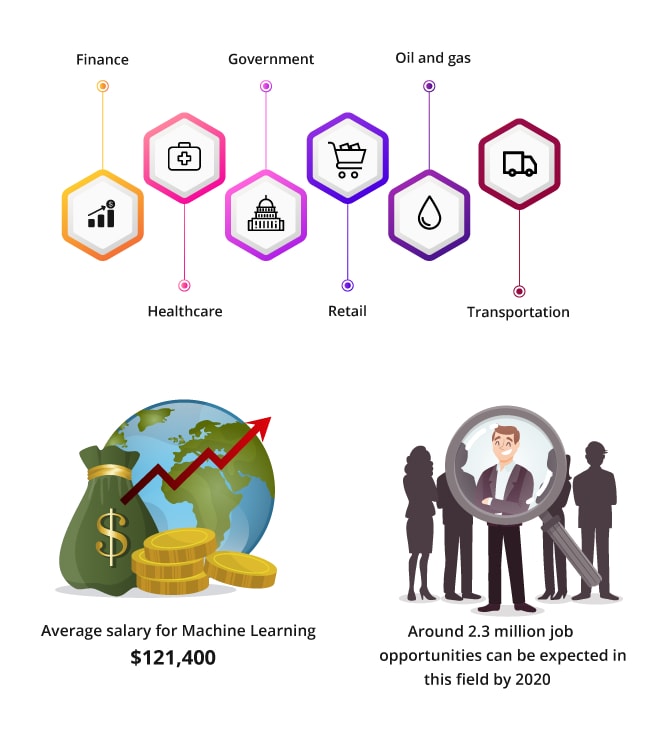 The trending technology Machine Learning is quickly deployed in many industries like finance, healthcare, government, retail, oil and gas, transportation, etc., Around 2.3 million job opportunities can be expected in this field by 2021, so never miss improvising your skills in this particular field. Machine Learning with an average salary of $121,400.
No.6 – Blockchain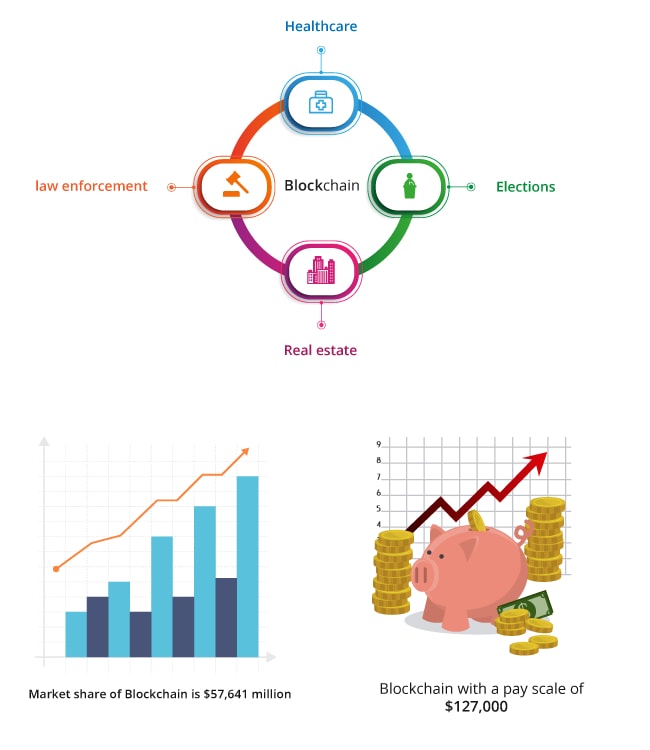 Blockchain as a technology has far-reaching potential in everything from healthcare to elections to real estate to law enforcement. This technology will help you in sharing the records safely, upgrading the supply chain management, fraud prevalent, and streamline accounting. The market share of Blockchain is expected to reach approximately $57,641 million very soon. So up-scaling your skills in this stream will give you more benefits. Blockchain with a pay scale of $127,000 as per year.
No.5 – Angular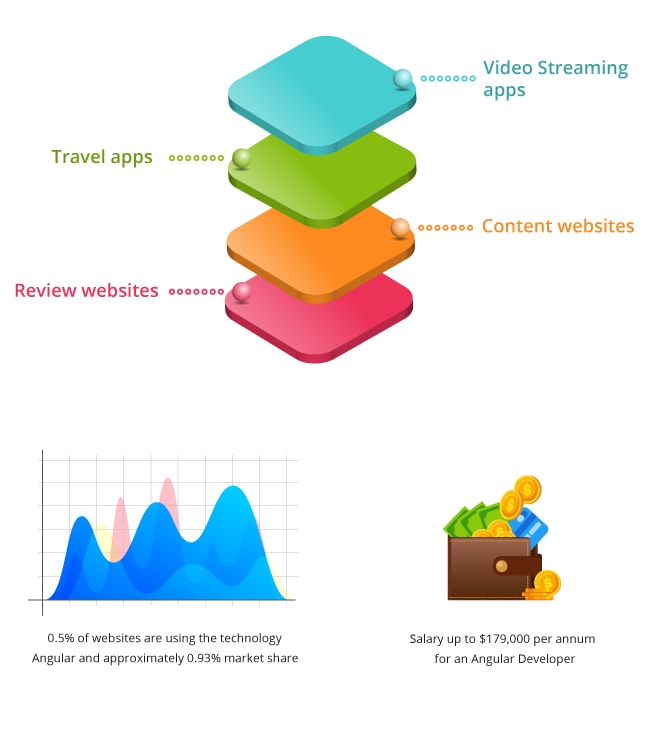 Video Streaming apps, Travel apps, content websites, and many review websites are going to be a great demand in the future and that's where Angular works out. Approximately, 0.5% of websites are using the technology Angular and approximately 0.93% market share can be seen. Also, you can expect a salary of up to $179,000 per annum for an Angular Developer.
Still, we have 4 more technologies to be briefed! Before that let me tell you something! The top 4 technology is much important for any people to experience progress in their careers and to get more challenging opportunities. So be cautious and listen to the video carefully!
N0.4 – Edge Computing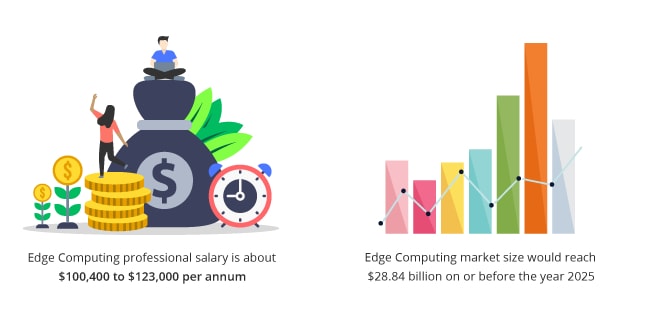 Edge Computing one of the emerging technologies. It is used to manage the present and future AI demands, avoid network latency and permits quicker responses. Microsoft, Amazon, Dell EMC, HPE, Cloudera, IBM, Hitachi Vantara, Cisco are some of the companies that rely on Edge Computing. It is expected that the global Edge Computing market size would reach $28.84 billion on or before the year 2025. An Edge Computing professional is about to get $100,400 to $123,000 per annum.
No.3 – DevOps
DevOps is a methodology more than a technology that ensures that both the development and operations go hand in hand. Tech giants such as Amazon, Netflix, Target, Walmart, Facebook and many more have adopted DevOps and delivering a superior experience to their customers. The DevOps market is projected to influence $6.6 billion on or before the year 2022 and the basic salary for a DevOps Engineer can be approximately $111,000 per annum and is expected more in 2021.
No.2 – IoT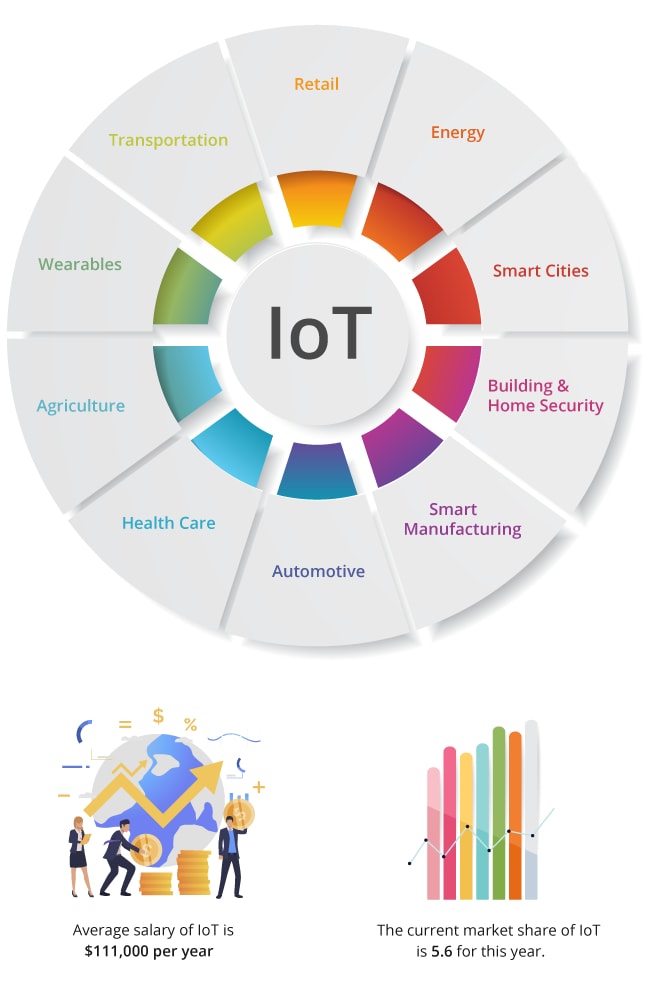 IoT – Internet of Things, IoT is a giant network of connected devices with a single monitoring center with an average salary of $111,000 per year. And, the current market share of IoT is 5.6 for this year.
These are some of the IoT Application Areas
Smart Cities
Building & Home Security
Smart Manufacturing
Automotive
Health Care
Agriculture
Wearables
Transportation
Retail
Energy
No.1 – Artificial Intelligence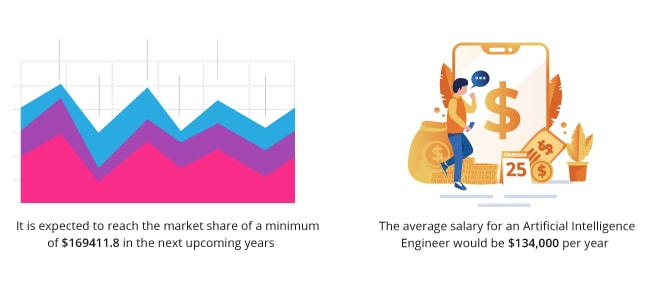 AI is everywhere today, from your smartphones to your cars to your home to your banking establishment. It is something the world cannot do without. Nvidia Corporation, Google for search results, Amazon, Microsft, Intel are some of the companies using Artificial Intelligence and it is expected to reach the market share of a minimum of $169411.8 in the next upcoming years. The average salary for an Artificial Intelligence Engineer would be $134,000 per year.
It is sure, that 2021 is going to be more exciting and interesting with numerous technologies! For further queries regarding the technologies and certification courses, you can comment on us and we will get back to you soon. Thank you for spending your time in knowing the technologies, this video will surely help you in deciding your career path. I wish you all success in the upcoming year 2021!