AngularJS Training in Chennai
Besant Technologies is the best place to learn the technologies which require the professional touch as we have the experience and knowledge to handle the corporate level challenges.PayPal, The guardian, Lego, Netflix, and lambda test are the popular products that need dynamic behavior across the devices and browsers. These products are the evidential proof for the outperformance of the AngularJS framework. Join in the AngularJS Certification Training in Chennai from Besant Technologies to create products with the knowledge of the AngularJS.
AngularJs Course in Chennai
We are the best providers of AngularJS Course in Chennai with expert guidance and fully interactive classes. We Provide Real-Time Project Based Opportunities for our Students to work in Single page Web Application design with our Trainers guidance. Everyday our instructor will give small task which will make you perfect to design Single page web based application in Angular 10 / 11 / 12. Get Trained on
from Besant Technologies a Best rated  Angularjs Training Institute in Chennai offering Real-time based practical training by Industry Experts. Call 9962528293 for fees , Syllabus , Batch Timing, Placement , Location details on the Latest AngularJS Course version of Angular 10, Angular 11 and Angular 12 Training in Chennai. Our training program is very much mixed both practical and interview point of questions. In this AngularJS Course, we will cover the basics of javascript, Angular 2, Angular 4, Angular 5 and also the latest version Angular 12.
Click Here to Check Latest Updated – AngularJS Interview Questions and Answers
About AngularJS Course
The Live training will apprehend the concepts through the syllabus which is covered with the contribution from the best trainers of the Industry at Besant Technologies. The HTML, Java script, AngularJS expressions, modules, model, directives, AngularJS controllers, data binding, scope, filters, AngularJS $http, tables, services, AngularJS SQL, DOM, forms, events, form validation, AngularJS API, CSS styles, bootstrap, AngularJS routing, AngularJS ngroute, $route provider, AngularJS controller, and AngularJS template are covered with the 80 hours of Certification Training for AngularJS.
Best AngularJS Training in Chennai
Besant Technologies is known for the best AngularJS Training in Chennai as it has built trust over the past years with a good number of efficient students. The training is conducted to achieve the objectives essential to take the career to the next level. To enter into the big corporate companies the knowledge with the real-time experience is essential to handle the complex part of the project and to coordinate with the high-level authorities in the company. Let us see the objectives of the AngularJS Training in Chennai offered by the Besant Technologies. We teach AngularJS versions 1, 2, 4 and 5, 6, 7, 8, 9 10, 11, 12 as per the request of the learners through AngularJS Certification Training in Chennai.
Use the format for the AngularJS
Use the information in the various databases
Use the API
Create the perplexing structures
Understand the information which is authoritative
Check the conditions with the injection frameworks
Maintain the security of the web application
Build the orders in the AngularJS
Use the compiler for the propelled orders and better building
Make use of the BDD for testing the web application
Use the index structure and change the web application with the right format.
Click Here to Know about → AngularJS Vs JQuery
Answer 3 Simple Questions
Get upto 30%* Discount in all courses. Limited Offer. T&c Apply.
Take Part
Syllabus of AngularJS Course in Chennai
Angular 10 / 11 / 12 Training in Chennai
Create web-based Single Page Applications using Angular 10 / 11 / 12 Versions. Learn how to make a static web page more interactive thus enhancing its user experience. Course Syllabus available below.
AngularJS Training in Chennai Syllabus
Introduction
Dynamic Binding
Directives
Controllers
Scope
Services
Factories
Expressions
Form Validations
Filters
Custom Directives
Routing
Making an API Call
Modules
Dependency Injection
Best Angular 10 / 11 / 12 Training in Chennai
Before Started with Angular 5 Topics we will give basic Overview on Angular 2/4 Versions. Learn depth knowledge in Angular Versions 2,4,5,6 in Chennai with the help of Real Time Experts. We listed below the latest version of Angular 5 Topics.
Angular 5 Training Chennai Syllabus
Section 1: Getting Started with Angular 5
Course Introduction
What is Angular
Angular vs Angular 2 vs Angular 4 vs Angular 5
CLI Deep Dive
Project Setup and First App
The Course Structure
What is TypeScript
A basic setup of Bootstrap for Styling
Section 2:  The Basics of Angular 5
Module Introduction
How an Angular App gets loaded and started
Components
Creating new Component
Understanding the role of AppModule and Component Declaration
Understanding Component Templates
Understanding Component Styles
Understanding Component Selector
Section 3: Databinding & Directive Concepts
Module Introduction
What is Databinding
String Interpolation
Property Binding
Property Binding vs String Interpolation
Event Binding
Bindable Properties and Events
Passing and Using Data using Event Binding
Two-Way Binding
Forms Module and Two Way Binding
Understanding Directives
Using ngIf and Else Conditions
Using ngStyle for Styling Angular App
Applying CSS Class dynamically with ngClass
Displaying Lists using ngFor
Section 4: Advanced Component and Databinding
Module Introduction
Dividing the App into multiple components
Property and Event Binding deep dive
Binding to custom properties
Binding to custom events
View Encapsulation
Understanding Local Reference inside Templates
Getting Access to the templates using @ViewChild.
Exploring Component Life Cycle
Life cycle hooks deep dive
Section 5: Advance Directive Concepts
Creating a basic custom attribute directive
Exploring Renderer to create a Directive
Understanding HostListener and HostBinding
Binding to Directive's Properties
Building Structural Directives
Exploring switch
Section 6: Understanding Services and Implementing Dependency Injection
Module Introduction
Why Services are required
Creating a Service
Injecting the service into components
Understanding Dependency Hierarchical Injector
Injecting a Service into other services
Section 7: Routing in Angular 5
Module Introduction
Understanding the need of a Router
Setting Up and implementing Routes
Navigating to Router Links
Understanding Router Paths
Styling Active Router Links
Understanding Navigation Paths
Styling Router Links
Navigating Dynamically
Using Relative Paths
Passing Parameters to Routes and fetching route parameters
Fetching route parameters in a Reactive Way
Passing query parameters and fragments
Understanding Nested Routes
Redirecting and Wildcard routes
Redirection Path Matching
Outsourcing the Route Configuration
Introduction to Guards
Understanding can activate
Understanding can activate child
Understanding can deactivate
Passing Static Data to a Route
Understanding Resolve Guard
Exploring Location Strategies
Section 8: Observables in Angular 5
Module Introduction
Understanding built-in Angular Observable
Creating Observables
Using a Custom observable
Unsubscribe
Using Subjects to pass and Listen to Data
Understanding Observable Operators
Section 9: Forms in Angular 5
Module Introduction
Need of Angular's help
Template Driven vs Reactive Approach
Template Driven Approach
TD: Creating the Form and Registering the controls
TD: Submitting and Using the form
TD: Understanding Form's State
TD: Accessing Form using @ViewChild
TD: Adding Validation to user input
TD: Built-in Validator and using HTML 5 Validation
TD: Understanding Form State
TD: Outputting Validation Error Messages
TD: Set Default Value with ngModel Property Binding
TD: Using ngModel and two-way binding
TD: Grouping Form Controls
TD: Using Form Data
Reactive Form Approach
 Reactive: Creating a Form in Code
Reactive: Submitting the form
Reactive: Adding Validation
Reactive: Getting Access to Controls
Reactive: Grouping Controls
Reactive: FormArray
Reactive: Custom Validators
Reactive: Exploring Error Codes
Reactive: Custom Async Validator
Section 10: Exploring Pipes in Angular 5
Module Introduction
Using Pipes
Parameterizing Pipes
Chaining Multiple Pipes
Creating a custom Pipe
Pure & Impure Pipes
Understanding the Async Pipe
Section 11: Making HTTP Requests in Angular 5
 Introduction & how HTTP request works in SPAs
Sending POST Request
Adjusting request headers
Sending GET requests
Sending PUT Requests
Response with observable operators
Catching HTTP errors
Using the async pipe with HTTP Requests
Section 12: Authentication & Route Protection in Angular Apps
 Module Introduction
How Authentication works in SPAs
Introduction to JWT
Creating a Signup Page and Route
Setting up Firebase SDK
Signing users up
Signing users in
Token introduction
Sending a token
Route protection and redirection example.
Section 13: Typescript Introduction
Module Introduction
Using types
Classes
Interface
Generics
Wrap up & Modules
Deep dive into typescripts.
Section 14: Project: This section will cover a course project where we will try to implement all the topics we covered in each session. The course project will run after the completion of each module.
Angular 9 Syllabus
TypeScript v.3
Introduction to TypeScript

Overview of TypeScript
Why TypeScript?
JavaScript vs TypeScript
Installation of tools

Installing Brackets – an IDE
Installing TypeScript using npm
Datatypes in TypeScript

Primitive Datatypes
User-defined Datatypes
Tuples and Unions
Variables and Operators
Decision Makers and Loops

if, if-else, switch statements
for, while loops
forEach in TypeScript
Functions in TypeScript

Defining and Calling a Function
Returning functions
Parameterized functions
Arrow functions
Inbuilt methods in TypeScript

String methods
Array methods
Other inbuilt methods
Oops in TypeScript

Introduction to Classes and Objects
Interfaces
Inheritance
Winding up with TypeScript

Revising the TypeScript Concepts
Bridging TypeScript to Angular
Angular 9
Introduction to Angular

What is Angular?
Features of Angular
Angular versions
AngularJS vs Angular 2+
What's new in Angular 9
Installation of tools

Installing the latest version of nodeJS
Installing Angular 9 using a node package manager (npm)
Installing an IDE like Visual studio code
Getting started with our First Angular Project

List of commands for creating, running and building a project
Create a new Angular project
The folder structure of an Angular Project
Linking bootstrap with Angular
Linking icons, fonts with the Projects
Angular Components and Modules

What are the components?
Structure of a component
Default vs custom components
Creating components manually
Creating components using npm
Calling a component
Nesting components
Execution flow of Angular applications
Component Interactions
Introduction to Modules
Navigation using Routers

Introduction to Angular routings
Nested routes
Relative path vs Absolute paths
Lazy loading modules
Pre-loading modules
Preventing unauthorized access using protected routes
Angular Templates and Directives

Angular elements
Advance concepts of components
Angular Lifecycle hooks
Structural directives
Attribute directives
Custom directives
Data Binding

Introduction to data binding
String Interpolation
Property Binding
Event Binding
Two-way data binding
Services and Dependency injection

What are Services?
Need for Services
Creating a Service
Achieving inter-component data exchange
Dependency injection in Angular
Creating an injectable service in a class
Injecting services
Angular Animations

Introduction to Angular Animations
Creating a Basic Animation
Example for Advanced Animations
Creating Re-usable Angular Animations
Angular Pipes and Maps

Introduction to Pipes
Importing and using pipes
Parameterizing pipes
Chaining pipes
Custom pipes
Creating a Filter pipe
Angular Forms

Introduction to Angular Forms
Template-driven forms
Reactive forms
TDD vs Reactive forms
Adding validations to forms
Displaying error messages
Angular Observables and RxJS

Introduction to Observables
Using observables to pass data
Type-ahead suggestions using Observables
Introduction to RxJS library
Server Interactions using HTTP

Introduction to Http Client Services
HTTP get vs post
Requesting and sending data to the server
Sending get Request
Sending put Request
Adjusting Request Headers
Deployment of the Application

Building the Application
Steps to host the application on some server
Hosting the Application
Building a Real-time Website for an Imaginary University

Creating the Project Setup
Linking BootStrap
Creating modules and grouping Components
Implementing Lazy Loading and adding Routings
Adding necessary Material Components
Completing the contents
Hosting the Website
Bonus

Introduction to Angular Material
Working with any of three External Plugins
Looking for Master your Skills? Enroll Now on Triple Course Offer & Start Learning at 24,999!
Explore Now
Upcoming Batch Schedule for AngularJS Training in Chennai AngularJS
Besant Technologies provides flexible timings to all our students. Here are the AngularJS Classes in Chennai Schedule in our branches. If this schedule doesn't match please let us know. We will try to arrange appropriate timings based on your flexible timings.
06-12-2021

Mon (Mon - Fri)Weekdays Batch 08:00 AM (IST)(Class 1Hr - 1:30Hrs) / Per Session Get Fees

09-12-2021

Thu (Mon - Fri)Weekdays Batch 08:00 AM (IST)(Class 1Hr - 1:30Hrs) / Per Session Get Fees

04-12-2021

Sat (Sat - Sun)Weekend Batch 11:00 AM (IST) (Class 3Hrs) / Per Session Get Fees

Can't find a batch you were looking for?
Corporate Training
If you want to give the Trending technology experience to your esteemed employees, we are here to help you!
Trainer Profile of AngularJS Training in Chennai
My name is Kannan. I am handling the AngularJS Course in Chennai with Besant Technologies. I have 10 years of experience in web technologies. I have experience in writing the test, use JS, HTML, and CSS, connect with external web services, handle the back end process with the Restful API, and create a front end application with high performance. Make an inquiry with Besant Technologies for the AngularJS Course in Chennai and my Demo class will create an impression to learn intensively for the joiners. The classes are conducted with own materials designed by the management and a cadre of trainers which covers the entire latest concept from the industry.
Build your resume to the latest trend, and get a chance to know our Tie-Up Companies
Placed Student's list
AngularJS Exams & Certification
Besant Technologies Certification is Accredited by all major Global Companies around the world. We provide after completion of the theoretical and practical sessions to fresher's as well as corporate trainees.
Our certification at Besant Technologies is accredited worldwide. It increases the value of your resume and you can attain leading job posts with the help of this certification in leading MNC's of the world. The certification is only provided after successful completion of our training and practical based projects.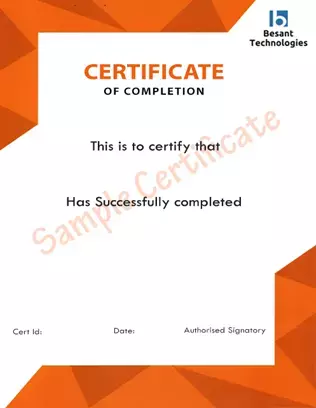 Group Discount
If you have Three or more people in your training we will be delighted to offer you a group discount.
Key Features of AngularJS Training in Chennai
30+ Hours Course Duration
100% Job Oriented Training
Industry Expert Faculties
Free Demo Class Available
Training Courses Reviews
I took Angular 4 Training in Chennai at Besant technologies Velachery. My Trainer has extensive depth knowledge in Angular 4 Syllabus he trained me well in a practical manner. Now I have the confidence to attend any interviews on Angular 4. Thanks to Besant technologies.
Ramesh
 I Completed Angular 4 Classes in Chennai at the Tambaram branch. I really say thanks to my trainer for his real-time oriented Training on Angular 4/5/6. If you are looking for Best Angularjs Training institutes in Chennai Tambaram I would recommend you to reach Besant technologies.
Ramya
Currently, I am working as a javascript developer So I want to update my skill in Angular 4, Angular 5 and Angular 6. My Friend refers to the Besant technologies OMR branch for angularjs Course. I joined in last June month now I got a job in Angularjs in HCL Chennai. Thanks to the Besant technologies omr branch.
Vignesh
Friends if anyone looking for angular js training near T.Nagar location then you can easily choose besant technologies T.Nagar Branch. Really they Provide good and placements Oriented Course Syllabus for Angular 2 & 4 Versions. Thanks, Besant technologies T.Nagar Branch.
Sundar
Frequently Asked Questions
Besant Technologies offers 250+ IT training courses in more than 20+ branches all over India with 10+ years of Experienced Expert level Trainers.
Fully hands-on training
30+ hours course duration
Industry expert faculties
Completed 1500+ batches
100% job oriented training
Certification guidance
Own course materials
Resume editing
Interview preparation
Affordable fees structure
Besant Technologies is the Legend in offering placement to the students. Please visit our Placed Students List on our website.
More than 2000+ students placed in last year.
We have a dedicated placement portal which caters to the needs of the students during placements.
Besant Technologies conducts development sessions including mock interviews, presentation skills to prepare students to face a challenging interview situation with ease.
92% percent placement record
1000+ interviews organized
Our trainers are more than 10+ years of experience in course relavent technologies.
Trainers are expert level and fully up-to-date in the subjects they teach because they continue to spend time working on real-world industry applications.
Trainers have experienced on multiple real-time projects in their industries.
Are working professionals working in multinational companies such as CTS, TCS, HCL Technologies, ZOHO, Birlasoft, IBM, Microsoft, HP, Scope, Philips Technologies, etc…
Trained more than 2000+ students in a year.
Strong theoretical & practical knowledge.
Are certified professionals with high grade.
Are well connected with hiring HRs in multinational companies.
No worries. Besant technologies assure that no one misses single lectures topics. We will reschedule the classes as per your convenience within the stipulated course duration with all such possibilities. If required you can even attend that topic with any other batches.
Besant Technologies provides many suitable modes of training to the students like
Classroom training
One to One training
Fast track training
Live Instructor LED Online training
Customized training
You will receive Besant Technologies globally recognized course completion certification.
Yes, Besant Technologies provides group discounts for its training programs. To get more details, visit our website and contact our support team via Call, Email, Live Chat option or drop a Quick Enquiry. Depending on the group size, we offer discounts as per the terms and conditions.
We accept all major kinds of payment options. Cash, Card (Master, Visa, and Maestro, etc), Net Banking and etc.
Please Contact our course advisor+91-8099 770 770. Or you can share your queries through info@besanttechnologies.com