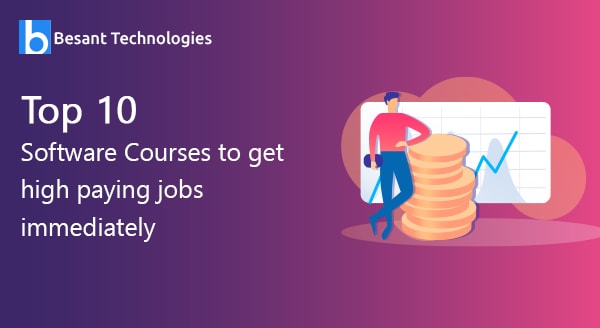 Which software Course is the Best to Get a High Paying Job Quickly?
What profession do you think has caught the attention of all students?
Yes, it is the software profession. The software industry has been emerging as a giant in recent decades. Being a huge industry that facilitates employment, there are a wide variety of software courses for the youngest available to choose as a profession. Here in this blog, we'll look at the 10 best software courses for an immediate job with high salary package.
Top 10 Software Courses to Get High Paying  Jobs Quickly:
1 AWS Course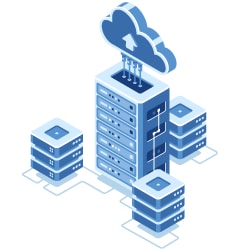 Amazon Web Service course is designed to teach the solution architect how to optimize the use of AWS Cloud by understanding AWS services and how these services are tailored to cloud-based solutions. Because architectural solutions may vary by industry, application type, and company size, this course emphasizes AWS Cloud best practices and recommended design patterns to help students think about the optimal AWS design process solutions.
2 Core JAVA And J2EE Course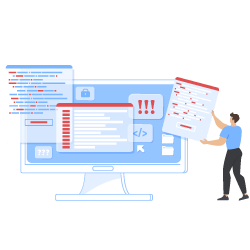 Java is one of the most powerful and secure programming languages available on the market that was created more than 20 years ago. From large supercomputers to cell phones, millions of applications run on the Java platform. Java was introduced more than two decades ago and is still considered a perennial programming language in the software development industry for its portable, secure and robust features. There is a great demand for Java and J2EE developers to develop new applications as well as to maintain the old applications developed in Java.
3 Selenium Course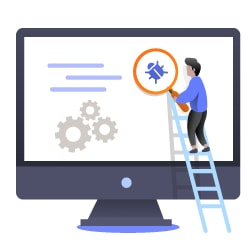 Selenium is an automation test framework that is used to test web-based applications. Selenium is open-source and can run parallel scripts. Selenium allows users to write test scripts in various programming languages, such as Perl, PHP, Java, C #, etc., although Java is the most popular and widely used programming language with Selenium. Selenium can be installed on different operating systems, such as Windows, Linux, and Macintosh. Selenium is compatible with all major browsers.
4 Python Course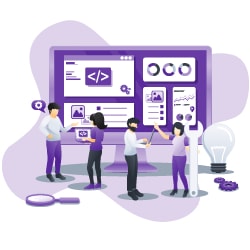 Python is an object-oriented, high-level, multi-functional language. Python is very easy to learn and can be interpreted in a greater number of operating systems, including Unix-based systems. Python makes debugging easier because there are no build steps in Python development and the test debug cycle is very fast.
5 Hadoop Course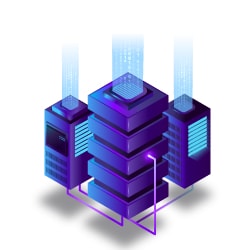 Hadoop is an open-source Apache project that is used to store and process large volumes of unstructured data in a distributed environment. Hadoop can scale from a single server to thousands of servers. The Hadoop framework is used by big giants like Amazon,  IBM, New York Times, Google, Facebook, Yahoo, and the list grows day by day. Due to the increased investments that companies make for Big Data, the need for Hadoop developers and data scientists who can analyze data increases day by day.
6 Android Course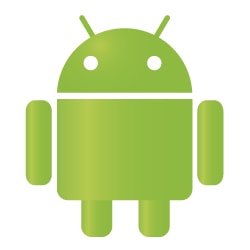 Android is a Linux-based operating system developed primarily by Google for smartphones and tablets. Due to the powerful features of Android, it is now used to develop applications on TV, digital cameras, and other electronic devices. Android is the most popular mobile application development platform used by more than 71% of smartphone application developers. Android is used on more than one billion mobile devices. Due to the immense reach of Android, there is a great demand for Android programmers.
7 Digital Marketing Course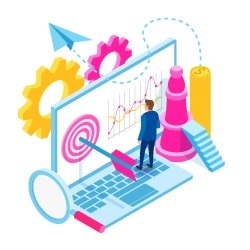 Digital marketing is the promotion of products, services or brands through digital marketing channels. The main goal is to promote brands, increase online presence, brand reputation and increase sales through several successful digital marketing campaigns. It includes the use of various services, tools and marketing strategies, which are primarily Internet-based as the primary means of promotion, as well as mobile, electronic mail, electronic billboards, wireless text messaging, digital television, radio channels, etc.
8 Oracle Course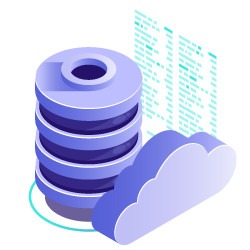 Oracle Corporation offers enterprise application products and is the leading platform provider for database management systems used by multiple multinationals in diversified market sectors. Structured Query Language (SQL) is the set of statements with which all programs and users access data in an Oracle database. Application programs and Oracle tools often allow users access to the database without using SQL directly, but these applications, in turn, must use SQL when executing the user's request. This chapter provides background information on SQL as used by most database systems.
9 Web Design Course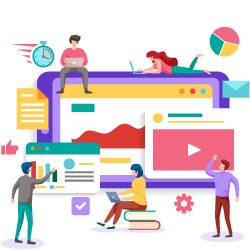 All businesses need websites to reach their customers. More and more web applications are being developed using programming languages like PHP. There will be around 70 crores Internet-enabled mobile phones by 2021*. This shows that digital customers' appetite for rich content continues to grow. This growth will lead to an increase in the number of jobs and high demand for trained and skilled graphic designers, web designers, and developers. You can be one of these in-demand professionals. Learn to design & develop creative graphics for websites, digital ads, and print & publishing with Arena's Graphics, Web Design & Development program.
10 Informatica Course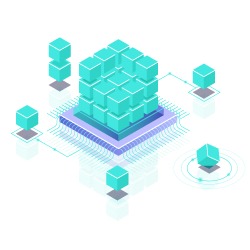 Informatica is a software development company in California, USA. UU. It offers products for ETL, data quality, data masking, data virtualization, data replication, master data management, etc. The Informatica Information Center is the most advanced Enterprise Data Integration Suite, an ETL tool used to extract data from multiple sources, transform and load data into a specific goal. This tool is mainly used for data integration that provides the competence to connect and obtain data.
Conclusion:
With so many career-oriented software course options for freshers, you're bound to have a good career in the coming years. The jobs mentioned above have a great scope of development and will surely see a great hike in the pay scale too. The job seekers will benefit from these software courses. The Information technology sector is expanding its wings and offering high job prospects to aspiring individuals.
If you are a look-out for the Best Software Training Institute in Chennai or Bangalore to sharpen your skills then make the right choice by joining Besant Technologies. Call +91-8099 770 770 to know further.