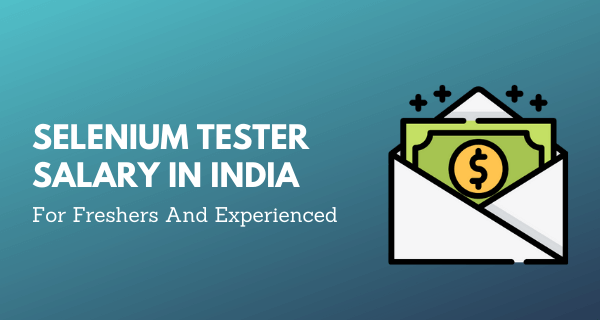 Selenium Tester Salaries In India For Freshers And Experienced
The Growing Selenium Job Market & Salaries
Put simply, selenium is a web-based tool used for software testing. And of note is the fact that it's leading in the software testing tool market for quite some time now. With unprecedented growth in the software industry, simultaneous growth in the need for testing software programs is only obvious. And this explains why the demand for selenium experts might not dip in the times to come. If you want to build your career in the field of IT, then selenium testing can be an area worth focusing your attention on. With a selenium job, you won't just receive fulfilling work experience, but will also make an impressive earning. After all, the Selenium tester salaries in India for freshers and experienced are considerably high at almost all ranks.
Why enroll for a selenium certification right away?
Selenium is a licensed open-source tool that is way ahead of its competitors. It's a framework with which automation of applications is done in a highly efficient manner. What makes it so popular is undoubtedly its impeccable features, which we discuss here one by one. Read on-
It is an extremely flexible tool when it comes to regression / functional testing.
Selenium facilitates the use of different programming languages such as Ruby, Java, C++, and python in writing tests.
Cross-browser testing is a breeze with selenium. That means, test case implementation can be done across browsers, that too multiple times, effortlessly.
Selenium's growing impact in the area of software testing
Software testing is a dynamic area. That is why it's no surprise that it keeps on facing challenges every now and then. Even testers encounter roadblocks. Since manual testing is a cumbersome process, and testers have to tackle multiple challenges while manually testing applications, automation feels like a gush of fresh air. Test automation has invariably proved to be a boon for all testers.
An important point that you need to note here is that DevOps, open-source innovation and agile development have heavily contributed towards an unhindered evolution of the testing environment. Interestingly, when it comes to continual development and delivery, selenium has built an image of itself as a reliable automation tool. With benefits like speed, cost-effectiveness, and compatibility, it has successfully made its mark in a domain that is ever so competitive.
Why selenium is a thing of the future?
Selenium, undoubtedly, is a promising automation testing tool for the times to come. Here, you find all the reasons that make us say so. Find out-
As mentioned above, it is an open-source framework. That means anybody can download it without paying a fee. The open-source nature of this testing tool makes it ideal for long- term consideration for both testers and stakeholders looking to limit testing costs. Starting from small firms to large enterprises and independent quality analysts, almost everyone can benefit from this tool.
Selenium is extremely versatile. Meaning, it supports most operating systems and web browsers that are out there. As a result, it becomes easy for testers to check the performance of their apps on any popular platform. The list of supported browsers and operating systems includes Safari browsers, Opera, IE, Chrome, Firefox; iOS operating systems, Android, HtmlUnit, Solaris, Windows, and Linux.
Selenium also offers immense flexibility with respect to programming languages. Meaning, testers can use any language of their choice to write scripts. Some of the languages that selenium supports are PHP, Perl, Java, and Ruby.
Editing, debugging, and recording tests is a breeze with selenium IDE.
The scope
Speaking of the best automation testing tools in the market, selenium automation testing is aggressively leading the pack. Since it's free to download and use, anybody interested can choose to learn it in order to prepare for high-paying jobs in leading organizations. The scope in the field of selenium testing is indeed wider and the future is bright. Hence, it can help you build a successful IT career. In case, you want to learn about selenium web driver scripts and its frameworks, then there are specialized selenium courses that you can enroll yourself with. The bottom line? Qualified test automation engineers shine bright in their careers.
Skills that can help you shape an enviable testing career-
If you have decided to take up testing as a career, then learning the following technical skills will not just add feathers to your cap but will also help you get the best Automation tester salary in India. Read on-
To facilitate data validation, knowledge in Oracle and MySQL proves beneficial. And this holds true because software programs have huge amounts of data in the background.
If you are a tester, then having a grip on Linux commands could prove extremely helpful in your work as well as your career in totality.
Having theoretical knowledge is not enough to be a good tester, you also need to have hands-on experience with a testing tool such as selenium.
To do well in your testing career, it is important that you have some knowledge of scripting languages. Some languages that come really handy are VBScript, JavaScript, C#, Shell, and Perl.
Test management tools and techniques are an integral part of testing. In fact, the success of a software process might depend on the appropriateness of the test management techniques used.
Although it is important that you have command of the above-mentioned skills, it is not absolutely necessary to be a master in all of them. But bear in mind that this is the suite  of skills that you might need to do impressively well in your career as a tester.
Now, that we have discussed all the critical aspects of a career in selenium testing, let's get to the money part. But before digging deeper, we will have to know what responsibilities Test Automation Engineers or Senior Quality Assurance (QA) Engineers need to shoulder. Let's find out.
What Do Senior Quality Assurance (QA) / Test Automation Engineers Do?
First, a general overview of what they do-
Senior quality assurance and test automation engineers are responsible for designing applications meant for converting manual test preparation into an automated process. Their main aim is to automate manual test preparation.
Test automation engineers generally work in teams. The first work in association with the test leads so that challenges linked to the test automation process can be identified. They then join hands with the test designer so as to have a hang of all specific requirements of the test. They also need to be on the same page with the developer who creates the application that is undergoing testing.
Basically, these engineers have to work hand in hand with a lot of people engaged in the testing process, so that there are no glitches, and outcomes are favorable.
Note that competent test automation engineers know the right time to put automated solutions into use, and they know their correct order.
Now, a detailed explanation-
Test automation engineers handle a lot of responsibilities; and the responsibilities may vary based on the current phase of the testing process. The first phase of testing is the unit test phase where application code is utilized by the test automation engineer. The phase that follows it is referred to as the function and system test. In this phase, the efficiency and speed of the test preparation process are enhanced by automated solutions developed by test automation engineers.
Next is the acceptance test. This follows more or less the same process as the other two phases. Whenever changes are required, the test designer is notified so that they can review the required improvements and make changes.
Tasks handled by a Senior Quality Assurance (QA) / Test Automation Engineer
Automation and improvement of software configuration and test strategies.
They track and fix issues linked to the software by defining test strategies and test manuals.
Diagnose bugs and other issues by developing and executing test cases.
They don't just define but also communicate best practices.
From the discussion above, we have developed a sufficient understanding of selenium testing as a job profile, and its working as a process. Hence, now we will check out the Selenium tester salaries in India for freshers and experienced so that it gets easy deciding whether or not this job is worth your effort.
Selenium automation testing salary– Exploring how certain factors impact the figures
It's worth noting here that Selenium tester salaries in India vary widely based on different working conditions. For instance, a person working in Kolkata might not receive the same compensation as someone who is employed in Mumbai. So here, we will try to find out what factors influence selenium automation testing salary and how much the salary figures change on the basis of such factors
When it comes to compensation, Synechron Technologies definitely leads the pack by offering an average of INR 1 m per year to its employees. Sapient Corporation follows Synechron Technologies close behind and it's average yearly compensation to its employees is pegged at 970k. Capgemini can also be counted among the top paying companies with its yearly offering of 925k. The next in the list is Cognizant Technology Solutions Corp which offers a decent payout of INR 767k per year to Senior Quality Assurance (QA) / Test Automation Engineers. Tata Consultancy Services Limited pays its employees somewhere around INR 761k annually. Accenture stands next to Tata with its annual offering of 750 k. Infosys Limited and Wipro Technologies Ltd. lag behind as they offer INR 731k and 573 k respectively to their test automation engineers.
The skills in your kitty-
If you boast of amazing Test Automation skills, then you can expect to draw somewhere around  INR 916,176 a year, on average. With Automation Scripting skills, employers would readily offer you about INR 897,910 annually. While Java skills can help you bring home a yearly average compensation of INR 876,974; thorough knowledge in Quality Assurance / Quality Control can make you eligible for a mean yearly compensation of around INR 846,861. Strengthen your grip on GUI Test Automation, and you will be able to draw close to INR 895,295 a year.
Experience is also a critical factor that impacts salaries in this field. A Senior Quality Assurance (QA) / Test Automation Engineer in the early stages of his career, with an experience of 1 to 4 years, can expect to draw an average yearly salary of INR 662, 335. And this includes bonuses, tips, and overtime payments. Senior automation tester salary with mid-level experience i.e. an experience of around 5 to 9 years, is eligible for a compensation of INR 973,246 a year, on average. The mean salary of a senior automation tester, having an experience of about 10 to 19 years, is close to INR 1,540,558, which is indeed impressive.
The location of employment-
The mean salary of a Senior Quality Assurance (QA) / Test Automation Engineer in India, having skills of Selenium Automated Test Tool is INR 889,304. So, this can be regarded as the national average. So far, we have discussed average Selenium tester salaries in India for freshers and experienced based on factors such as experience, skills, and employers. Now, we will see how salaries surpass or lag behind the natural average, based on employment location.
In Bangalore, selenium tester salary is 9.3% more than the national average. And that's outright impressive. While in Pune, it is 7.1% more than the average, it is 5.7% higher in Gurgaon. In Noida, the mean salary of test automation engineers lags behind the national average by 17.5%, whereas in Chennai, it's 15.6% less. Senior automation tester salary in Hyderabad fails to touch the national average mark by 10.5%. And Mumbai figures are 5% lower. One thing that you need to keep in mind here is that being lower than the national average doesn't make compensations straight-out poor. Salaries, after all depend directly on the cost of living in a city. Hence, it's natural for compensations to be slightly lower in less expensive cities and towns.
Final words
The discussion above points at the fact that selenium can be a valuable addition to your resume if you want to offer upward thrust to your IT career. Selenium tester salaries in India for freshers and experienced are indeed impressive despite being dependent on so many factors. Hence, enroll yourself with a selenium certification course right away and boost your value in the IT job market.