Best Java Training in Marathahalli Bangalore
If you are looking for Java Training in Marathahalli Bangalore, that meets your expectations and works beyond even that, then Besant Technologies is a one-stop-shop for all your Java Training in Marathahalli Bangalore needs like Online Training, Corporate training, and Classroom Java Training in Marathahalli Bangalore. Our Java Unique Syllabus designed by Java Expert. Where you can see yourself transforming from just a novice learner to an experienced individual as well as a value creator.
Get Best Java Training in Marathahalli with free Course Materials, Backup Classes, 60hrs Hands-on Training, Real-time Faculty, Live Project and 24/7 lab facility.
Java Training in Marathahalli Bangalore
There are a bunch of institutes outside there for Java Training in Marathahalli area, but choosing the best is a difficult decision to make. We can help you out for making this decision much easier. We are the best institute for Java Training in Marathahalli Bangalore having a team of Experienced Trainers. Our course contents are constantly upgraded and aligned with the changing industry needs, so as to equip our students with latest evolving tools and technologies, which in turn increases their job readiness matching the industry requirements. Continuous post-training placement assistance is provided to students to help getting them onboard to their first job.
Why Java Training in Bangalore Marathahalli at Besant technologies?
We minimize the number of students in each batch to get a grasp of every student and concentrate on his/her strong and weak points, so that not a single student is left behind. We have weekdays and weekend batches as well. Different time slots are available as per students needs. We charge very fair and less fee as compared to other institutes outside there in the market. We believe in quality training at less cost and at your convenience.
These days Java is finding its place freshers, C and C++, Linux, Operations, Technical Support and other related professions and fields along with other emerging technologies and tools like Big Data, Data Science, Python, IOT, AWS, Devops among others.
Answer 3 Simple Questions
Get upto 30%* Discount in all courses. Limited Offer. T&c Apply.
Take Part
Syllabus of Java Training in Marathahalli
A First Look
A Simple Java Class
Java's "Hello World" Program
Java Basics
Language and Platform Features
Program Life Cycle
The Java SE Development Kit (JDK)
Class and Object Basics
The Object Model and Object-Oriented Programming
Classes, References, and Instantiation
Adding Data to a Class Definition
Adding Methods (Behavior)
More on Classes and Objects
Accessing data, the "this" variable
Encapsulation and Access Control, public and private Access
Constructors and Initialization
static Members of a Class
Scopes, Blocks, References to Objects
Flow of Control[briefly due to attendee experience]
Branching: if, if-else, switch
Iteration: while, do-while, for, break, continue
Strings and Arrays
String, StringBuffer, StringBuilder
Arrays, Primitive Arrays, Arrays of Reference Types
varargs
Packages
Package Overview – Using Packages to Organize Code
import statements
Creating Packages, package Statement, Required Directory Structure
Finding Classes, Packages and Classpath
Composition and Inheritance
Using Composition to Deal With Complexity
Composition/HAS-A, Delegation
Using Inheritance and Polymorphism to share commonality
IS-A, extends, Inheriting Features, Overriding Methods, Using Polymorphism
Class Object
Abstract Classes
Interfaces
Using Interfaces to Define Types
Interfaces and Abstract Classes
Exceptions
Exceptions and the Exception Hierarchy
try and catch
Handling Exceptions
Program Flow with Exceptions
finally
JDBC
JDBC basics
JDBC Architecture
Using JDBC drivers & DriverManager
Class Connection and connecting to a database
Class Statement and executing SQL statements
Other statement types
Driver types
Java Collections and Generics
The Collections Framework and its API
Collections and Java Generics
Collection, Set, List, Map, Iterator
Autoboxing
Collections of Object (non-generic)
Using ArrayList, HashSet, and HashMap
for-each Loop
Processing Items With an Iterator
More About Generics
The Java Streams Model
Delegation-Based Stream Model
InputStream and OutputStream
Media-Based Streams
Filtering Streams
Readers and Writers
Working with Files
File Class
Modeling Files and Directories
File Streams
Random-Access Files
Advanced Stream Techniques
Buffering
Data Streams
Push-Back Parsing
Byte-Array Streams and String Readers and Writers
Java Serialization
The Challenge of Object Serialization
Serialization API
Serializable Interface
ObjectInputStream and ObjectOutputStream
The Serialization Engine
Transient Fields
readObject and writeObject
Externalizable Interface
Conclusion
J2EE Training Syllabus in Bangalore
Java EE Introduction
Java EE Overview
Java EE Technologies
Java EE Architecture
MVC
Servlets and JSP with the JSP Standard Tag Library (JSTL)
Web Application Basics

How the Web works, Thin Clients, TCP/IP
HTTP overview, Brief HTML review
Overview of Java EE, servlets & Web applications.
Servlet Basics

Servlet API

HTML Forms
HTTP: Request-response, headers, GET, POST
Overview: How Servlets Work

Servlet Lifecycle: init(), service(), destroy()
Requests and responses

Core Servlet API: GenericServlet, ServletRequest, and ServletResponse
HTTP Servlets: HttpServletRequest, HttpServletResponse and HttpServlet
Accessing Parameters

Additional Servlet Capabilities

HTTP headers and MIME types
RequestDispatcher: Including and forwarding
Sharing data with the request object attributes
Sharing data with ServletContext attributes
Error Handling

JavaServer Pages

Basics and Overview

JSP architecture
JSP tags and JSP expressions
Fixed Template Data
Lifecycle of a JSP

Model View Controller (MVC)

Model 1/Model 2 Architecture

Data Sharing among servlets & JSP

Object scopes or "buckets"
Request, application, session and page scope
Predefined JSP implicit objects (request, session, application, page)
‹jsp:useBean›
‹jsp:getProperty›, ‹jsp:setProperty›
‹jsp:include›, ‹jsp:forward›

Using Custom Tags

Custom tags overview
Reducing JSP complexity
Tag Libraries

Tag Library Descriptor (TLD)
Loading a tag library in a web app

The JSTL
JSP Expression Language (EL)
Using custom tags

The c:url, c:param, c:forEach, c:out tags

More JSP Capabilities and Session Management

HTTP as a stateless protocol
Hidden form fields
Cookies: Overview, API, Using cookies
Session overview: Cookies and session tracking
HttpSession

Putting data into a session object
Retrieving data from a session object

Using session data in servlets and JSPs
Additional JSP Capabilities

Exception handling and error pages
Directives (page, include, others)

Import declarations
Multithreading considerations and data safety

SingleThreadModel interface

Additional JSP Capabilities

JSP Directives
JSP Error Pages
JSP and Java

Declarations, Scriptlet overview, Scriptlet syntax

More JSTL

Overview of JSTL libraries
The JSTL Expression Language

Expressions, Type Coercion, Operators, String concatenation, Implicit Objects

The Core JSTL Library

General Purpose: c:out, c:set, c:catch
Conditional: c:if, c:choose,

Overview of other capabilities

Additional Topics

Servlet Filter overview

Filtering examples, lifecycle, & filter chains
Filter API, Modifying a request, Modifying a response
JDBC
Introduction

Relational Database and JDBC Overview

Overview, Table Relationships, Web Based Data Access, JDBC Characteristics

JDBC Architecture, JDBC API Overview

DriverManager, JDBC Drivers
Naming databases with JDBC URLs

Connecting to a database

Connection interface, Establishing a connection

DataBaseMetaData
Handling Database Exceptions

Data Access

DAO – Data Access Objects, O-R Mapping, Value Objects
Processing Database Data

Executing statements, precompiled statements and stored procedures
Processing ResultSets,
Dealing with Null data
Updating, inserting, retrieving data
Controlling Transactions

JDBC Driver Types
DataSource

Java EE and DataSource, Using JNDI

Connection Pooling

Overview, Usage, Advantages
Component Integration
Database Integration

Web Architecture choices
Connecting servlets to a database via DataSource

Other Technologies

XML and Web Services
JMS – Java Message Service

Labs

Accessing a database from a servlet
Accessing an EJB from a servlet
Looking for Master your Skills? Enroll Now on Triple Course Offer & Start Learning at 24,999!
Explore Now
Upcoming Batch Schedule for Java Training in Marathahalli Bangalore
Besant Technologies provides flexible timings to all our students. Here are the Java Training Classes in Marathahalli Bangalore Schedule in our branches. If this schedule doesn't match please let us know. We will try to arrange appropriate timings based on your flexible timings.
04-12-2021

Sat (Sat - Sun)Weekend Batch11:00 AM (IST) (Class 3Hrs) / Per SessionGet Fees

Can't find a batch you were looking for?
Corporate Training
If you want to give the Trending technology experience to your esteemed employees, we are here to help you!
Trainer Profile of Java Training in Marathahalli
Our Trainers provide complete freedom to the students, to explore the subject and learn based on real-time examples. Our trainers help the candidates in completing their projects and even prepare them for interview questions and answers. Candidates are free to ask any questions at any time.
More than 7+ Years of Experience.
Trained more than 2000+ students in a year.
Strong Theoretical & Practical Knowledge.
Certified Professionals with High Grade.
Well connected with Hiring HRs in multinational companies.
Expert level Subject Knowledge and fully up-to-date on real-world industry applications.
Trainers have Experienced on multiple real-time projects in their Industries.
Our Trainers are working in multinational companies such as CTS, TCS, HCL Technologies, ZOHO, Birlasoft, IBM, Microsoft, HP, Scope, Philips Technologies etc
Build your resume to the latest trend, and get a chance to know our Tie-Up Companies
Placed Student's list
Java Exams & Certification
Besant Technologies Certification is Accredited by all major Global Companies around the world. We provide after completion of the theoretical and practical sessions to fresher's as well as corporate trainees.
Our certification at Besant Technologies is accredited worldwide. It increases the value of your resume and you can attain leading job posts with the help of this certification in leading MNC's of the world. The certification is only provided after successful completion of our training and practical based projects.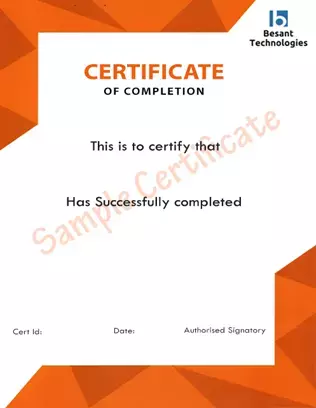 Group Discount
If you have Three or more people in your training we will be delighted to offer you a group discount.
Key Features of Java Training in Marathahalli
30+ Hours Course Duration
100% Job Oriented Training
Industry Expert Faculties
Free Demo Class Available
Training Courses Reviews
I would like to highlight a few points about my association with Besant Technologies. The faculty members out here are super supportive. They make you understand a concept till they are convinced you have gotten a good grip over it. The second upside is definitely the amount of friendliness in their approach. I and my fellow mates always felt welcome whenever we had doubts. Thirdly, Besant offers extra support to students with a weaker understanding of the field of IT.
Siva Kumar
When I joined Besant Technologies, I didn't really expect a lot from it, to be extremely honest. But as time went by, I realised I got from Besant Technologies exactly what I wanted- a healthy environment for learning. Cordial teachers and their valuable lectures make understanding things so much easy. I thank Besant for having been so supportive throughout the course.
Daniel
Frequently Asked Questions
Besant Technologies offers 250+ IT training courses in more than 20+ branches all over India with 10+ years of Experienced Expert level Trainers.
Fully hands-on training
30+ hours course duration
Industry expert faculties
Completed 1500+ batches
100% job oriented training
Certification guidance
Own course materials
Resume editing
Interview preparation
Affordable fees structure
Besant Technologies is the Legend in offering placement to the students. Please visit our Placed Students List on our website.
More than 2000+ students placed in last year.
We have a dedicated placement portal which caters to the needs of the students during placements.
Besant Technologies conducts development sessions including mock interviews, presentation skills to prepare students to face a challenging interview situation with ease.
92% percent placement record
1000+ interviews organized
Our trainers are more than 10+ years of experience in course relavent technologies.
Trainers are expert level and fully up-to-date in the subjects they teach because they continue to spend time working on real-world industry applications.
Trainers have experienced on multiple real-time projects in their industries.
Are working professionals working in multinational companies such as CTS, TCS, HCL Technologies, ZOHO, Birlasoft, IBM, Microsoft, HP, Scope, Philips Technologies, etc…
Trained more than 2000+ students in a year.
Strong theoretical & practical knowledge.
Are certified professionals with high grade.
Are well connected with hiring HRs in multinational companies.
No worries. Besant technologies assure that no one misses single lectures topics. We will reschedule the classes as per your convenience within the stipulated course duration with all such possibilities. If required you can even attend that topic with any other batches.
Besant Technologies provides many suitable modes of training to the students like
Classroom training
One to One training
Fast track training
Live Instructor LED Online training
Customized training
You will receive Besant Technologies globally recognized course completion certification.
Yes, Besant Technologies provides group discounts for its training programs. To get more details, visit our website and contact our support team via Call, Email, Live Chat option or drop a Quick Enquiry. Depending on the group size, we offer discounts as per the terms and conditions.
We accept all major kinds of payment options. Cash, Card (Master, Visa, and Maestro, etc), Net Banking and etc.
Please Contact our course advisor+91-8767 260 270. Or you can share your queries through info@besanttechnologies.com