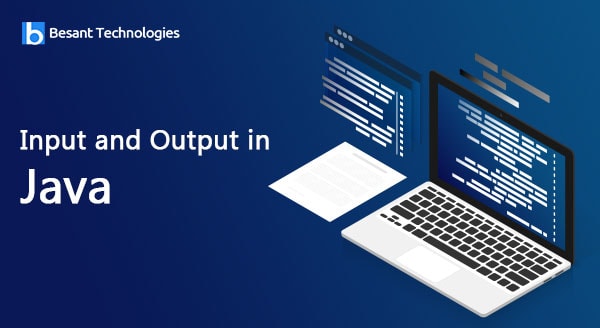 Input and Output in Java
Input and Output in Java
We have 2 types Input and Output streams in Java

Byte IO Streams
Character IO Streams
Example for the Byte IO Streams are FileInputStream and FilerOutputStream
Example for the Character IO Streams are FileReader and FileWriter
We have three types of Standard IO redirectors

Input – System.in – To accept the input
Output – System.out – To print the output on console
Error – System.err – To print the Error information to console.

For reading input from the console Scanner class will help. It is belongs to the until package of Java.
Example:
import java.util.*;
public class Main
{
            public static void main(String[] args) {
                        Scanner s = new Scanner(System.in);
                        System.out.println("Enter a number");
                        int x=s.nextInt();
                        System.out.println(x);
                        System.out.println("Enter a Strinng");
                        String str = s.next();
                        System.out.println(str);
            }
}
Java Input and Output Example:
Example:
import java.util.*;
public class Main
{
            public static void main(String[] args) {
                        FileInputStream fi = null;
                        FileOutputSream os = null;
                        try{
                            in = new FileInputStream("one.txt");
                            os = new FileOutputSream("two.txt");                         
                            int c;
                            while((c=in.read())!=-1){
                                out.write(c);
                            }
                            finally{
                                if(in != null){
                                    in.close();
                                }
                                if(os != null){
                                    os.close();
                                }
                            }
                        }
            }
Click Here-> Get Java Training with Real-time Projects