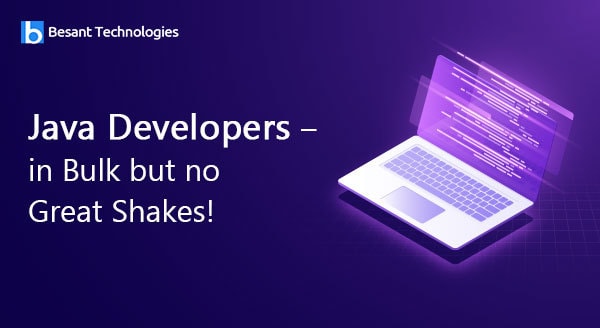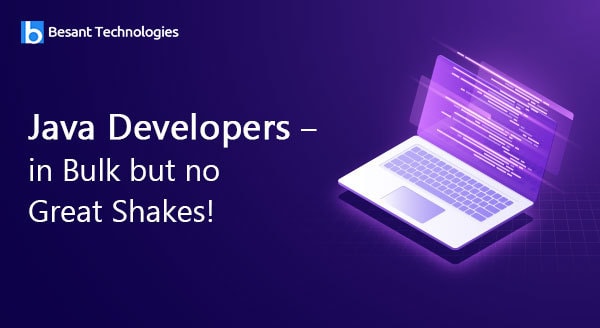 Java Developers – in Bulk but no Great Shakes!
We all know that today's 21st century is running with the lighting fast speed! Business market is also growing and different industries are fighting to win this clash. But from last many years, IT is ruling it and reaching to the new heights. If IT is a race course, then Java is surely a horse that is for the long haul! This programming language is commanding the IT world like no other programming language has managed to do till now. But still market considers it hard to find a good java developer and thus somehow managing with the middling brains! The critical question is – why market is lacking good Java Professionals?
Click Here! → Get Prepared for Interviews!
After thorough analysis, we, at Besant Technologies in Chennai, have dig out few of the main reasons behind this.
Chief problem is recruiters: The recruiting staff makes the most of mistakes while selecting the Java developers for the company. Similar set of questions is what they have to ask the candidate. Thus, even a beginner can enter the organization just by cramming few questions and programs! Also, most companies (especially the big brands) emphasize more on academic grades rather than the actual knowledge thus resulted in missing the actual developers!
Java is like English: Like most people claiming that they are proficient in English, so is the case with Java too! At college level too, Java is being taught for two semesters. On this basis itself, few candidates during an interview, claims that they are expert with Java! Casual English and basic (or sometimes just theoretical) Java gives a fake hope to people that they are well-versed in the respective ones!
Java is vast: Though it's a thought-provoking programming language, but the syllabus is way too much!

Big Companies searching for Superman: While recruiting many companies looking for a superman who have knowledge about all the areas of Java. Thus they end up asking a similar set of questions to the candidate. As Java is too deep to dig, hiring team ends up asking very basic questions from each section of Java. Recruiters should rather search for Avengers. Instead of assuming to hire a 'single' Java all-rounder, they should hire the many that are having strong understanding in different Java areas.
Race of picking up the bulk of developers: Companies are competing with each other to bring the most of the developers in their space. Because of this, the focus diverges from quality to quantity!
Coders just wants to code: True coders are someone who have deep love towards programming but usually big companies are not giving them enough space or coding work so soon they just moved out to either start-ups and mediocre companies or prefers to open their own firm! So to keep the good developers, they should be given good work time to time else they will fly away!
Good Java Trainers hard to find: Another shortcoming of our society! There are n numbers of trainers and institutes claiming to provide the best Java Training in Bangalore but they actually miss the actual knowledge that is in the form of hands-on practice. Clearing a Java developer interview just by cramming a few repeated questions is really a child's play, but later problem arises when one has to survive in a live project in industry. Yes, we agree that Google has all the answers and can timely help you with coding, but for this also you must know what exactly to search for as Google can't read your mind! A basic but rooted knowledge is must even for cheating (copying and pasting in terms of IT)!
So due to these and some other factors, good Java developers are really hard to find today! We provide the best thorough Java Training in Chennai in our institute that will actually turn you into a good Java coder. We have trainers who have Java experience both from MNCs to the small start-ups. Thus they are well-versed about the knowledge a Java developer should have to survive and grow in the industry. Ours instructors are actually experienced Java professionals – having a strong Java background in IT industry. So get started Java with our best set of instructors and they, in turn, will actually shape you up into a splendid Java developer!