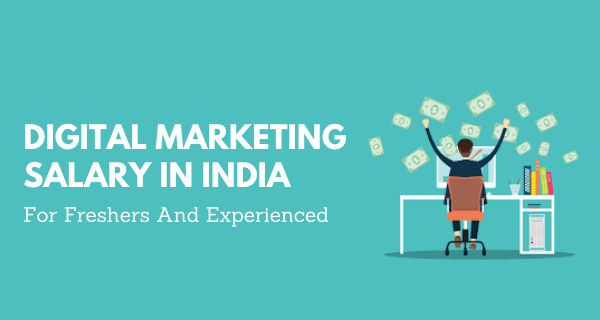 Digital Marketing Salary in India
Digital Marketing Salary in India
For Freshers And Experienced
With a growing number of companies all across the globe wanting to establish an online presence, the need for digital marketing is also on a rapid rise. Today, businesses are more eager and willing to spend on internet-mediated branding, advertising, and marketing activities. Television, print and radio advertising seem to have almost taken a backseat. So, let's face the truth- the digital marketing industry is growing exponentially and leaving traditionally popular mediums behind. And this directly implies, it is swarming with employment opportunities for people having relevant skills.
Hence, if you think you have the skill, talent, and interest to be in this challenging and dynamic industry, then be a part of it without apprehensions. But before you arrive at any decision, it's important that you know about the best roles to assume in this field, and also the compensations digital marketing professionals draw at different positions. Keeping this need in mind, we have dished out here all important and relevant information that you would immensely benefit from
1. Digital Marketing Manager
If you wish to be a digital marketing manager, then it's valuable for you to know that you might have a brighter future in a digital marketing agency, an internet company, or an IT firm. Digital managers in these businesses earn better than their counterparts in other industries. Further, as a digital marketing manager, you will be required to manage and mentor people. You might also have to lead teams. Your success as a digital marketing manager will not only depend on your command in this field but also on your overall work experience. At positions like Assistant Manager DM and Digital Marketing Lead, you will definitely make impressive earnings.
Skills possessed by Digital Marketing Managers and the roles they perform
A digital marketing manager must have immense expertise in the management of online marketing functions such as content marketing, email promotions, SEO, PPC, and SEM. Here are some of the responsibilities that people in this position need to shoulder on a regular basis-
They need to plan and execute digital marketing campaigns.
They also manage paid marketing campaigns.
The need to have an in-depth understanding of the concepts of SEO, conversion ratio, etc.
They also play a pivotal role in both organic and paid social media campaigns.
They must have a strong grip over performance marketing.
DM managers keep track of the performance of campaigns across digital marketing platforms.
They need to study market trends and undertake to budget based on the findings.
A good manager has impressive communication skills and they keep themselves updated with current happenings in the field of digital marketing.
Digital Marketing Executive Salary in India
The mean salary of a person serving in the position of a digital marketing manager is INR 8,09,777. For this, the candidate needs to have an experience of about 4 to 8 years.
Talking about the range within which digital marketing Manager Salary in India for freshers as well as the experienced falls is INR 4,00,000 to 18,00,000. The salary actually depends on a lot of factors like the location of employment, the qualification of the candidate, the industry they are associated with, and also the kind of Digital Marketing Certification they have. All these factors impact the figures significantly. For instance, the average salary of a person living in Mumbai is invariably going to be higher than someone employed in Hyderabad. The compensation amount is determined on the basis of the cost of living in a particular city or town.
2. PPC Analyst
PPC Analyst or SEM Analyst is quite a sought- after job position in the field of online marketing. To do well in this job, you will have to be someone who understands the psychology behind consumer clicks. You will also have to have a thorough understanding of campaign creation. To be hired by an employer of your choice and receive the desired salary, you will have to show them that you are able to drive home better returns against any given investment.
Skills possessed by PPC Analysts or PPC Executives and the roles they perform
Analytical and technical skills are a must-have in your kitty if you are a PPC executive.
These executives also manage paid ad campaigns on Google Ads, Bing, and other similar ad networks.
Another important role that PPC specialists perform is the management of Ad campaigns on social media networks such as Facebook, Quora, and LinkedIn.
They maintain keyword bids, improve quality score, and track budget.
These professionals need to be thorough with Google Analytics and other analytics and reporting tools.
PPC Analyst or PPC Executive Salary
The mean salary that a PPC Analyst takes home every year is INR 2,50,000. Note that you can make this earning with just a year of experience. Interestingly, you will be able to draw more or less the same amount with a couple of months of internship and a decent amount of knowledge in the field of PPC.
With a higher experience, you can expect to earn as much as INR 6,00,000. To earn better as a PPC professional, you will have to reach up to the level of Assistant Manager or Team Leader. Since PPC executives also handle budget, the demand for competent PPC professionals is extremely high. Also, monetization being an important goal of digital platforms, the field of PPC can be quite profitable for someone who can manage pay-per-click functions with great dexterity.
3. SEO Expert
Irrespective of how many new and advanced marketing tactics come in the scene, SEO will continue to hold its charm.
Even today, SEO can be regarded as the most effective way to attract high converting and sustainable traffic. However, to be a desirable candidate for relevant jobs, it's important that you develop a command over Google Analytics, SEMrush, Search Console, and other SEO tools. SEO is an interesting and important field of work as your capabilities can determine the fate of the company you are associated with.
Compensations in this field primarily depend on the knowledge and experience of candidates. While Seo Freshers Salary in India is average, it might sharply increase with an increase in the knowledge and experience of candidates, as discussed above.
Skills possessed by SEO Specialists and the roles they perform
SEO Specialists have a thorough knowledge of ranking algorithms.
They also need to be well familiar with technical SEO.
They make sure their company website abides by search engine guidelines and also offers an impressive user experience.
They don't just suggest appropriate keywords to businesses but also create relevant content focusing on such keywords.
SEO specialists also need to be well versed with optimization tools such as SEMRush, Ahrefs, and Console.
SEO Analyst Salary in India
The mean salary of an SEO Executive in India is close to INR 2,20,000. This is applicable to those who have a year or two of experience. At the intern level, you might be paid around INR 15,000 a month in cities like Bangalore, Mumbai, and Pune.
Generally speaking, SEO Analysts make lesser earnings than PPC professionals. But that doesn't make this job a less popular venture.
The compensation for SEO experts can go up to INR 8,00,000 annually, with better skills and a higher experience. But bear in mind that this is a managerial level compensation and depends on how skilled you are at ensuring organic growth for your company. SEO experts with great experience and exceptional skills can earn more than INR 15,00,000 a year. It would, however, be valuable for you to know that an SEO expert's demand is not as high as a PPC expert's. Why? Because SEOs focus primarily on improving a site's ranking on Google and other search engines, whereas PPC professionals also involve other popular platforms such as Facebook, Insta, and LinkedIn.
4. Social Media Marketing
Social media has changed the way people socialize and interact with one another. There is perhaps someone in today's world who doesn't have a social media account. And that is why businesses want a strong social media presence along with an impactful overall existence over the internet. To make sure the engagement with their existing and potential customers is high, and also to have more traffic on their website pages, businesses hire social media marketers having high-level expertise in the field of social media marketing.
Being well-versed in Buzzsumo, Buffer, Hootsuite and other SMM tools is extremely important if you want people to trust your social media marketing capabilities.
Compensations primarily depend on the kind of performance you give. Since social media professionals interact with customers on a one-on-one basis, they need to stay cheerful, positive, and well- informed, so that they don't leave their customers disappointed. If you have these qualities in you, then you won't take long to scale great heights in the field of social media marketing. Experience does matter here, but what matters most is your social skills.
Skills possessed by Social Media Marketing Experts and the roles they perform
As a social media expert, one needs to create engaging and relevant content that would strike the right chord with the organization's target audience.
They are also required to prepare campaigns for social media platforms such as Facebook, Twitter, and Instagram.
A social media analyst represents their organization on important social media platforms.
They might need to have conversations with people or answer queries whenever such a need arises.
They strategize their marketing efforts in such a way that their organization receives the desired customer reviews or ratings online.
They monitor or track social media trends closely so as to capitalize on them.
The Salary of a Social Media Marketing Expert
Social media experts make similar earnings as PPC executives. So, you can earn between INR 1,50,000 to 3,50,000 if you are a fresher or are having an experience of fewer than 3 years. At the position of an Executive, your salary could go as high as INR 5,00,000. To be able to earn more than that, you might have to reach a managerial position.
Talking about the average annual salary of a social media manager, it is about INR 5,60,000. However, if you can show your mettle, you can earn a compensation of up to 10,00,000 a year. Social media experts are in high demand for digital marketing agencies. A lot of companies also outsource this job to social media marketing agencies.
5. Content Marketing Experts
Everything starting from email newsletters, campaigns, and podcasts to graphics and visuals, videos, blog posts, and copywriting, is considered content in the world of the Internet. To take care of these various aspects, companies need a Content Marketing Manager who leads and direct people in this domain with their leadership qualities and expertise. Although in a lot of companies, this responsibility is handled by the SEO department, it is such an important area of work that it does call for dedicated attention, and hence, requires dedicated people at specialized positions such as Content Marketing Manager, to oversee work.
Skills possessed by Content Marketing Managers and the roles they perform
Content managers are responsible for not just creating and improving content but also promoting it, so as to help companies achieve their business goals.
They are also responsible for creating brand awareness, fulfilling conversion goals, and growing web traffic.
They facilitate customer engagement and a satisfactory customer experience apart from ensuring brand image consistency, by looking after all content marketing initiatives and activities.
They oversee the website of their company- its core content, copy, and blogs published in it. Meaning, they make the audience aware of the company and also the things it wants to convey, through meaningful content.
They oversee content distribution over social media platforms and other online channels for attracting web traffic.
The Salary of a Content Marketing Manager/ Specialist/ Executive
Note that the work of a Content Marketing Manager doesn't just involve the creation of content but also its promotion. That means they perform two roles under one position. Hence, Digital marketing salary in India is decent when you serve as a Content Marketing Manager/Specialist/Executive. In fact, it is higher as compared to an SEO executive's salary. You can earn an average compensation of INR 2,00,000 to 4,00,000 if you are a fresher or have an experience of fewer than 3 years. The highest you can earn serving as an executive is around INR 5,00,000. To earn better, you might have to serve in a managerial position.
Talking about the average salary of a Content Marketing Manager, it is close to INR 6,50,000. And the best salary would be around 1 million rupees on an average in India. In case you get an opportunity to work as a Content Marketing head, which requires the experience of more than 8 years, you will easily draw a salary of about INR 10,00,000 to 20,00,000 annually.
Digital Marketing salary in India based on experience
An important factor that impacts the compensation of a Digital Marketing professional is experience. While your work experience determines the position you are eligible to hold in a company, your position determines the salary. So, let's talk about the Salary of digital marketing professionals based on experience.
If you have an experience of up to 1 year, you can earn somewhere around INR 1.5 to 4 lakhs per year, on average. With an experience of 1 to 3 years, your compensation per annum can be between INR 2 and 6 lakhs. The digital marketing salary in India for a professional having an experience of 2 to 4 years is within the range of 3 to 7 lakhs. A medium-level experience of around 3 to 5 years can easily earn you compensation ranging between 4 and 10 lakhs per annum. High- level experience ranging from 5 to 10 years can subject you to compensation of about 10 to 30 lakhs a year, which is indeed impressive.
Conclusion
One thing that you need to keep in mind is that the above mentioned are not rigid figures, they are subject to change based on various factors such as the location of employment. For instance, cities like Mumbai, Bangalore, and Chennai are known for the high salaries they offer their Digital Marketing professionals. On the other hand, places like Hyderabad, Delhi, Pune, and Kolkata pay lesser as compared to the above cities.
Your skills also impact the way you earn. A person having a great deal of mastery over their digital marketing skills is likely to earn better than their less skilled and less knowledgeable counterparts. Your desirability also depends on how quickly you learn and grow and also cause your company to grow. So, overall it's a great domain of work if you know the ropes well!