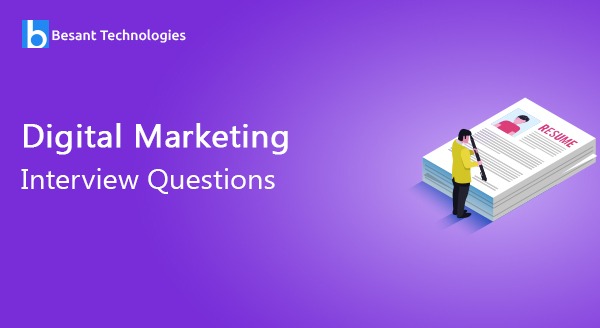 Digital Marketing Interview Questions
Digital Marketing Interview Questions & Answers
Here are the list of most frequently asked Digital Marketing Interview Questions and Answers in technical interviews. These Digital Marketing questions and answers are suitable for both fresher's and experienced professionals at any level. The questions are for intermediate to somewhat advanced Digital Marketing professionals, but even if you are just a beginner or fresher you should be able to understand the answers and explanations here we give. These Digital Marketing Interview Questions and Answers will guide you to clear.
Best Digital Marketing Interview Questions & Answers
Cloud computing offers plenty of opportunities and you can start your successful business as an Digital Marketing architect with a successful job interview. If you find Digital Marketing Architectural Interviews, some of the answers to the following questions are answered from the Digital Marketing Interviews.
Digital Marketing Interview Questions and Answers for beginners and experts. List of frequently asked Digital Marketing Interview Questions with answers by Besant Technologies. We hope these Digital Marketing interview questions and answers are useful and will help you to get the best job in the networking industry. This Digital Marketing interview questions and answers are prepared by Digital Marketing Professionals based on MNC Companies expectation. Stay tune we will update New Digital Marketing Interview questions with Answers Frequently. If you want to learn Practical Digital Marketing Training then please go through this Digital Marketing Training in Chennai, Digital Marketing Training in Bangalore.
Best Digital Marketing Interview Questions & Answers for Job Placements
Besant Technologies supports the students by providing Digital Marketing interview questions and answers for the job placements and job purposes. Digital Marketing is the leading important course in the present situation because more job openings and the high salary pay for this Digital Marketing and more related jobs. We provide the Digital Marketing online training also for all students around the world through the Gangboard medium. These are top Digital Marketing interview questions and answers, prepared by our institute experienced trainers.
Here are the list of most frequently asked Digital Marketing Interview Questions and Answers in technical interviews. These questions and answers are suitable for both freshers and experienced professionals at any level. The questions are for intermediate to somewhat advanced Digital Marketing  professionals, but even if you are just a beginner or fresher you should be able to understand the answers and explanations here we give.
Q1: Explain Digital Marketing and name its types.
The Digital marketing is basically an effective way to promote the products, services and brands using one or more forms of electronic media, mainly on the internet. It is a technique that uses the digital channels for the promotion to consumers and businessman. Digital Marketing is about brand marketing approaches through the online mediums.
Q2: What are various types of Digital Marketing.
SEO
Social Media
Email Marketing
Pay Per Click
Blogging, RSS and News Feeds
Affiliate Marketing
Text messaging
Viral Marketing
Online advertising
Q3: How would you classify digital marketing?
Basically, Digital marketing can be classified into 2 segments: Inbound Marketing and Outbound Marketing.
Inbound Marketing: In this technique, using social media, webinars, digital content in e-books, or e-newsletter, the number of clicks on links is increased and once can learn more about a company & its services.
Outbound Marketing: This technique includes placing of advertisements, e-mails, cold-calls or reach out potential customers through the digital mediums.
Q4: What do you understand by a responsive website?
It can refer to multiple things like a fast website that responds very well to the user interactions or a site that is created using the Responsive Web Design (RWD). It is for providing an optimal experience of viewing – which means easy navigation and reading. This easiness should be there for a wide range of devices like monitors, laptops, mobiles, etc. The level of ease can be computed keeping the following things in mind: – Minimum of panning, scrolling and resizing.
Q5: Name the useful Digital Marketing tools?
Few top Digital Marketing Tools are:
RankWatch
Keyword Discovery
Moz
Digital Point Keyword Tracker
StumbleUpon
Alexa Ranking
Crazy Egg Heatmaps
XML Sitemap Generator
Google Analytics
SubmitExpress Link Popularity
Favicon Generator
Q6: What is the full form of PPC? Explain it.
PPC is an acronym for Pay Per Click. PPC is an advertizing technique which is used to direct traffic to websites. In this technique, host website owners are being paid by the advertisers whenever a user clicks on the advertisements. It is actually a way to buy the visits to your site, instead of 'earning' those visits!
PPC is also called Cost Per Click.
Q7: What are the two primary models for determining PPC (Pay-Per-Click)?
Flat rate PPC :
In this type, both the publisher and the advertiser agree on a fixed amount that will be paid per click. This amount can vary according to the content based upon how more or less it attracts the people.
Bid based PPC :
In this type, a bidding system is there. Bidding is done in which the advertiser competes with the other advertisers in a private auction that is hosted by the publisher. Now as per auction system, advertiser will inform the publisher what's the maximum amount he can pay and thus bid up to that maximum amount only.
Q8: What are qualities of an effective PPC?
Following are the qualities of PPC:
Relevant: Content should be relevant. Targeted keywords should be listed out.
Expansive: PPC is repetitious, so the keyword list should be constantly adapting and expanding.
Exhaustive: It should contain the "long tail of search", along with the most popular keywords.
Q9: How can you optimize the conversion rates with each PPC?
By Conversion rate, we mean converting random visitors into regular customers. Thus it is way to make more visitors to a site. Following things should be taken into consideration so as to increase the conversion rate with each click:
Content should be relevant to the subject or keyword or the search query that is inserted by the user.
Relevancy should also be there between landing pages and the ads that are being hosted on these pages.
To make sure that the landing page's design should be good enough so as to allure the users. Go design means a good combination of color, GUI and the layout.
All should be done keeping user in mind. No one wants to use a bulky and cumbersome site. So the website should be user-friendly. If any registering process or signing up process is there, it should be convenient for customers.
Q10: What things are needed for an effective Pay Per Click campaigning?
Following things are needed.
Adding more PPC keywords: Addition of more such business relevant keywords helps in expanding the pay per click.
By dividing your ad groups into smaller and relevant ad groups, one can improve the CTR (CTR means click-through-rate)
To provide relevant data as asked in search queries.
Keep reviewing and tracking the expensive and the under-performing keywords
One can improve the campaign relevancy by adding the negative keywords or the non-converting terms.
Q11: What is Google Adwords?
Google Adwords is a most celebrated PPC advertising system in the world. It follows PPC model. Sometimes called as Adwords only.
It is an ad service started by Google. It is for the businesses that wants to display their ads on Google. As it follows PPC model, so it allows the business owner to set an advertising budget and pay only an ad is being clicked by the user. It facilitates website owners to create advertisements that appear on Google search engine and their other properties.
Q12: What do you understand by Paid Advertising?
In this, an ad space owner provides some space to the business person or marketer, and in return that marketer will pay this owner an amount for using this space for advertisement purpose. Mostly, an auction happens between marketers and the ad-space owner. The final prices is, thus, decided as per the maximum bid.
Q13: Define Google Adwords Remarketing?
Google Display network conducted Google AdWords Remarketing. It is a targeted marketing strategy. This strategy helps marketers/advertisers to reach people and show their ads to those who already visited their website previously. This remarketing strategy targets the right audience with right ad. It is actually a clever approach to lure the users.
Q14: How can you structure a marketing budget?
Take ample of time to plan the program again which you are planning to invest your money.
Keeping a clear picture of your objectives in your mind is another big step towards structuring a marketing budget.
Test your strategy.
Reach the right audience.
Customer is very important for any business, so keeping track of customer requirements is quite mandatory.
Now think about your profit too, after all you are planning to do business and not charity!
Q15: What are Search Engines?
Search engines are the programs that plays a very important role in finding out the specific and needed information using World Wide Web. Search engines checks for the keywords in the database and brings out the best and relevant stuff in front of the user. Some of the major search engines are:
Google
Yahoo
Baidu
Ask.com
DuckDuckGo
Bing
AOL
Excite
Chacha.com
Lycos, etc
Q16: How can we increase the traffic to our website?
The focus should be on SEO and the referring links.
Advertisement is a must for any business, whether online business or an offline one.
Target the User Retention.
Make sure that the site is responsive and user-friendly.
Also site shouldn't be slow, else user won't be staying there for long.
Use of social media channels to promote your website or page.
A compelling headline can make a million-dollar effect on users.
Focus on Long-tail keywords.
Post content or headings to linkedIn or facebook or similar sites to socialize it more.
Do Email and internet marketing too.
Keeping a feedback facility on for users is a good option.
Keep track of market and your competitors too.
Try to increase the conversion rate of your site.
Q17: Name the most useful online marketing tools?
Below are the most useful online marketing tools:
Google Analytics
Crazy egg heat maps
Digital point keyword tracker
StumbleUpon
Keyword discovery
SubmitExpress Link Popularity
XML Sitemap Generator
Favicon generator
Q18: What are the drawbacks of Online Marketing?
There are certain drawbacks of Online Marketing too:
The first and the foremost limitation is that as the products that are being offered and advertised online are intangible, so customer cannot analyze the complete details of the product before buying it. This is the reason that complaints of color, size and material issues pops up by the customers.
Authentication products and the services cannot be assured fully in case of online marketing.
Q19: To optimize your site ranking, where should the keywords be placed?
Keeping keywords in your content is important but their position also matters a lot. This is good for better page ranking. These areas are:
Keyword in Website URL
Keywords in Headlines
Keyword in Web page content
Keyword in Meta tag
Keyword in Website Title
Keyword density in body text
Q20: Throw some light on SEO?
SEO stands for Search Engine Optimization. It is a process that affects the website or web page visibility by improving the content, structure and organization of the site. Therefore while doing the indexing, Search engines can place this website or web page on higher and noticeable place. Following SEO approach helps in increasing the number of backlinks too.

Q21: What is the role of SEO in digital marketing?
SEO is an important part of Digital marketing strategy. It helps in bringing more traffic to your website and thus helps in expanding of your business in the online market specifically. It brings you website on the top of the ranking list of search results.
Q22: How keyword is important from the point of SEO?
Keywords are always very important from the ranking point of view. Thus for better ranking, relevant keywords should be used in an appropriate manner.
Q23: Differentiate between on-page and off-page optimization?
On-page optimization: This technique directly deals with the structure and the content of the website.
Off-page optimization: This technique is used to increase the search ranking of a website by making external links point towards that website.
Q24: How do you specify a bad link?
Even bad links also have some characteristics that are needed to be considered. These are:
Links from low Page Rank & Low traffic.
Links to sites that are not related to your sites and thus not relevant in any way.
Paid links.
Links from those websites that are out of Google index. This is because Google is the most popular search engine among us all, and thus it is considered that 90% customers search for their queries in Google only.
Links from link exchanges.
Spammy links that are from blogs or articles.
Q25: How can penalty in digital marketing be avoided?
By following the below points:
Do not mention bad links – linking to any bad page ranked site will surely impact your site too.
Avoid using Poison words. For example hyper texting "link" word can become a poison word.
Don't send visitor to another page immediately. This way he might skip to the web page link itself.
Avoid copying text or images from other websites and domains.
Q26: How can you differentiate between direct marketing campaign and branding campaign?
Direct Marketing Campaign: In this campaign, the most relevant audience is being targeted by the business owner or advertiser. The most common campaigns that fall under this category are Dynamic Search Ads, Shopping Campaigns, Search Networks Only, etc.
Branding Campaign: In this campaign, focus is to cover random and wider audience. Here, the advertiser promotes his/her brand on major websites. The most common campaigns that fall under this category are Display Ads, YouTube Ads, Remarketing, etc.
Q27: Why online marketing is given more preference over offline marketing?
Now is the time when people are lazy as well as busy too. In the mean time, if they have to purchase something, going to even a nearby store seems hectic and painful to them. So instead of moving their leg bones, most prefers to scroll their fingers over their system and find the best deals online.
It is a digital marketing generation. The online cost for marketing is even inexpensive. You can get in touch with a wide range and number of audience online and you can set your target as worldwide.
The number of people you can reach via offline marketing would be the one who are newspaper readers, who watches television, and similar are decreasing day by day.
Q28: Which one is best among SEO, Digital Marketing or PPC?
SEO and PPC are actually parts of Digital marketing. SEO, PPC, content marketing and Display media are the approaches that are used to achieve productivity related goals. So we can't do SEO or PPC without a digital marketing.
Q29: Yell us about your experience with market automation tools?
The need of marketing tools is there in each business to engage with costumers. To increase the Return on Some names of the scalable tools to generate the leads are:
Anygrowth
LeadFuze
GetEmail.io
Userfox
Hubspot
Constant Contact
Q30: What is the relationship between SEO and content marketing?
SEO is all about content marketing. They go, fit and work together. SEO makes demand and content marketing fulfills it.
Q31: What is marketing automation?
It is designed for marketing organizations to market effectively and efficiently on multiple channels online. It is a subset of CRM. It targets the segmenting and tracking of market campaigns.
Q32: What are right skills to be a Digital Marketer?
Should be an SEO specialist
Also a Pay per click expert
Must be very well-versed of Email marketing
Should be good in analyzing the data
Good in mobile and content marketing too
Also, must be a social media expert
Q33: What is more important among the number of likes or the engagement numbers? And why?
The later one is more important. Social media is not all about the number of likes, comments and followers. A business owner's main focus is to increase the conversion rate and compel the users to purchase the product or service.
Q34: What is Email marketing?
Email marketing is a marketing strategy that uses electronic mail as a medium of communication for advertising purpose. This strategy generally works for building the customer interest and increasing the current customer base by achieving their belief in you. It encourages 'repeat business'.
Q35: Explain the types of email marketing strategies
Types of email marketing strategies are:
Traditional emails: They are sent out based on a customer's action. They mainly aim at confirming the actions that triggered it.
Email newsletters: They are direct emails sent out to a wide list of customers regularly as part of marketing strategy. They mainly aim at strengthening the customer and company's relationship.
Q36: Define Internet marketing.
Marketing of products, brands and services on the internet is known as internet marketing. It is also known as : Web marketing or E-marketing or Online marketing
Q37: List the various types of internet marketing.
Various types of internet marketing include:
Display advertising
Search engine optimization (SEO)
Search engine marketing (SEM)
Social media marketing
Email marketing
Inbound marketing
Referral marketing
Affiliate marketing
Q38: Tell few of the advantages of internet marketing?
The advantages of internet marketing are:
Large audience.
Convenient for the customer
Inexpensive.
Consumers can make comparisons with the rival products/brands too.
Availability of various advertising methods such as:

Pay per click (PPC)
Pay per play
Pay per impression
Q39: Define meta description?
Meta description is used to explain the web page over the internet. It is a 160 character tag in HTML that briefly describes what's there in the webpage.
Q40: Define CRM?
CRM is an acronym for Customer Relationship Management. CRM is a process used by companies for interacting with clients. Business processes like sales, marketing and customer support are included into this. CRM is having 2 main objectives: one is to retain the old clients and second is to search and bring new customers. From marketing perspective, its objective is to keep track of social media.
Q41: What do you mean by page title? How a page title can be made more effective?
When a cursor is hovered upon a tab in which a web page is open, a title will show up and this is called Page title. To make the page title more effective, following needs to be consider:
It should be short and relevant. Each word should reflect who you are & what you do.
The title should be descriptive and a brief shadow of the page content.
Include right set of keywords.
Include your product or brand name.
Avoid using symbols, special characters and numbers.
Avoid using same keyword multiple times.
Q42: Share your previous work experience as digital marketer?
Share all the relevant info about your past work here. Mention on which domain you work and specify your strength zone.
Q43: What do you know about our company?
For whichever company you are going, get a good understanding of it first. Also analyzing the scope of digital marketing there will be beneficial for you too.
Q44: (If fresher) Why you want to move to digital marketing world?
Be confident and express your utter desire to enter into digital marketing world. Also, you should be clear with the basics of digital marketing so as to convince the interviewer about your interest in this zone.
Q45: What skills you have to become useful for us in the field of digital marketing?
Make sure to highlight your strong points here. Also, express the relevant details, i.e. relevant to marketing world. These skills should match the skills and knowledge of a digital marketer.
SEO – Interview Questions and Answers Freshers
Q46: What is the purpose of using robots.txt?
Robots.txt file is used to guide search bot to decide which links are to be crawled and not crawled. It can be used to customize the search engine Crawling process.
Q47: What is SERP?
SERP is the acronym for Search Engine Results Page. It can be defined as the results displayed on the search engine corresponding to the query searched by the users.
Q48: What is a snippet?
A snippet is the auto generated text displayed on Search page by google. Irrespective of the description, Google will find and display the content automatically related to user intent.
Q49: How many H1 tags are suggested for a single page?
A page can have multiple H1 tags. But it is a best practice and good suggestion to have single H1 tag in a particular post.
Q50: Explain Crawling and Indexing process of a search engine
The process of finding your website and checking against the quality parameters by search engine is termed Crawling. Once the website is crawled successfully, it will be added to the search engine database and it is termed as Indexing.
Q51: What is the difference between Dofollow and Nofollow link?
Dofollow links passes juice or trust score to the mentioned link. Whereas the nofollow link does not. It directs search bot whether to index or noindex a link.
Q52: Are backlinks important for SEO?
Yes. A high quality, relevant backlinks increases the website authority and increases the search engine visibility.
Q53: Is website speed a ranking factor?
Yes. Website speed is a direct user experience and the visitors tend to leave the site if it is slow or takes more time to load.
Q54: Explain responsive website design
A Website that changes the view based on the device viewport is termed as responsive. A responsive website increases the user experience.
Q55: Explain the importance of meta keywords tag in SEO
Meta keywords tag is not a ranking factor any more. It is not required to enter meta keywords on blog post.
Q56: Give one example for each of On-page and Off-Page SEO
Adding alt tag to image is an On-page and social media presence is a off page optimization.
SEO – Interview Questions and Answers Experienced
Q57: What is AMP? Is it a ranking factor?
AMP is the acronym of Accelerated Mobile Pages. It is a caching technology introduced by google to increase the Web page speed in mobile gadgets. At this time, AMP is not a ranking factor.
Q58: What is the name of the tool used to report negative or low quality backlinks?
The disavow tool is used to submit the low quality backlinks to Google. Once submitted Google will not consider the backlink data.
Q59: Are dofollow and nofollow links same?
Q60: What is broken link?
Any link that does not reach the destination page is called a broken link. A link may be broken due to several reasons like server error, dataBase error, internal error, and page not available.
Q61: Is 301 redirection permanent or temporary?
301 is a permanent redirection.
Q62: Define ALT attribute
ALT attribute is a acronym for Alternative text. It is used in image files to describe the images. The search bot uses the information in alt tag to determine the image details to be served in search results.
Q63: How do you make sitelinks to display on Google SERP?
Will select the schema.org information for sitelinks and feed the required values. Later copy the code and implement in the particular blog post.
Q64: What is a permalink?
A link pointing to an article is called a permalink. The permalink should not change. If changed, we must ensure, a proper 301 redirection must be set.
Q65: Which Google algorithm penalises the low quality or thin content sites?
Google panda algorithm takes care of penalising low quality or thin content Web sites.
Q66: What is digital marketing?
Digital Marketing signifies any marketing action done on the web. It focuses to mark marketing strategies done through internet. In addition, it includes methods like,
SEO
SEM
SMO
SMM
Content marketing
Email marketing
Q67: Top Most and Useful Digital Marketing tools?
Google Analytics
Google Trends
SEMrush
Google Webmaster
Google Alert
Digital point keyword tracker
Open Site Explorer
Submit Express Link Popularity
Favicon generator
Keyword discovery
Crazy egg heat maps
Stumble Upon and
XML Sitemap Generator
Q68: Top Most and Useful Digital Marketing tools?
Google AdWords is an advertising service worked by Google. Organizations utilize this to show promotions on Google and its advertising system. It is the absolute most acclaimed PPC advertising system in the world. It enables organizations to set a budget for ad. Payments chance upon people clicking the ads.
Q69: Name of Google AdWords ad extensions?
Promote extension
Call extensions
Affiliate location extension
App extension
Site link extension
Callout Extension
Structured snippet extension
Q70: What are digital marketing channels?
Search Marketing
Display Marketing
Affiliated Marketing
Social Media
Email Marketing
Video Advertising
Social Marketing
Online PR and
Social Networking
Q71: Name some search engines?
Google
Bing
Yahoo
com
com
Internet Archive
Baidu
DuckDuckGo
Wolfram alpha and
ru
Q72: What is PPC?
PPC stands for pay-per-second click, a model of website marketing in which advertisers pay a     fees each time one of their ads is clicked.
Q73: What SEO friendly?
SEO is the search engine optimization, the running of optimizating a web page so that user can easily find it via search engines like Google,yahoo.
Q74: Difference between SEM and SEO?
SEM is search engine marketing to purchase a space in search engine  page.
SEO enables your website to appear in search engine optimization result pages.
Q75: What is Crawling?
Web crawling or Crawling refers to an automated process through which search engines filtrate web pages for proper.
Q76: Major Google algorithm updates 2018?
Panda
Penguin
Hummingbird
Pigeon
Mobile
Rank Brain
Possum
Fred
Broad core algorithm
Q77: Must know OFF Page SEO Techniques for 2018?
Creating Shareable Content
Influencer Outreach
Contribute as Guest Author
Social Media Engagement
Social Bookmarking Sites
Forum Submission
Blog Directory Submission
Article Submission
Video Submission
Image Submission
Infographics Submission
Document Sharing
Q78: ON Page SEO Techniques?
Meta title
Meta Description
Meta tag
URL Structure
Content optimization
Keyword optimization
Page Speed optimization
Internal linking
External linking
Q79: Types of Keywords?
Global Keywords or Primary Keywords
Secondary keywords
LSI Keywords
Q80: What are LSI keywords?
LSI keywords is Indexing are semantically associated with the main keyword that users enter over the search engines
Q81: What is Canonical URL?
Canonical URLs related to the concept of selecting the best URL for the home pages that the visitors want to see. Also, known as canonical tags.
Q82: What is a No-Follow link?
nofollow is a value that can be assigned to the rel attribute of an HTML a element to instruct some search engines that the hyperlink must not influence the ranking of the link's target in  search engine's index.
83: Name Some Areas Where Keyword Optimization Is Done?
Website Title
Web page content
Website URL
Headings
Meta tag
Q84: What Is Keyword Streaming?
Keyword streaming means analyzing the relevant keywords, choose the best keyword for the web page based on its target, in order to get organic traffics and leads through the keywords
Q85: How Should We Be Using Facebook For Marketing?
Facebook is the social media marketing platform of choice for over a billion people worldwide. Use it to connect and interact with your audience, and to share your content in a way that encourages your fans to share it as good.
Q86: Should We Be Using Google+ For Marketing?
Though it started out looking  for promising, Google+ is one of the platform we don't recommend using for Google+  marketing purposes anymore.
Q87: How Should We Be Using Linkedin For Marketing?
LinkedIn has over 467 million users. It is a great place to share your credentials with the world, but more importantly, Participate in groups. Join groups related to your business and your interests.it's the perfect place to interact with your audience online marketing.
Q88: How Should We Be Using Linkedin For Marketing?
Unique content product
Keywords Research
Acquiring link in natural forms to the web page
Competion Analysis
develope the social sharing on major networks
Implementing on page changes in web page
Analyzing the report.
Q89: Which websites do you follow for the latest updates in SEO?
com
com/blog
com
com
blogspot.com
com/google-algorithm-change
com
Q90: What is the purpose of the keyword research?
Keyword research is useful for understanding the keyword search low volumes of the pages and predict the user demand for a product or service.
Q91: What is the optimal length of the Title Tag?
65-70 characters is the optimal length of the title.
Q92: Name some common types of Schema's used in websites?
Aggregate Reviews
Video Schema
Events
Person information
Single review
Q93: What is backlink in SEO?
In search engine optimization (SEO) terminology a backlink is a hyperlink that links from a Web page, previous to your own Web page or Web page. Also called an Inbound Link (IBL) these links are important in determining the develope  of your Web page.
Q94: What is NoFollow Backlink?
Any link which has the attribute rel="Nofollow" is called as No Follow back link. No Follow back links do not pass any PR value, but still helpful for link diversity.
Q95: How long do backlinks take to get indexed?
If you have a do-follow link  from a web page with lower domain authority, it takes long to get indexed. Maybe two weeks or 3 months.
Q96: What is 301 redirect?
A method by which a user is redirect to new URL from old URL.
Q97: What is a private blog networks?
What is a PBN (Private Blog Network)? A PBN is a collection of high authority web pages that you have finished control over and all of which link previous to your money page. Typically PBNs are made of expired domains that have high level  back links and therefore pass high levels of link equity to your money.
Q98: What is Googlebot?
It is a kind of software used by Google as a search Googlebot to index a webpage.
Q99: What is SEO friendly URL?
SEO friendly URL are those having proper length and file structure
Q100: Explain what is Ad rank?
Ad rank basically determines the position of your ad on Google page and it is determined by one bid for the keywords.
Q101: What is basic SEO?
Every business with a Web page should make Searching Engine Optimization — trying to get your web page as high up as possible on Google and Bing search-results page — a part of their growth strategy. At its popular basic, "SEO" means finding way to develope your site's appearance in web visitors' search results.
Q102: What is total length of Destination URL?
1024 char is the total length of a destination URL.
Q103: What is a good CTR percentage?
The minimum click rate on Ad Words pay search ads is about 2%. Accordingly, anything over 2% can be consider an above average CTR.
Q104: What are the Targeting options in Search network ads?
Q105: How many AdWords accounts can I have?
Now you can connect up to five Ad Words accounts to one email. The option to add starting accounts can be process through the Manage Ad Words accounts screen in the main home.
Q106: What is My Client Center?
An MCC is a high level  and essential tool when management of different Ad Words accounts is required. Ideally it is useful for large advertisers who have more than one Ad Words account but it is commonly used by third-party agencies who manage Ad Words accounts for a number of their personal users.
Q107: Does Google AdWords work?
In a nutshell, Ad Words is Google's pay advertising starting. … Those are Ad Words ads that a company pay for so that user will notice their business whenever they are searching Google.
Q108: What is keyword optimization?
Keyword optimization  is the act of researching, analyzing and selecting the best keyword to achive to drive qualified traffic from search engines to your web page.
Q109: How is Facebook reach calculated?
So the commonly known organic reach equals the un pay reach which equals the total reach minus pay reach. However, Facebook has a slightly multiple definition of organic reach. Facebook defines organic reach by the number of user who visited your site, or saw your site or one of its posts in news feed or ticker.
Q110: What is Funnel in Goals?
Series of pages which are expected to be accessed to reach the destination page to complete the goal is defined as funnel. Example,
Add to Cart => Signin/Singup => Add Address => Make Payment => Thankyou Page.
Q111: What is meant by Average Load Time?
The Average amount of the time taken by the web page to load it in the browser. The web page must be loaded as speed possible for quickly process.
Q112: What is AMP?
AMP is a Google-back end  project to push for pages that load quickly on mobile devices.
Q113: How do you define URL?
Uniform Resource Locator or URL is a generic term specifying all kinds of web address found on the web page.
Q114: What is a long tail keyword?
Long tail keywords are phrases contain more than 3 words making search results very specification. Long phrases are used by SEO experts to draw quality traffic to web page by reducing random traffic with the achive to increase lead conversion rate.
Q115: Who are the Founders of Google?
Google was founded by Sergey Brin and Larry.
Q116:What are the tools you are area in SEO?
Tools which I am aware are SEMrush for checking competitor backlinks and keywords Screaming frog for complete website analysis, woo rank for website analysis, ahref to check lost or broken backlinks, seoquake for page audit for the website.
Q117:What do you know in on-page and off page activities?
On page is technique which your website like title tag, meta description, header tag, url optimisation, image optimisation and off page will be techniques which is basically for backlinks like classifieds, business listing, forum submission, guest blogging and much more, so basically these are activities we perform on third pard website
Q118:What will be your approach to start new project?
I will be making the list of top-ranking websites for our domain, next I will do keyword analysis, next landing page optimisation and next content optimisation, then on page, off page and branding related activities for lead generation
Q119:What are backlinks? How it is different from outbound links?
Backlinks are something where our website is linked to other activities which is done through off page activities. It will completely be different from outbound link because outbound link refers to your website page is linked to 3rd party website, like if you talk about blog page – we may have given reference link in our website or fb, or social media links at footer
Q120:What do you know about paid campaigns? Have you ever handled the same?
Paid campaigns are something we pay to google to rank our website on top of organic results. But for each click we get for our website; we have to pay. Yes, I have handled it for Facebook, google and LinkedIn ads.
Q121:What is Google Analytics? How it is different from search console?
Google analytics is basically used to check how many visitors we got for our website and from which location and for which page we got visitors. Search console gives information about website errors like crawl errors, we can check backlinks there and we can see website performance there.
Q122:How do you update yourself with SEO updates?
I subscribed to man blogs, if there is anything something new coming in digital marketing, I will get notification via mail. So the main source for my updates will be neil patel, search engine journal, backlinko and other sites
Q123:How do you do keyword research?
I use google authorised tool like keyword planner. This tool gives in depth keyword analysis for me. So, I select keyword based on more search and low and medium competition. I prefer to use long tail keywords for the same.
Q124:What is keyword density? What is the optimal range for that?
It basically tells how many times your keyword will be repeated in the content. So, average optimal keyword density is 1.3-2.5%
Q125:What is robot.txt file? Why it is important?
This file is used to tell Google that please do not crawl my listed below pages in search results. It is especially important because, there will be credentials of your website which you will definitely not want crawler to crawl for safety reason.
Q126:What will be your top backlinks strategy?
I will be targeting the website which has good domain authority basically above 65 and I will not be concentrating on quantity I will be focussing on more on quality of backlinks. If it is less also not an issue but it should be quality ones.
Q127:What is google latest algorithm update?
Google's latest algorithm which I am aware is, google has recently told about BERT algorithm in which it clearly says that it will be using phrases or terms as different unit, so it will show the results based on the meaning for the same. And secondly, it tells the content we are using for the website, should not be only keyword focus we should be able to resolve user queries when they land upon our website.
Q128:How do you optimise page for social media handles?
I will be creating business page with the brand name. Next, I will use great description for the brand. Later, I will use appropriate category for the page and remember hashtags are especially important for any social media handles.
Q129:What is difference between B2C and B2B for lead generation?
B2B refers to business to business. We will be targeting business owners over there, so basically related to offer your service to next company who needs that. 
B2C refers to business to customer. We will be selling our products to the customers here. Like ecommerce products or which is causally related to customer.
Q130:What will be top ranking factor for your website to rank in search results?
Top ranking factors will include – on page optimization, off page optimisations, social media engagement, branding activities mobile responsiveness of site
Q131:What is Google Map listing? How will you do that?
On the left-hand side, you would have noticed a google map. That comes from map listing. We will use business information there like business hours, phone no, description, images and business address to optimise it.
Q132:If you come to know, your website has got spam backlink what will you do?
I will be reporting such spam backlinks via search console. It gives option to permanently remove spam backlink from search results.
Q133:What are canonical URLs? How will you fix it?
When you have 2-3 pages which are pointing to same page in search results refers to canonical issues. It serves as duplicates pages in search result which can downgrade our ranking. It can be fixed by using canonical tag at the backend of the website.
Q134:What are the types of searches in SEO?
Types of searches are – organic searches, coming to website when someone is types keyword in search results and landing to our website, direct search – directly typing our website in search bar and landing to our website. Social traffic – coming to our website from social media pages, referral traffic – coming from off page activities, like olx and 3rd part sites – paid search – coming from ad campaigns.
Q135:What are the common mistakes performed by digital marketer in SEO?
Generally, what I found is people tend to use keyword stuffing in digital marketing. Secondly, they try to implement a greater number of backlinks for any project which is not correct I believe. We should focus more on quality not the quantity of backlinks.
Q136:Explain what is Googlebot?
Google bots is basically spidered which crawls the pages inside your website. It will collect the activities performed inside the page to show in search results for relevant results.
Q137:What is interlinking? How do you do that?
It's basically performed inside the website. We link one page to another inside the website using anchor text. Interlinking is one of the important factors for digital marketing.
Q138:What is keyword stemming?
It's basically finding new keywords from the root words. We use prefix, suffix, or pluralization to do the same. Ex. For the term power, we can add a suffix to make it, powerful. For prefix, we can take the example of a graduate as a postgraduate.
Q139:What is is character length for title tag and meta description?
For title tags, it's basically in the range of 55-75 characters and for meta description, it would be between 155-170 characters. I guess this would be the ideal length for both.
Q140:Can you list some of the Blackhat SEO techniques?
I believe the black hat technique can harm our website ranking. Some of them will be keyword stuffing, link farming, hidden text, cloaking, and much more.
Q141:Explain the term LSI
LSI is very important nowadays for websites to rank in the search results. With the main keyword, we will be using related keywords for our website. For example, web development company, we can use the best web development company keyword also.
Q142:What is 301 redirect?
 It is basically a permanent redirect where user is redirected from old url to new url when they enter the url. And it also useful in passing link juice to new url as well from old one.
Q143:Which is the most important area to include keywords for your website?
The most important I believe would be title tag, meta description, the header tag, and body of the content will play important role while inserting content for the page. We should keep in mind that we should avoid keyword stuffing while doing the same.
Q144:What will be your approach when you see a dropdown in your keyword ranking?
I will see first whether we have quality