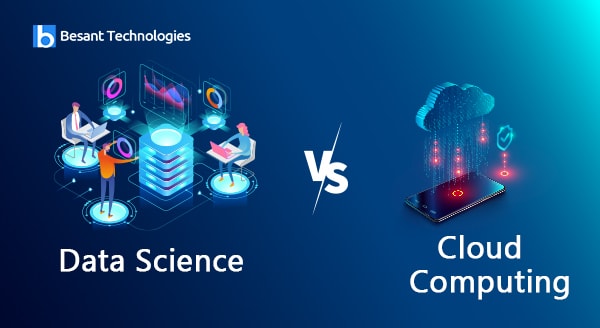 Difference Between Data Science and Cloud Computing
What is the difference between Data Science and Cloud Computing?
You cannot shy away from technology in this modernistic world of today where the technology has rigorous tendencies of growth and has pathways which can immensely contribute to the growth and lucrativeness of a business. Thus, to rope in more profits almost every business in every sector is combing two techniques – data Science and Cloud Computing. To some extent these two streams are also interlinked to each other where Data Sciences used the data available on the cloud computing to analyze the future prospects.
Understanding Data Sciences and Cloud Computing?
Through the employment of both these software technologies there is a need to enhance the revenue of the company and reduce the cost of investment. Cloud computing can help sort the local software there is big data which helps business decisions. In data science there is use of course Big data and there is a cleaning, preparing and analyzing the data that is involved. Here for the analytical purpose there five aspects which can clearly define the ideal – volume, variety, velocity, value and veracity.
Cloud computing is a mode of using network servers to store manage and control data. It is a shift from the traditional mode of working and has various types of public, private and hybrid nature. Here it is important to understand that not all types of clouds are suitable for everyone. There are different models and services and the idea is to find the right kind of solution based on your needs. For this, it is good if the type of cloud deployment or cloud computer architecture is analyzed and then a mode is decided – Public cloud, private cloud or hybrid cloud.  All these types of clouds work differently but they all provide a friendly and user friendly dashboard to the professionals. All the users make use of cloud computing without realizing it as if you watch a series or a movie online then that is made possible due to cloud computing. Hence, we all are beneficiaries of this technology one form or the other.
Being in this field means one will have to constantly polish his / her skills as it is field that will evolve but it will always be there. To read constantly and practice the latest developments in the field however is the only way to keep yourself in the game and upgrade your skills from time to time.
Which is better in terms of Career prospect – Data Science or Cloud Computing?
From the career point of view, both the streams have their advantage and it is a good filed to be in right now. No matter which side of the coin you choose. Data Sciences has a good scope and cloud Computing has a good market but the salary package in both the streams is skyrocketing.  Amazon, Google, Microsoft all the good companies are pushing for good data Scientists and Cloud Computing thus sky is the limit if you have talent and skill on your side.
Related Blogs