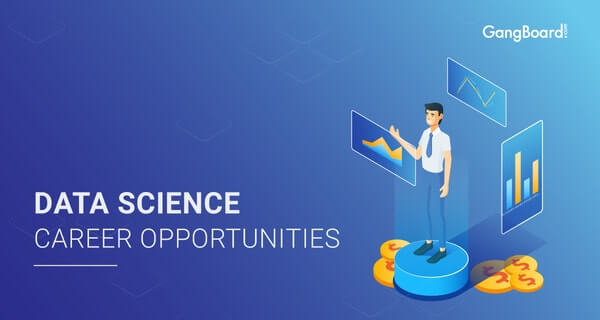 Data science Career Opportunities
What are the career opportunities as a Data Scientist?
A magician of data, this can be the best way to define a data Scientist in the times of today. As an analytical and logical thinker, a data scientist is an in-demand candidate in almost every industry.  A data Scientist is responsible for courses like Big data and undertake cleaning, preparation and analyzing of data to predict future business engagements. Large number of data is analyzed and operated in businesses and these complex data set which was earlier debunked by an industry is now made categorically useful for the businesses.
Click Here! → Get Prepared for Interviews!
What is a data scientist's job?
With these models in play, the industry today is moving towards annalistic and is becoming smarter than before.  There is a huge demand for Data scientists these days and there are two demarcations also which have developed in this field – Data Scientist and Senior Data Scientist and the position that is offered to the candidate can depend on the expertise and skills of the candidate as well.
How to start a career as a Data Scientist?
For starting a career in the domain of data science some of the basic skills that will be required of from the candidate are analysis, machine Learning, statistics, Hadoop and critical thinking above all. Remember this is a field Where the career opportunities are plenty so having education and expertise on your side in this domain can go a long way for the candidate.
Click Here! → Get Free Data Science Tutorial!
How is the job market for a Data Scientist?
In the globalized world of today the opportunities are myriad. There are openings for the profile of data scientist worldwide and it is no hidden truth that the salary packages offered to the candidates are sky rocketing.
As per the Forbes Magazine, in the year 2016, there were 2900 unique job postings for a data scientist every month and by 2018 end there is a prediction of having 200000 openings.
What skills are needed to be a data scientist?
The dynamics of work culture is changing now every filed has a cope for international platforms and every filed has a scope for interlineally linking other domains like in the area of Netflix now there is a need for a data scientist to help create an individualistic experience for the user showing him recommendations on which shows should be watched next based on the history of viewing of the user. The avenues are vast and options are plenty for someone who is capable, smart and skilled.
How do I become a data scientist?
Choose the right time to acquire rights skills so that you can flourish hand in hand with the technological advancements of the age and create your name in the filed with scope for a better future and a better lifestyle. There is no better tomorrow unless we create one and in this field of data science and computers the platforms that are provided are innumerable and the resources are plenty. The young guns shouldn't think twice before driving into the discipline of data science and walk hand in hand with the future by developing skills in the field.
Related Blogs