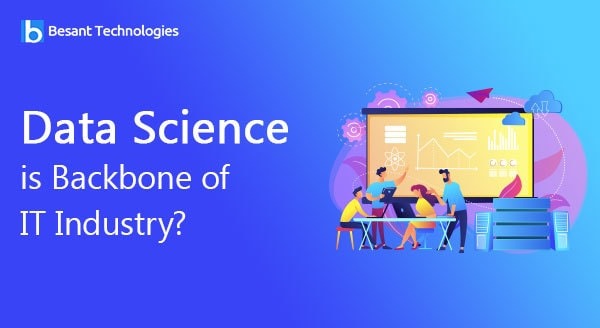 Data Science is Backbone of IT Industry?
With the shift from analog to digital, the flow of data has increased exponentially. Data is collected from a myriad of sources like web logs, mobile devices, sensors, instruments, and transactions. At the same time, new technologies are emerging to organize and make use of this avalanche of data. But the challenge lies in how to extract value from data. This is where Data Science comes in.
Technology behind Data science
Data science can simply be put as the amalgamation of scientific methods, processes and systems to extract knowledge or insights from data.
Python, R and SAS are the three most popular languages for data analysis.
R – R is the language de choice of statistics. It is a free and open source programming language used to perform advanced data analysis tasks.
Python –Python is a free and open source programming language which has become very popular in data science due to its very large and active community, efficient data mining libraries and functions for model building.
SAS – SAS has been the market leader in the commercial analytics space. It offers a lots of statistical functions, has a good GUI for people to learn easily and provides good technical support. But all at a high cost.
Whichever language you choose to learn, it has its own advantages in Data science applications. At Besant Technologies, learn how to use Data Science with R, SAS or Python from beginner level to advanced techniques from experienced professionals in the field. Our syllabus covers all the important topics like statistics, machine learning algorithm, SQL and data manipulation.
Click Here! → Get Prepared for Interviews!
Data scientist is the dream job
There is a significant and growing demand for data-savvy professionals in IT sector, public agencies, and nonprofits. There is short supply of professionals who can work effectively with data in large scale and this is can be seen by the rapid rise in salaries for data engineers, data scientists, statisticians, and data analysts.
Data Science Training certifies you in the latest Data Analysis Technologies to keep in tab with industry demands.
It endows professionals with knowledge in some data management technologies like Hadoop, R, Flume, Sqoop, Machine learning, Mahout Etc. This certification gives an added advantage for building a bright and successful career.
Data Science is your shortcut to a better career path. Many top locations in the world are in the lookout for Big data experts. It is your chance to go to places.
It is a good career option if you are looking to get placed in top fortune companies. Your CV is your ticket when you have Data science training. Besant Technologies provides Data Science Training in Chennai with expert teachers and fully practical classes. Our Data science training package also includes job placement assistance, which is really a bonus point for students. So join today and make use of this opportunity to start a bright career.
Data science is the future
New sources of data are emerging every day. Internet of Things is talked about a lot today because of the large flow of data from Sensors in manufacturing processes to vehicles. A lot of this data will be time series based and have its own set of unique problems. Even though automated systems will play a key role, the human element will still be necessary for data science in the future.
Click Here! → Get Free Data Science Tutorial!
Mobile Devices have come to accommodate Artificial Intelligence (AI) in their operating systems. Personal assistants like Siri, Cortana and Google now make use of machine learning and AI logic which all depend on data sciences. It is the back bone of tomorrow's technology.
At Besant Technologies, our expert trainers keep themselves updated so that you don't lag behind. We provide training in all the emerging concepts. We keep you in par with industry standards and demands.
We have our branches with expert trainers in data science course in many locations such as Old Mahabalipuram road, Velachery, Tambaram and Bangalore.
Related Blogs