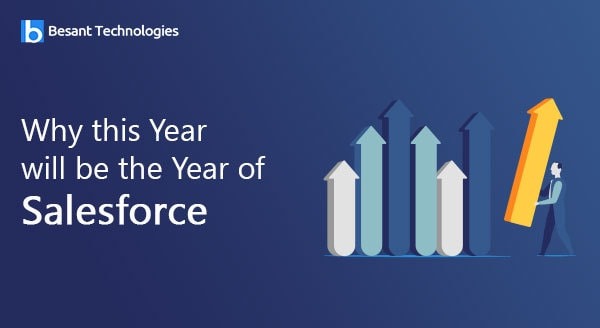 Why This Year Will Be the Year of Salesforce
Every year debate on which CRM is the best in market heats up. Each one of them offers in-depth detail and promises to be better than the others. However, the measure of their success depends entirely upon how many people are using it and what they feel about it. If we look at the statistics of last few years, in Salesforce we will find a clear winner. This CRM not only enjoys a huge reputation in the market but also covers some crucial customer centric aspects that make it an overall winner. Here in this blog we will cover what makes this CRM such a rave in Virtual world and why it is absolutely crucial to learn it.
Detailed and customizable dashboards: Ask any business vendor what is the most important thing they look for in a CRM, the answer will be Unanimous. They crave for a dashboard that displays their data in an easy actionable way. A detailed yet simple dashboard is a life line of every business and this is what Salesforce give. This platform offers lots of tabs and key pointers which business vendors can use to mark out any information that is useful to them. You can learn all about these dashboards and how to use them through good Salesforce Training in Chennai.
Better Info management: Gone are the days, when you have to keep sticky notes, calendars, notes, excel sheets to manage customer's data. Salesforce covers all of this in an elegant way. When using it you can set reminders, dates and alerts that will keep you in sync with all the information you need.
Better Lead Management: If you have done Salesforce Online Training and know how to use it effectively you can really play and manage your leads effectively through:
Lead automation that will automatically triggers in the action you will set up
Instant Email notifications
Segregating leads in different segments depending upon your business goals like: Hot Leads, Leads that aren't touched for 30 days or leads that need immediate follow-up.
Business forecasting: Now this is a big plus of this platform. Through detailed refining and analysis of data it can accurately forecast the direction in which business will mould. You can set parameters and can analyse your business against it. Through detailed reports you can figure out customer behaviour and their preferences. To put in simpler words you can plan your business moves based on the data you process.
Some best in class Email templates: Salesforce offers some best in design email templates that will make your work swifter with your customers. All you need to do is select and assign the templates to the segments and your work is done. These templates are designed keeping in mind the customer's behaviour and industrial practices. Therefore, you won't have to do much customization to use them.
Salesforce is in demand and it is going to further dominate the market in coming few years. Therefore, if you are looking to get yourself Salesforce Training in Chennai this is the time to do it. It is predicted that its usage will further jump by 3% in 2017, which will give it a substantial lead over its competitors.