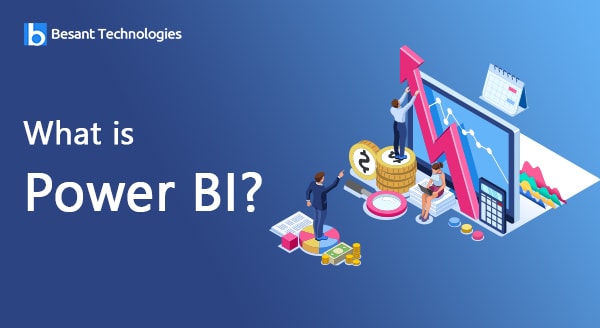 What is Power BI?
Data can't be put to any use until and unless it makes sense. The pieces of the data puzzle need to be put together for them to be able to convey any meaning. The faster you can bring data into a coherent form, the faster you can use it to help your business grow. Power BI helps you do just that. It helps users to connect to data, and visualize it with the help of readable models. You can, in fact, choose how much or how little data you want to visualize.
What is Power BI?
Power BI is basically a business intelligence tool that helps you gain actionable insights into data obtained from different sources. By allowing for better and faster data analysis, Power BI can help business managers, corporate executives, and other users make intelligent business decisions. Since this BI tool helps convert data into easy-to-understand analysis reports and interactive dashboards, even those who are not hard-core techies can conveniently use it.
Power BI is a self-service business analytics tool developed by Microsoft; you can access it using any of the popular browsers connected to the internet. The platform provides you with the capability to analyze and visualize data, extract insights and share it across various departments within your organization. It allows efficient decision-making driven by empirical data. With the help of Power BI, you can gather data from more than a hundred sources and accumulate them in one platform, bring data to life with intuitive dashboards and reposts.
Click Here! → Get Power BI 100% Practical Training!
Why you should use Power BI?
Distribution and publication of data insights become hundredfold easier with Power BI. You no longer need to use a shared drive for these purposes. Instead, you can upload the visualizations and reports to the Power BI service. And how does that help? Every time there is an update in the underlying dataset, the uploaded data gets refreshed.
The reports and dashboards show completely updated data. These dashboards get updated as soon as fresh data is pushed in. When dashboards update in real-time, viewers are able to identify opportunities and solve problems quickly.
Users can easily customize Power BI app navigation. Due to this customizable navigation feature, finding content and understanding the link between different dashboards and reports get easier and faster.
By using the security customization features, viewers are able to see only relevant data. This feature ensures that people don't waste time encountering data that's not important for them.
Power BI is compatible with Cortana, the digital assistant of Microsoft. This feature helps users ask questions in their natural languages. This is a useful feature for people using mobile devices to access power BI.
The uncomplicated setup of power BI enables you to get quick insights into data. Besides, you require no specialized training to operate it. And it comes with ready dashboards for Microsoft Dynamics, Google Analytics, Salesforce, and other such services.
What are some of the most important Power BI tools?
Power BI has some really amazing tools on offer. Some have been dished out here-
Power BI Mobile Apps.
Power BI Report Server.
Power BI Data Gateway.
Power BI service.
Power BI Desktop.
The Architecture of Power BI
The architecture of Power BI involves three major steps- data integration, data processing, and data presentation.
In the data integration stage, data from various sources are collected and given one common format.
At the data processing stage, refinement of data is carried out. For instance, missing and redundant values will be removed from the collected data.
Lastly, at the data presentation stage, data is released to be viewed by users in the form of dashboards and reports.
Power BI is an extremely user-friendly and interactive data analytics and visualization tool for business intelligence (BI). You can use it to collect data from the cloud as well as on-premises so as to create dashboards that assess metrics that are most meaningful to you.
Key Components of Power BI
Following are the key components that constitute the Power BI:
1.Visualizations
Representation of data in the visual form is visualization. Examples of visualization of data are Line Graphs, Pie Charts, treemaps, etc.
2. Datasets
The collection of data that is used to develop visualizations in Power BI is called datasets; these include SQL server tables, Excel sheets, or Oracle.
3. Reports
Collection of data in the visual form usually on a page or a few pages is report. These reports may represent, profit by different category of products, cost of marketing in a region, sales by country, etc.  
4. Dashboards
A dashboard presents several visualizations in one interface.
5. Tiles
These are single visualization such as bar diagram in a report or dashboard.
Click Here! → To Get Power BI Certification Training!
Key Features of Power BI
Power BI is one of the most popular BI tools used by business all across the world to better understand business data, use the exceptional visualization tools to assess the current standing of the business using live dashboards and reports, share reports across the organization using the collaborative features included within Power BI. Following are brief on the key features of Power BI:
1. Power BI Desktop
Power BI Desktop is an interactive tool that allows you to build reports by easily accessing data. You do not have to possess advanced report designing, Excel Power, or queries skills to build a report with this powerful tool. Power BI Desktop is free to download tool that allows you to create exceptional reports without much technical knowledge.
2. Visibility
Data is at the center of all business decisions today. The challenge before organizations is to manipulate data with other datasets to derive meaningful information. An effective way to do this is to collect various datasets and organize it in different visual ways for better understanding. This form provides a much deeper understanding of data. The information obtained from these data sets with the help of Power BI visual representation organization can have an edge over the competition.
3. Import Excel Data
This is a new feature added to Power BI; it allows the user to import data from Excel Sheets. With this feature, Excel Power users have more functionality to work with using the Power BI.
4. Custom Visualization
Every organization functions in a different manner and they have their own way of doing things, sometimes the standard way is always the way to go. The same applies to visualization. Power BI has a default standard and might not be sufficient in some cases due to complex data. However, you can access the custom library of visualization to design a visualization that meets your needs.
5. Power Q&A Question Box
This integrated function within the Microsoft Power BI allows you to explore data by asking questions and the software gives answers in the form of visualizations. You can use the Q&A to modify dashboards and reports. Q&A also helps you find the right question and provides the most correct answer.
Click Here! → Get Prepared for Interviews!
Power BI Advantages and Disadvantages
The primary tools used in Power BI are Power Pivot to analyze data, Power Query to extract and modify data, and Map that helps visualize the datasets. Here are our analysis of the benefits of Power BI and its limitations.
Advantages
Power BI empowers the analysts with business intelligence capability allowing them to extract data from various sources, create datasets, transform and visualize data, and publish the reports and dashboards.
The platform brings a new dimension to self-service with the inclusion of Question and Answer function.
Bing Maps empower the interactive geo-map visualization.
Data Analysis Expressions scripting language used in Power BI allows the creation of calculated columns and measures. In most aspects, Excel and Data Analysis Expressions are similar, with the difference that Excel works around cells and Data Analysis Expression is column based.
The product receives update almost every month, ensuring a perpetual evolution.
Disadvantage
Power BI lacks in custom visuals.
The business intelligence tool does not allow the writing of custom SQL as a source in PowerQuery.
Sharing dashboards and reports with individuals outside the same email domain is a nightmare.
Datasets in Power BI support multiple datasets; however, dashboards and reports can only source single datasets.
The platform does not accept file size larger than 250 MB
Power BI is a highly effective tool that enables data-driven decision-making and collaboration within an organization. The platform provides a wide range of options to facilitate seamless operations for an organization. It is regularly updated bringing the latest innovation in business analytics technology for the user.
Click Here! → Enroll now!