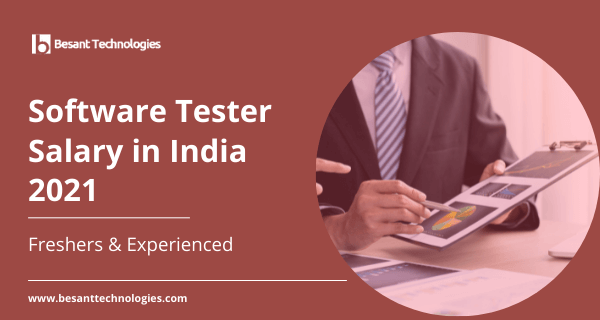 Software Tester Salary in India for Freshers and Experienced 2021
With the exponential growth in the number of mobile apps and other technologies, there is a huge demand for the requirement for testers to test them.
People with knowledge of automation testing command higher pay in India. Solitary from expertise in automation, software testers also have the alternative of specializing in other skills such as performance testing, API testing, database testing, security testing, etc.
A Software tester can perform remotely i. e. work from home and now many organizations start to provide work-from-home options to software testers. We provide you brief knowledge of software testing and its salary aspects in various cities.
What Is Software Testing And Role Of Software Testing
A process of testing an application or program to find software bugs is called Software Testing. It's defined as a verification/validation process to make sure that the upcoming application or software meets all the requirements and works appropriately.
Why We Need A Software Tester:-
Detect bugs or errors and make a program or software to meet business requirements.
Provide quality and fast programming projects.
follow the SDLC(software development life cycle) concept for long-term benefits
highly creative and responsible job for excellent software.
Software Tester Salary For Fresher and Experienced
The average salary of a fresher software tester in India is between Rs 2,30,000 to Rs 7,30,000 annual.
The average salary of an experienced software tester in India is between Rs 3,40,000 to Rs 8,30,000 annually.
If you pursue your career as a freelancer in software tester you can earn up to 10 lakhs in one year.
Software Testing Salary Based On Locations
A Software Tester Salary in India for Freshers and Experienced depends on several factors like educational background, experience, location, etc. We added some top cities in India with the average package of a software tester/software analyst.
Bangalore
The average Software Tester salary in Bangalore begins at Rs 35,000 to 60,000 per month. The basic salary offered by IT companies in Bangalore is Rs 40,000 per month.
Chennai
In one of the best cities, Chennai, the average salary begins at Rs. 29,000 to Rs. 37,000 per month. The standard salary offered up to ₹4.34 LPA.
Hyderabad
The Software Tester salary in India's top cyber city begins at Rs 30,000 to 40,000 per month. The average salary of a software tester in Hyderabad is up to Rs 3,70,000 annually.
Mumbai And Pune
The standard Software Tester salary in Mumbai and Pune starts at 3lakhs annual. If you're highly skilled then many IT companies offer up to 12 lakhs.
Delhi And Gurgaon
The Software Tester salary in India's capital Delhi begins at Rs. 30,000 to Rs. 50,000 per month. There are many MNC, IT, and Startup companies that offer up to 10 lakhs in one year.
Salaries Based On Testing Types
A software Tester Salary is based on his/her skills. If he/she is highly skilled and experienced in manual testing, ETL testing,n g, and others then companies pay more with additional benefits and insurance.
1.Manual Tester Salary
A manual tester job is not an easy task, you have to be highly creative with the best productivity. A manual Tester job it's a more demanding skill in IT companies. The typical manual tester salary in Indiana is 15 LPA.
 2.Automation Tester (Selenium )Salary
Automation Tester Job is testing software or programs on inbuilt software and you don't need to be an expert in manual testing. The standard automation tester (selenium) salary in India is up to 10 LPA.
3.ETL Tester / Data warehousing Tester
ETL Tester/Data warehousing tester is also a demanding skill in many Software companies in India that pays up to 5 LPA to an experienced tester.
4.Performance Tester (LoadRunner,   JMeter)
Performance TesteLoadRunnerer, JMeter) new technologies used for testing. A person who has excellent knowledge about this tester Software can earn up to 13lakhs.
How To Become An Expert in Software Testing In India
If you're interested in becoming a software tester or a newbie in testing, we recommend that the most in-demand skill in 2021 is " software testing".
You can start with basic to advanced principles of software testing and become an expert in Manual testing, Business Analyst, Testing Engine, er and more.
Let's start your career in 2021, and grow your career in testing and earn more.