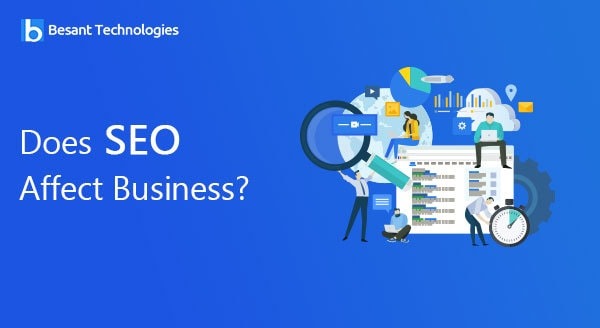 Does SEO Affect Business?
Great content needs great search engine ratings. Business insiders and marketers understand the importance of search engine relevancy. They are aware of the impact SEO has on their business.
SEO, Search engine optimization, can be defined as the process of increasing the website position in the search engine result pages. Whether it be Google, Yahoo or Bing, SEO methods apply to every Search Engines. Businesses of all sizes place their focus on Google's search rankings as this is where both money and traffic is available.
80% of any online businesses success depends upon showing up on Google. Google shows it's most relevant search results based on certain algorithms. Cracking down these algorithms can open the gates of traffic, which is where SEO comes into play. Search engine optimization helps attract traffic organically from the Search Engines by using various components. These components like Heading tag, meta tags, alt tag, permalink, backlinks, word count and various other factors helps boost your business search results.
Click Here! → Get Prepared for Interviews!
How does it affect your business?
From the perspective of your business, it's imperative that you start utilizing this tool. Getting your business ranked organically high up in the search results helps your business in various ways. It vastly reduces the cost of Pay Per Click advertising and the traditional modes of advertising. Also, it increases the number of sales, leads and improves the brand value.
Using the right keyword for your business and analyzing the competitor's keyword market can help increase your market share and damage your competitors. However, the scenario may be completely opposite when optimization is neglected. Because of its drastic effects, SEO is an integral part of the digital marketing strategy of any business.
Why is it important?
Every day millions of users are making search queries on Search Engines like Google. Ranking high up in those relevant search queries increases the probability of your site to be discovered. These visitors can then be converted into potential customers for your business. Good and effective Search Engine Optimization ensures a high rate of traffic and sales.

Imagine a store is located in the middle of a town and another store is located in a deserted area near the countryside. Which is more likely to be popular? Obviously, because of the visibility and discoverability of the store in the town, it will be much more popular than the one situated in a deserted location. SEO enhances the foot traffic of your business website without any advertising.
SEO is a constantly evolving process and companies are doing their best to adapt to the changes and trends. SEO Training has become a rage these days due to this surge in demand.
Why invest in SEO?
It is cost-effective
The internet user population is increasing rapidly
It helps your business to reach a wider audience
It delivers high returns unlike other digital marketing strategies
It is here to stay
It makes you ubiquitousv
It multiplies your business impact
Conclusion
SEO is a widely lucrative yet misunderstood strategy. Recognized institutes like Besant Technologies provides SEO Training in Chennai, which is highly valuable to aspiring individuals. Businesses know that SEO can either tank their website down or can rank their website up, which is why they are on a constant lookout for knowledgeable individuals. No matter how well or how badly it is utilized, SEO will certainly affect your business.