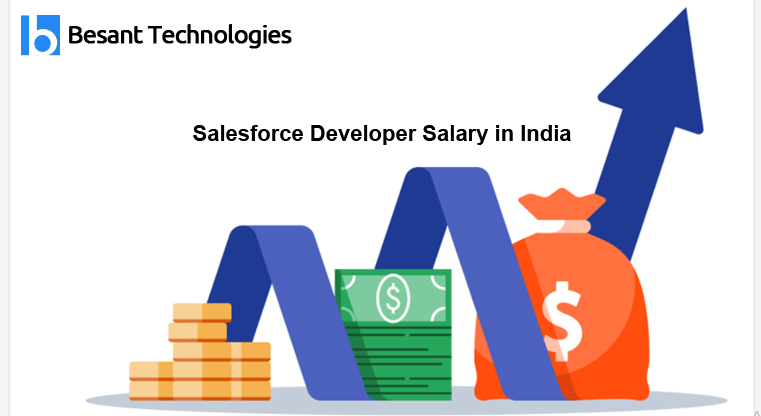 Salesforce Developer Salary in India
Salesforce Developer is responsible for the organization or startup companies growth and lead generation. Salesforce Developer is a high-demand skill with a reputed training certificate in salesforce developer in many big cities in India. A salesforce developer candidate can earn 4-5 LPA. Experienced Salesforce can earn 7-10 LPA with excellent skills and credentials.
What is Salesforce Developer?
Developers are an essential part of customizing and implementing the Salesforce strategy and ensuring that it combines properly with the organization's operations. An ideal Salesforce developer builds tools within the program for custom reporting, business processes, and automated collections that expand beyond the point-and-click abilities built into the system.
Top Companies Hire Salesforce Developer and Salary in India
Infosys
Infosys is a top-notch IT company in India. It offers more than 20,000 jobs every year. A salesforce developer can earn up to 4 lakhs and an experienced salesforce developer can earn up to 10 lakhs per year.
Amazon
Amazon is the biggest and leading online E-commerce company in the world. It offers 40,000+ jobs, remote work, and internships every single year. An entry-level and mid-level developer salary starts from Rs. 40,000 to 50,000 per month.
Paytm
Paytm is another big transaction platform in India. A typical Paytm salesforce developer salary starts from Rs. 30,000 to 45,000 per month.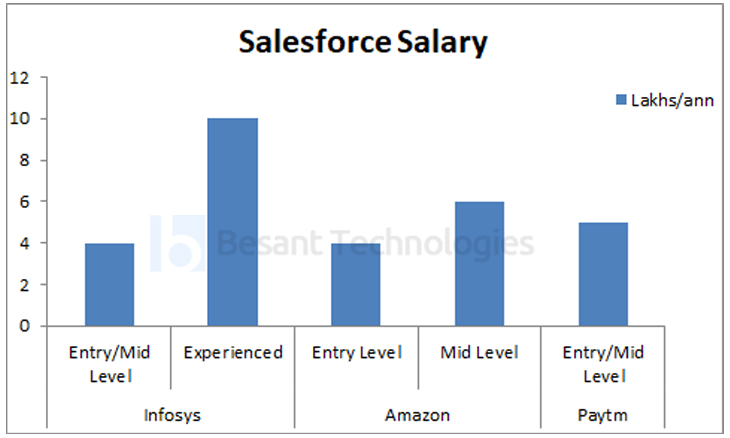 Cross Mark Inc.
Cross Mark Inc. is an MNC company and a salesforce developer can earn Rs. 24,000 to 35,000 per month. Experienced and skilled salesforce developers can earn up to 12 LPA.
Cognizant
Cognizant is an international company and its main branch is located in Gurgaon. Mid-level salesforce developers earn 7-8 lakhs every single year. A cognizant International company offers you additional benefits like insurance, lunch and remote work, etc.
TCS
TCS is listed as the leading innovative and IT company in India. Every developer dreams of working in this company. TCS conducts an entrance test for salesforce to developers. A junior level or entry-level salesforce developer's salary starts from 35,000 to 45,000 per month.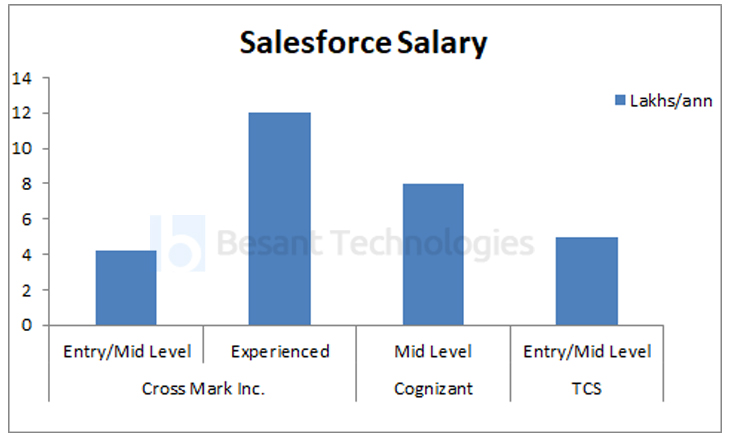 Top Location for High Pay Scale a salesforce developer in India
Salesforce developers are in great demand across the globe. Top cities in India offering potential careers for Salesforce developers include Delhi, Bangalore, Mumbai, Pune, Chandigarh, Gurgaon, and more. Check your city-wise pay scale of a salesforce developer:
Delhi/Gurgaon
Delhi and Gurgaon both cities are both the main hubs for the IT sector in India. If you plan to move and live in these cities then it's a good chance to earn money because a fresher or entry-level salesforce developer earns Rs.32,563 to 44,679 every month.
Hyderabad
Hyderabad is well-reputed and one of the biggest cyber cities in India. A typical salesforce developer can earn up to 3-4 lakhs every year. Many companies in Hyderabad provide WFH ( work from home) jobs and offer some benefits.
Bangalore
Bangalore is the house for many startup and e-commerce companies in India. You can easily find a job in Bangalore city. A mid-level salesforce developer can earn 20,00-35,000 per month. A salesforce developer with a valid salesforce certificate can earn 7-8 LPA. Certificate are your passport to opportunity get certified by experts Salesforce Developer Training in Bangalore
Chennai
Chennai is a fast-growing city in India, a salesforce developer easily can earn and grow their career in Chennai. A salesforce can earn Rs. 23,437 to Rs. 36,678 per month and the salary can increase rapidly. Learn Salesforce Developer Course in Chennai
Mumbai
Mumbai is a well-known city in India. It's a great choice to start a career as a salesforce developer in India. starting salary of a salesforce developer between 4 to 5 LPA. A candidate with sharp skills and experience can earn up to 7 LPA.
Chandigarh and Karachi
Chandigarh and Karachi both cities are both the best options for fresher salesforce developers. Both cities are leading IT cities in India and highly competitive places for starting your career. A Salesforce developer's salary in Chandigarh and Karachi is 6-7 LPA.
Importance and Future Scope of Salesforce Developers
Salesforce CRM software has a comprehensive reach and will proceed to grow. Accomplishing the skills, training, and education needed to maintain a career in Salesforce development is an essential step on the Salesforce career journey. Most Salesforce architects already know about computer science and software development. A specialized certification course provides you with the precise skill set you require to grow above in the trade.
The superior Salesforce architect/developer has an understanding of .NET programming, JAVA, Model-View-Controller layout, and Object-Oriented Programming (OOP) principles. Salesforce credential in commerce, sales, and additional cloud-based factors isn't a requirement for these roles, but it helps organize credibility in the area. In-depth proficiency of the Visual and Apex languages used in the strategy is basic.