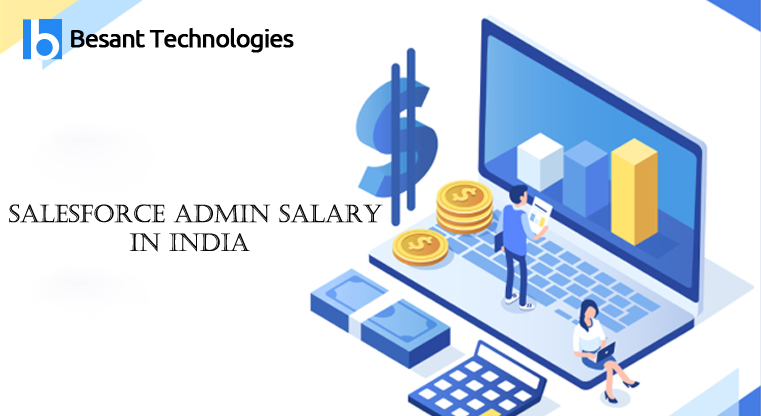 Salesforce Admin Salary in India for Fresher and Experienced
Starting a career in Salesforce is a profitable choice in 2021. Being a creative skill and the best CRM tool in the globe, Salesforce professionals are very extensively in demand all across the world. The salaries rise instantly with knowledge and experience. Here is what Salesforce admin earns concerning years of experience:
Junior Salesforce Admin with less than 2 years experience – Rs 3,10,824.
Mid-level Salesforce Admin with 2-4 years experience – Rs 8,13,689.
Senior Salesforce Admin with more than 4 years experience – Rs 14,69,497.
Salaries also depend on the area or place and company where you like to work. Let's check out all details and salary insights of Salesforce admin and other roles.
What is Salesforce? Key Features of Salesforce
Salesforce is the customer relationship management(CRM) solution that attracts clients and organizations together and is the world's top edge platform. It reported a typical year-on-year evolution of 25% for the prior three years and has enterprising strategies to double its progress over the next five.
As per online reports, almost 4.3 million Salesforce jobs can be predicted by 2023. Also, Salesforce training institutes have enhanced the organization size by educating architects over the years.
As per the International Data Corporation(IDC) report, Salesforce CRM was the major CRM system with a score of 20.5% market interest. The third best job in India today is not a Java/Python developer; it's a Salesforce Admin. The indication that Salesforce admin job so continually get shout-outs like these is expressive and productive with more opportunities and clearly, Salesforce admin is a great career option now.
Average salaries of Salesforce different Roles in India
Salesforce Admin/Administration
Salesforce Admin/Administration mainly focused on sales and leads. A salesforce Admin salary in India is 9 lakhs to 14 lakhs annual. A fresher salesforce admin can earn up to 3 lakhs and an experienced salesforce admin can earn up to 6-7 lakhs. Excellent skills are required for this job profile and its selection based on interviews and some practical tasks.
CRM Manager
A CRM Manager is a tough post in a business or organization because all important decisions and tasks are completed with the help of a CRM manager. To become a CRM you need to be experienced and a critical thinker. A CRM manager's average salary in Hyderabad, Delhi, Karachi, Bangalore, and Mumbai cities is 45,000 per month.
Pardot Consultant
A Pardot consultant or Pardot Consulting is the most famous job profile for girls. A pardot consultant salary in big cities like Mumbai, Pune, Gurgaon, Bangalore, and more starts from Rs. 30,000 per month. If you're an experienced pardot consultant then you can earn up to 35,000 per month.
Project Manager
A Project Manager is the pillar of an organization who manages all the functionality in an organization. A project manager handling all the products sales, events, staff management, and more. A typical project manager can earn up to 14 lakhs in one year. Many small business owners and startup companies in India can pay 15+ lakhs for better leads and growth.
Business Analyst
Business Analyst is the most reputed job profile and the average salary of a fresher business analyst in India starts from 4 lakhs to 7 lakhs. Having a great experience can earn you up to 12 lakhs per year in India.
Solution Architect
Solution Architect is the most demanding job in cyber cities like Delhi, Noida, Bangalore, Mumbai. An average salary of a fresher solution architect starts from 3-4LPA to 4-6LPA. If you belong to smart cities in India and have relevant skills and experience then you can earn up to 3.5 Lakhs.
Marketing Automation Specialist
A marketing automation specialist salary starts at 35,000 per month in Hyderabad and Gurgaon cities. Because these cities are the backbone of the IT sector in India. In other cities like Delhi, West Bengal, Karachi the average salary starts at 25,000 per month because it all depends upon your experience and location.
Tester and Technical Architect
Tester and Technical Architect earn up to 5LPA. If you live in Bangalore, Delhi, Pune, Noida, and Hyderabad then a fresher tester can earn Rs. 30,000 per month. An experienced Technical and Tester can earn Rs. 40,000 per month.
A Salesforce is a trending CRM and one of the fastest-growing organizations. You can get successful growth as a Salesforce admin if you have proper experience and certifications. To get a proper training at your location check Salesforce Admin Training in Chennai and Salesforce Admin Training in Bangalore