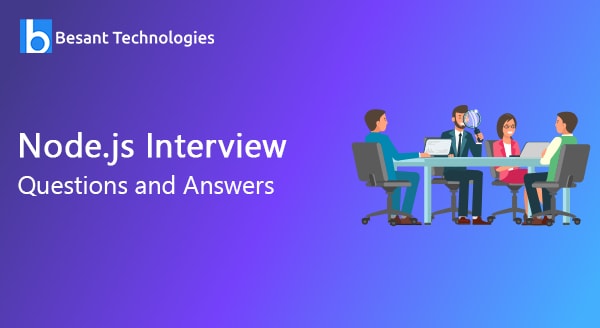 Node.js Interview Questions and Answers
Node.js Interview Questions and Answers
Are you among those who are aspiring to start their career as a Node.js developer? Well, you have landed at the right place. Preparing for an interview without proper resources is a challenging task. If you are preparing for a Node.js interview this would be the right place for you. Advanced planning and prior preparation of frequently asked Node.js interview questions would build confidence in you and help you to nail the interview in the very first attempt.
Node.js is a server-side scripting tool used by millions of developers around the globe. It is very simple and has a very low learning curve. Node.js is a platform built on Chrome's JavaScript runtime that is capable of building anything right from simple command programs to complex web applications. This is why many organizations have started using Node.js as a scripting language to manage the server-side.
The large corporations such as IBM, LinkedIn, Groupon, GoDaddy,  Netflix, Paypal, and many others are using Node.js. Huge demand and flexible features of Node.js has created huge opportunities for Certified Node.js developers. Let's get into the top NodeJs interview questions.
Below mentioned is the list of top Node.js interview questions which will help you in cracking the interview and landing in your dream job.
Best Node.js Interview Questions and Answers
Node.js Interview Questions and Answers for beginners and experts. List of frequently asked Node.js Interview Questions with Answers by Besant Technologies. We hope these Node.js Interview Questions and Answers are useful and will help you to get the best job in the networking industry. This Node.js interview questions and answers are prepared by Node.js Professionals based on MNC Companies' expectations. Stay tuned we will update New Node.js Interview questions with Answers Frequently. If you want to learn Practical Node.js Training then please go through this Node.js Training in Chennai, Node.js Training in Bangalore & Node.js Online Training