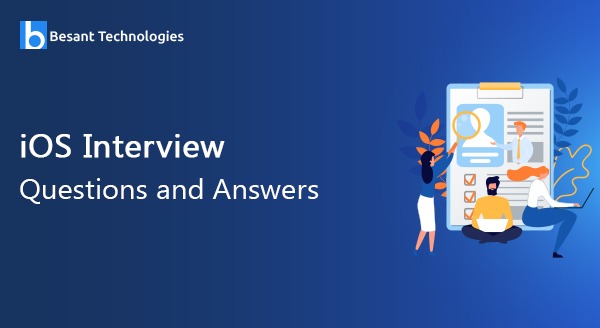 iOS Interview Questions and Answers
iOS Interview Questions and Answers
iOS Interview Questions and Answers for beginners and experts. List of frequently asked iOS Questions with answers by Besant Technologies. We hope these iOS interview questions and answers are useful and will help you to get the best job in the networking industry. These iOS interview questions and answers are prepared by iOS Professionals based on MNC Company's expectations. Stay tuned we will update New iOS Interview questions with Answers Frequently.
Besant Technologies supports the students by providing iOS interview questions and answers for the job placements and job purposes. iOS is the leading important course in the present situation because more job openings and the high salary pay for this iOS and more related jobs.
Best iOS Interview Questions and Answers
iOS app is becoming very popular and there are many iOS users steadily rising all over the world. Lots of loyal customers are available for iOS devices, helping in the development of new advanced devices like Apple Watch and TV. Preparation on iOS app development questions and answers is the coolest method to improve and demonstrate an individual skills to the employer. There has never been a better time to become an iOS developer. To give a super boost to your career, below is a list of regularly posted iOS interview questions which helps in passing the IOS job interview.
Here is the list of most frequently asked iOS Interview Questions and Answers in technical interviews. These iOS questions and answers are suitable for both freshers and experienced professionals at any level. The iOS questions are for intermediate to somewhat advanced iOS professionals, but even if you are just a beginner or fresher you should be able to understand the iOS answers and explanations here we give.
In this post, you will get the most important and top iOS Interview Questions and Answers, which will be very helpful and useful to those who are preparing for jobs.