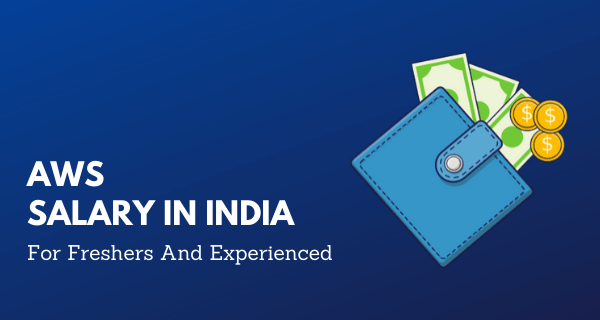 Amazon Web Services (AWS) Salary In India For Freshers And Experienced
What Exactly You Need To Know?
With the advent of Amazon Web Services, a sea of change can be witnessed in the world of the internet. These services have become overly popular now because of the numerous benefits they have on offer for their users. AWS is not just beneficial for its users but also for those who are employed in this domain. And that is probably the reason why more and more people are looking to pursue AWS Certification.
Benefits of taking AWS Certification
With an AWS Certification, it becomes easy for its learners to grab good jobs with high paying salaries. Note that the salaries aggressively grow with growing experience and expertise. Also, with time when you get better acquainted with your responsibilities, you begin to perform your current role with higher dexterity. This simply enhances your chances of getting promoted to higher job positions. Further, with an AWS certification, you expose yourself to many different work opportunities.
For instance, you can choose to work as an AWS architect or an AWS developer. There are other profiles also in which you can assume important roles. And all of such professional engagements can fetch you good earnings. But before we go deeper into Amazon Web Services (AWS) Salary in India for freshers and experienced, we will have to understand what is AWS, what specific responsibilities you shoulder when you are an AWS certified professional.
Understanding of AWS
AWS or Amazon Web Services is basically a forum that is cloud-based and is highly scalable. Under AWS, cloud computing solutions are offered to businesses. What sets AWS apart from other players in this domain is its cost-effectiveness, ease of use, and of course, reliability.
Also, AWS doesn't restrict the use of its services based on geographical locations. That means no matter where in this world business is located, it can use AWS services legally and absolutely without hassle, by paying the fee they charge.
AWS is an Amazon project that has been developed by putting together PaaS which stands for Platform As A Service, IaaS, or Infrastructure As A Service and SaaS that denotes Software As A Service.
AWS is a suite of services and products linked to cloud computing. It is indeed one of amazon's most profitable ventures and offers a variety of technologies, tools, and equipment that may be required to support the services they offer. From servers and computing to networking, email security, and storage, Amazon has everything important on offer for its customers who need Cloud computing services for business operations.
AWS has three subcategories. The first one is called Glacier, which is a pocket-friendly cloud storage service. The second one is S3, which facilitates object storage through a web service interface. And the third one is the ec2, which is a virtual machine server. The best thing about all of these Amazon services is that they have been designed to keep the exact needs of businesses in mind. And that is why they are way ahead of their competitors and are able to sell their services successfully at an eye-popping magnitude.
The Status of AWS in the Market
Certain recent reliable surveys reveal that AWS accounts for one-third of the total cloud computing market. In figures, it is 32.4 percent of the total market share. Google Cloud and Azure although popular, are lagging far behind Amazon.
AWS is globally scattered with its servers in about 76 availability zones. You will be surprised to know that it has set its foot in about 245 countries across the globe. The availability zones have been separated to enable users to keep their services under geographical restrictions in case they wish to. And one of the prime reasons behind this diversification is the security of stored data.
One thing that gets crystal clear is that AWS is a high potential area with respect to employment prospects. Hence, act smart and pursue AWS certification to expose yourself to high Amazon Web Services (AWS) Salary in India for freshers and experienced.
Although there are many job profiles in this field, the position of AWS Architect is highly sought after and is immensely popular among AWS certified IT experts. So, let's discuss this position in detail.
An Overview  of AWS Architect
Well, to be an AWS architect, you need to have an AWS Solutions Architect Certification. AWS architects are part of solution development teams of companies. One of the most important roles that they perform is designing applications and services. So, they need to have creative imagination and ideas apart from technical knowledge to make AWS services more helpful and meaningful for businesses.
So evidently, they need to have both business and technical skills. They are often referred to as solution architects and they generally work in coordination with enterprise architects. By working in sync with each other, they are able to devise solutions that are both effective and practical for businesses.
What else? AWS architects don't just need to manage processes but also people.
The Role of an AWS Architect
In a project, the responsibility of an AWS architect begins immediately after the computer system analyst develops requirements linked to the project. After that, they continue to be a part of this project until it gets completed. An AWS architect puts together development tasks and oversees the development team in such a manner that it stays motivated throughout the project.
Since AWS architects generally have considerable experience in developing software, they can be both productive and effective while serving as architects.
Nonetheless, the most important responsibility of an AWS architect is to make sure that the vision behind developing a solution gets successfully executed. Now, let's discuss the money part.
Amazon Web Services (AWS) Salary in India
AWS is one of the most talked-about areas in the IT industry. While much of it has to do with the clout that this cloud computing solutions giant enjoys in the market, a part indeed relates to AWS Certified Professional Salary. Interestingly, the popularity of AWS is growing like wildfire, with more and more businesses adopting its services.
And that is why it may be said that people who choose to become AWS architects or developers have a rosy professional path ahead of them. Their careers are only likely to grow bigger and better with time.
It is a high potential job profile that can take you to places if you put your hard work and intelligence into it. Now, let's get to the figures that matter the most. Note that the figures vary widely according to geographical location, experience, the employer, and the skills of the employee.
Amazon Web Services (AWS) Salary in India based on geographical location
According to Glassdoor, the mean Salary of an AWS Architect in India at entry-level is around 607k a year. With insufficient experience and an inability to associate with a bigger company, you might even have to begin your work with a mean salary of 383k. If you are lucky enough to associate yourself with a big multinational company or in case you have considerable experience to boast of, then you can earn as high as15373k.
Note that, your salary might not be this high if you are located in a small town in India. Generally, the compensations are higher in metros. For instance, an AWS expert can earn something close to 767k per annum in New Delhi. In Mumbai, this figure could go as high as 1195k, annually. Chennai employees can earn somewhere around 400k a year. And in case you are employed in Hyderabad and Kolkata, then your average salaries could be around 551k per year and 950k per year, respectively.
Amazon Web Services (AWS) Salary in India based on Experience
How much money you will rake up in a year is directly dependent on your experience in the field. If you have just a year of experience as an AWS professional or less than that, you might earn close to 480k, annually. With some time spent in the profession, some expertise gained, and skills learned, you can expect to earn somewhere around 800k per year. Senior professionals having an experience of about 6 to 14 years can expect a maximum salary of around 1800k per year.
And in case your experience has exceeded 15 years, you can earn heftily and that would be around 3000k annually. The cream of the crop has a lot of experience and expertise can earn significantly well by associating themselves with any top company. Their salary could easily touch the 5000k per year mark. These LinkedIn figures are indeed a testimony that AWS has immense potential for AWS certified IT professionals.
Amazon Web Services (AWS) Salary in India based on the Employer
According to Payscale, AWS Certified Associate Salary is impressive under big business entities. An AWS architect working with Accenture could fetch a salary of about 436K-3M a year. By associating yourself with Tata consultancy services, you could expect a yearly compensation of about 420K-2M. While Ericsson Inc pays 2M a year on an average, HCL Technologies Ltd compensates its AWS architects with around 298K-2M per year. Wipro Technologies Ltd, Tech Mahindra Ltd, and Amazon.com Inc offer salaries of 400K-2M a year, 350K-2M a year, and 258K-7 a year, respectively.
Amazon Web Services (AWS) Salary in India based on the skills of the Employees
The skills you hone can also earn you a good salary. In fact, different people working under AWS certifications could earn differently based on their skill-sets. For instance, if you are a DevOps engineer, then you can earn close to 725k per year. A technical architect makes something around 2M annually. In case you are an IT consultant, then you might get compensation for 1M a year. System architects, on the other hand, could make an annual earning of 2M. In case you are a Solution Architect with considerable experience, you can hope to make something around 1000k a year.
Conclusion
From what we have discussed above, it becomes pretty evident that AWS professionals have lately become an integral part of the IT industry. You have also learned about Amazon Web Services (AWS) Salary in India for freshers and experienced. Now, what you probably do not know is that AWS is rapidly growing and it is making more service opportunities available every year for deserving people.
It is, hence, extremely crucial that AWS professionals keep updating themselves on new innovations in the field. They should also constantly keep enriching their kitty of skills. And to do that, they can easily take up a course offline or online.
Essentially, it doesn't really matter what you do and how you do it, your focus should always be on bettering yourself. Remember, it is extremely easy to become obsolete in an extremely dynamic field like AWS. Only working on yourself constantly could help prevent that from happening!
Related Blogs: