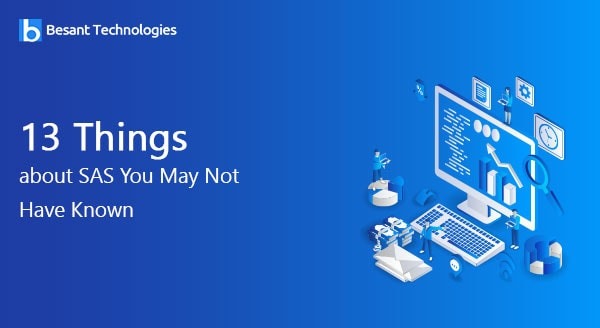 13 Things about SAS You May Not Have Known
SAS software needs no introduction. In the world where business intelligence is growing more than ever the demand for SAS experts is continuously growing. Every year a huge number of applicants are enrolling in SAS Certification Training in order to make a mark in this field. In this blog we will cover 13 highlighted benefits of this software which will further help you understand why it is considered as an undisputed market leader.
Market Leader in Terms of Jobs: Believe it or not but when it comes to jobs in this line they are second to none. Every organization is hunting for experts who can understand and operate this software to perfection. The role of Data analytic expert is becoming crucial in every organization and no other software covers this expertise like SAS does, which makes it a hot pick among organizations and engineers.
Easy to use with other Programs: This is one point that makes this software a true winner. No matter in which function your data is, Excel, Minitab, Stata or Systat you can easily in- cooperate it with SAS software. This software can easily convert data as per the user which makes the task easier for the engineers.
It is more Structured than any other Compiler: In SAS everything is in table. This gives engineer a better understanding and visualization of data. It can easily handle database access languages which are further required to create indexes. No other software offers such kind of sophistication.
It is a Fourth Generation Language: This feature has multiple advantages. First it simplifies the whole process of learning. Second, presence of GUI element notch up the usability for the engineers. Better readability of data and presentations in form of graphs all adds up to a terrific user experience.
Compatible with other Programs: Unlike other compliers that make you learn their own language in order to operate, SAS allows you to carry forward your knowledge. You can easily use your formats even if they are created in Oracle or DB2. No other software lets you do that.
Easier to Learn: There is no argument on this fact. When compared to R and Python, SAS is a clear winner. This is the reason why most engineers prefer SAS Online Training over its contemporise. If you are familiar with SQL than your task of learning it becomes even simpler. This software comes with comprehensive documentation that makes everything clear and understandable, no other tool does that.
Its Architect is Simple: This software is structured in such a way that if you are able to understand one of its architect or module better you will able to master them all. This is another reason why big co-operations prefer using this software for data analytics. With good GUI features and other components Data interpretation becomes easier and fun.
You don't Need to have Technical Expertise to Learn it: Unlike other programing functions that requires proper technical expertise SAS can be learned even by those who don't have any technical background. A good SAS Online Course is enough to get them going in this field. SAS is more dependent on Graphical representation than coding, which makes it accessible to wider number of audiences.
They have a Proper R&D Department: SAS has set up their own R&D department that takes it job quite seriously. This ensures that the applicants are always learning newest of skills and methods. This not only improves the software but also adds to the skill set of the developers learning this process.
Best Salary in the Town: Not only experts of this software are in high demand but also the packages they take home are substantial. The experts in this niche are among the highest paid individuals in IT stream. The post of data analyst is crucial in any organization and they are willing to pay anything to hire the best.
A Huge and Powerful Network of Support: A community of SAS users is present worldwide. No matter where you are located you can get help instantly in case you are stuck. The SAS community is already in big numbers and is growing every year. You can easily avail knowledge and expertise on this subject from the users who are connected with each other from different parts of the world.
It is the Oldest Software that is Prevailing in the Market: Now this speaks volumes about this software. It is one of the oldest prevailing software in the market. This has 3 distinct advantages. First, it is reliable. Second, most companies are using it as default software. Third, since it is in market for such a long time its user base is huge.
Proper Certification is Given After Completion: Now not many software agencies give that. SAS is licenced software this means individual that are able to go pass their SAS Training are awarded with proper certification that goes a long way in shaping their careers. SAS certification holds a great distinction and is highly regarded in job market.