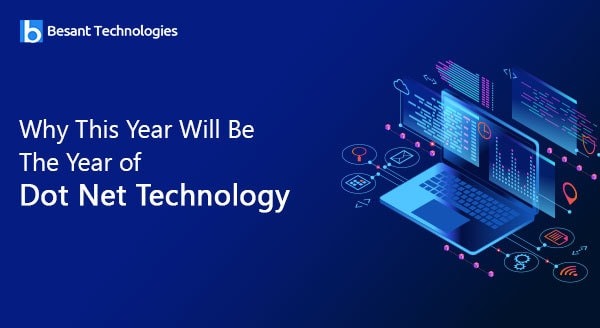 Why This Year Will Be The Year of Dot Net Technology
Dot Net framework was developed by Microsoft that helps developers to create applications easily. It is not only used to develop applications but also helps in running and maintenance of apps and XML web services. With Dot Net framework applications could be developed that runs on multiple platforms. Also it supports in creating cross platform server apps that can run smoothly on different platforms like Linux, Windows also Mac. The framework also helps in design, develop, compile, build and deploy any application. This feature plays as a main support to develop customizable applications. With the emerging growth of Dot Net framework in market Dot Net training in Chennai is also getting spotlight.
Origin of Dot Net
Before Dot Ne being evolved, coding languages would compile the source code and send it directly to the machine code and so the processor could execute. The processor could alone interpret the code. As a result programmers had to deal with allocating memory. But now Dot Net is helping the programmers by saving their time in terms of managing memory system. With the help of Dot Net complied code could be examined within the running code. Meantime programmers could create rules to examine application code and also repetitive programming code.

Below are some of the advantages of Dot Net
Allows multiple language usage
Easily interfaced with Windows and Microsoft
Language integration is possible and we can call methods from C# to VB.NET
IDEs are pre tested and is available in Microsoft Developer network
One of the main features of Dot Net is that developers can create programs in C++, Java or Virtual Basic. Few other advantages of Dot Net framework are less coding, increased re-use of codes, deployment, reliability, security, usage across platforms and languages.
Click Here! → Get Prepared for Interviews!
Applications of Dot Net
Dot Net applications could be developed for business process for the functions like finance, CRM, supply management and more. Dot Net acts as a boon to re-design applications for any kind of growing organizations. It plays an important role in overall management of distributed as well as multi-tiered applications in a better manner. Entire range of computer devices could be worked together. Also the communication media like e-mail, fax and phones could be integrated and worked at the same time.
Some of the types of applications that could be created using Dot Net are Desktop applications, web based applications, embedded system applications and more.
Career Prospects of Dot Net
As per the current market scenario Dot Net training has been a great career opportunity for developers. Dot Net training is a fruitful option for those who look to work beyond the limits of PHP, HTML5. Dot Net is one of the most reliable software development environment. Security measurements is also high with testing and implementation features. In fact Dot Net development companies are growing faster. This in turn results in high scale of recruitment options. There are many .Net training in Chennai who also involved in training developers to shine in their profile.