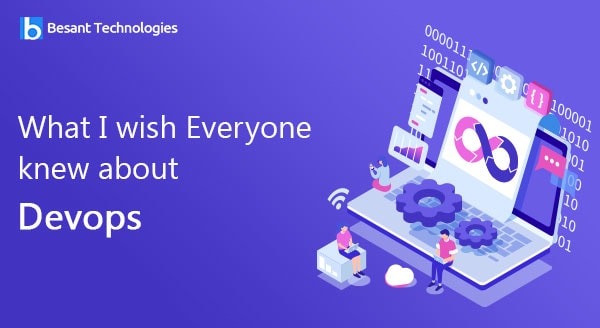 What I wish Everyone knew about Devops
Everyone now comes a time in IT industry when a new trend, product or a programming language gets everyone excited. It creates a great buzz around it and changes the way things are done. Yes, this is what new trends do and this is exactly what DevOps is doing.
DevOps is a new sensation in IT field that has caught everyone's imagination. Though experts have defined this trend in many different ways but its most apt definition will be that it is a practise that is aimed at improving and evolving systems operating at a high scale. It can be categorised into a life-cycle, which starts with a design and ends with final product. It aims at checking and evolving processes at every step to deliver extraordinary results. Even though this trend is gaining massive momentum in IT field still many are unaware of it. Learn DevOps Training in Chennai at Besant Technologies will helps you to enter this new DevOps World. In this blog will talk about all those aspects that make this practise so efficient and result oriented.
Improving the Business Operations:If you look at it broadly this is the process which involves reevaluating every aspect of your IT operation to improve it further. Every big and medium organisation does this though they might use different terms for doing it. The primarily base of DevOps is speed. Everything in this process is looked and evaluated through that aspect. Key analyses are laid down to see how excessive junk can be poured out of the operations to make it more smooth and effective. From Developers to testers everyone plays a key role in it.
The thing I Learned: This process is not a one man fancy but a collaborated effort of the entire team.
Enhancing Customers Experience: The main aim of this process is to deliver an end product that is fast and efficient. This can be done through extracting best out of your IT operations, which will ultimately result in better customer experience. Today customers love products that are fast and effective. DevOps if properly followed and executed can bring positive results in IT workforce which will always have a positive impact on the product.
The thing I Learned: This study aims at Digital transformation and transformation covers every aspect that is involved in a process.
Adding Flexibility and Agility to the Operations: Today flexibility and innovation is the need of the hour. IT units need to deliver before time to ensure that they can hit the market before their competitors. DevOps approach enables those units to do exactly that. Speed of the market, scale of the operations demand agility. In IT field no one can predict future; this is why the companies involved in it are always on their toes. DevOps adds that agility to give operations those wings, which will help them, fly.
 The thing I Learned: Devops Training plays a crucial role in improving the agility of the organisation.
Improving Employee's Productivity and Attitude: DevOps extend beyond exchanging e-mails or notes. Rather it focuses more on face-to-face interactions through devices such as: Kanban and scrum meetings. This process enables communication within different departments in different locations at same point.
The thing I Learned: DevOps not only improves the productivity but also enhances employee's satisfaction.
Promotes Kaizen: Kaizen means continuous learning of  and improving. This process has several lean principles that can be adapted into the work flow to get it going. IT environment is fast changing, rapid and unpredictable. This is why it is imperative that IT operations irrespective of their size or scale are able to adapt to these challenging responses to sustain themselves in market. DevOps enables companies to consistently learn and evaluate their methods to make themselves more flexible and innovative.
The thing I Learned: You can only change for good if you keep learning Devops Online Training and this is what this process aims at.