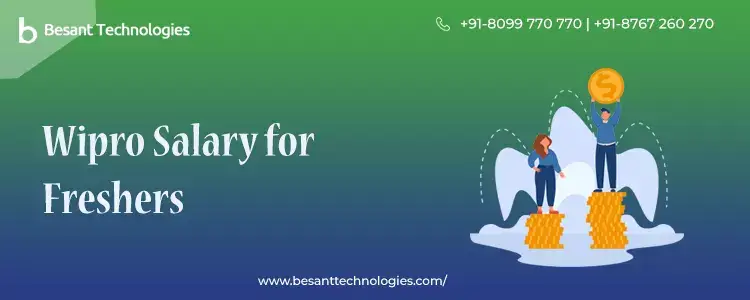 Wipro Salary for Freshers
Wipro Salary for Fresher's: What You Need To Know
If you are a fresher, considering taking up a job with Wipro, then you probably want to know how much a beginner can expect to earn working here. Well, that's important, and we will get to that point. But before we discuss Wipro salary for freshers, it's important to know about Wipro—what's the company is all about. Wipro is a big name, and a dream company to work in for a lot of fresh college graduates. So, here are some relevant details about the company for those who are interested.
About Wipro Limited
Wipro Limited is an Indian multinational conglomerate headquartered in Bangalore, Karnataka. They claim to provide a platform for professionals to become change agents. On its official website, Wipro claims to be constantly on the lookout to find the right people for the right jobs as technology is penetrating almost every field. Wipro jobs can lead to promising careers that can open up new growth opportunities in the future. No matter what your expertise is, Wipro claims to offer you a role that will challenge you, inspire you, or delight you.
You can send your resume directly to their database. However, it's worth noting that their system retains resumes for 6 months or 180 days.
Wipro does not charge fees at any stage in the recruitment process. It has also not allowed agencies or partners to collect any fees for recruitment. On their site, they overtly request candidates to inform them about any suspicious mail, advertisements, or persons claiming to offer jobs at Wipro that they might have encountered.

They consider themselves a just employer, and promise to consider all qualified applicants for employment without discrimination.
Perks for employees
Wipro promises to offer the opportunity to discover your full potential, grow constantly, and work with the best minds in the industry. They also say that they have a stimulating workplace which offers great growth opportunities, fair play, continuous innovation and a great culture. The company promises a fulfilling career.
Opportunities
Wipro focuses on diversification, technology adoption and global process improvements. To support employee development, they have a 360-degree appraisal system which claims to offer fair feedback at all levels. They also assert that they have transparent job postings, leadership programs and training methods, in addition to efficient appraisals.
Work life balance
Wipro claims to offer great work life balance to its employees, and also assumes great social responsibility.
Compensation perks
Interest-free loans are available to pay for housing deposits, the purchase of a 2-wheeler, and contingency loans in case of death, illness, or marriage. Wipro's Employee Stock Option Plan (WESOP), is also designed for the benefit of employees.
What is the salary of a fresher at Wipro?
For candidates having less than 1 or 2 years of experience, the average Wipro Fresher salary is Rs 3.2 Lakhs. Wipro's fresher salary ranges from Rs 1.6 Lakhs to Rs 4 Lakhs. It is 11% lower than the Indian average fresher salary. The salary estimates are based on 37 salaries mentioned by Wipro employees.
What are the top skills needed to work at Wipro as a fresher?
Voice process, communication skills, BPO, customer service/ customer support are some of the popular skills that might land you a job at Wipro. The demand for IT candidates is also high in the company.
It's important to note here that Wipro package for fresher's 2022 might vary from city to city.