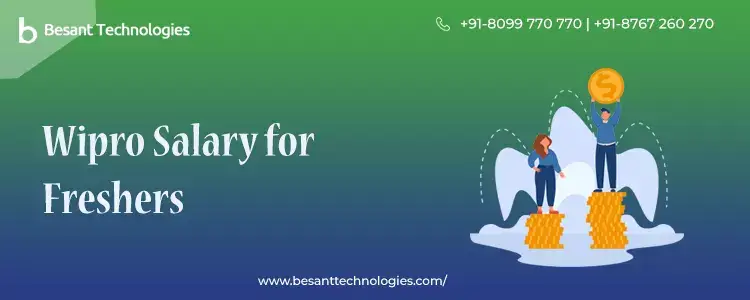 Wipro Freshers Salary
Wipro Salary Package For Fresher in India 2022
Wipro Technologies is a multinational company that offers attractive bonus packages to its employees with good salaries. Here are the average salaries of employees working at Wipro at the company on a monthly and yearly basis.
Average Wipro Salary For Freshers – Different Roles in India
Those working at Wipro are paid an average annual salary of Rs. 3,349,258 as Service Delivery Managers and Rs. 236,428 as Desktop Support Engineers.
Salesforce Admin/Administration
Salesforce Admin/Administration mainly focused on sales and leads. A salesforce Admin salary at Wipro India is 8 lakhs to 17 lakhs annual. A fresher salesforce admin can earn up to 4 lakhs and an experienced salesforce admin can earn up to 10-12 lakhs. A candidate for this position must possess exceptional skills and be selected through interviews and practical experience.
CRM Manager
A CRM Managers play a vital role in any company or organization since they are responsible for all important decisions. You need experience and the ability to think critically in order to become a CRM. A CRM manager's average salary in Wipro is 45,000 per month.
Customer Service Representative (CSR)
A Customer Service Representative (CSR) is the most famous job profile for girls. A customer service representative's salary in Wipro starts from Rs. 35,000 per month. If you're an experienced Customer Service Representative then you can earn up to 55,000 per month.
Team Leader and Project Manager
A An organization's Project Manager manages every aspect of the functions of the organization. Sales, events, personnel management, and more will be the responsibility of the manager. A typical project manager in Wipro can earn up to 15 lakhs in one year. The cost of acquiring better leads and growth is often 15 lakhs and more for small businesses in India.
Business Analyst
Business Analyst is the most reputed job profile and the average salary of a fresher business analyst in India starts from 6 lakhs to 9 lakhs. Having a great experience can earn you up to 18 lakhs per year in Wipro.
Financial Analyst
Financial Analyst is the most demanding job in Wipro. An average salary of a fresher solution architect starts from 6 LPA to 8 LPA. If you belong to smart cities in India and have relevant skills and experience then you can earn up to 4.5 Lakhs.
Marketing Automation Specialist
A marketing automation specialist salary starts at 55,000 per month in Hyderabad and Gurgaon cities. Because these are the main cyber cities of the IT sector in India. In other cities like Delhi, West Bengal, Karachi the average salary starts at 35,000 per month because it all depends upon your experience and location.
Tester and Technical Architect
Tester and Technical Architect earn up to 6LPA. If you live in Bangalore and Chandigarh then a fresher architect and tester can earn Rs. 39,000 per month. Technical and testers who have experience can earn Rs. 48,000 per month.
Best Locations for High Pay Scale in Wipro Company For India
The company Wipro is highly regarded worldwide. There are several cities in India that offer Wipro job opportunities, including Delhi, Bangalore, Mumbai, Pune, Chandigarh, and Gurgaon, among others. Check your city-wise Wipro package for freshers 2022:
Delhi/Gurgaon:
The major centers of IT employment in India are both in Delhi and Gurgaon. A Wipro salary for freshers ranges from Rs.52,563 to 59,679 per month, which means you should consider living and working in these cities if you want to earn good money.
Hyderabad:
The average package for a fresher in Hyderabad starts at 5-8 lakhs with Wipro's work from home positions. Hyderabad has been named one of the leading cyber cities in the world.
Bangalore:
In Bangalore, a wide variety of startups and e-commerce businesses are established, making it very easy to find a job. An employer of any level can earn between 45,000 and 75,000 per month in Wipro and other companies.
Chennai:
With the fast-growing economy of Chennai, one can easily earn and further their career there. Wipro's starting salary is between Rs. 53,437 and Rs. 86,678, and the salary increases as the experience increases.
Mumbai:
As a result of Mumbai's booming economy, Wipro is the perfect place to start your HR career. A candidate at the entry-level can start their career in Mumbai earning between 8 and 10 LPA; with experience and sharp skills, someone at the senior level can earn up to 20 LPA.
Wipro Salary for Fresher's: What You Need To Know
If you are a fresher, considering taking up a job with Wipro, then you probably want to know how much a beginner can expect to earn working here. Well, that's important, and we will get to that point. But before we discuss Wipro salary for freshers, it's important to know about Wipro—what's the company is all about. Wipro is a big name, and a dream company to work in for a lot of fresh college graduates. So, here are some relevant details about the company for those who are interested.
Perks for employees
Wipro promises to offer the opportunity to discover your full potential, grow constantly, and work with the best minds in the industry. They also say that they have a stimulating workplace which offers great growth opportunities, fair play, continuous innovation and a great culture. The company promises a fulfilling career.
Opportunities
Wipro focuses on diversification, technology adoption and global process improvements. To support employee development, they have a 360-degree appraisal system which claims to offer fair feedback at all levels. They also assert that they have transparent job postings, leadership programs and training methods, in addition to efficient appraisals.
Work life balance
Wipro claims to offer great work life balance to its employees, and also assumes great social responsibility.
Compensation perks
Interest-free loans are available to pay for housing deposits, the purchase of a 2-wheeler, and contingency loans in case of death, illness, or marriage. Wipro's Employee Stock Option Plan (WESOP), is also designed for the benefit of employees.
What are the top skills needed to work at Wipro as a fresher?
Voice process, communication skills, BPO, customer service/ customer support are some of the popular skills that might land you a job at Wipro. The demand for IT candidates is also high in the company.