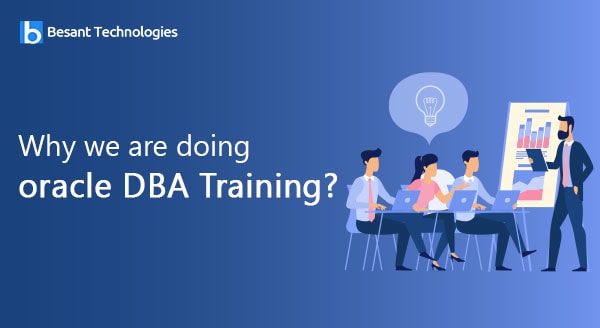 Why we are doing oracle DBA Training?
Why We Are Doing Oracle DBA Training?
Nowadays, data should be stored and maintained in the databases only. Oracle is one of the commonly used relational database management system in major fields. Numerous opportunities are there for Oracle DBA. So, you would undergo Oracle DBA Course in Chennai at Besant technologies that are providing best theoretical and practical training for all trainees.
Oracle DBA
Oracle database is the first database designed for enterprise grid computing. This is an object relational database management system produced and marketed by the oracle corporation which was commonly referred as Oracle RDBMS. It has number of modules, SCM and financials are the most important one.
Click Here! → Get Prepared for Interviews!
Types of Oracle Database Users
Database Administrator – Responsible for the performance, integrity and security of a database involved in planning and development of database
Security Officers – Enrolls users, controls and monitors the user access to the database and maintains system security
Network Administrators – Called as system administrators responsible for keeping an organizations computer network up to date and run smoothly
Application Developers – Design and implement database applications
Application Administrators – Administer applications of an application relies on running and responsible for installs, update, tune, diagnose and babysit both the internal and third-party applications
Database Users – Interact with users through applications or utilities
Click Here! → Get Oracle DBA 100% Practical Training!
Oracle Developer Suits Components
Oracle Forms
Oracle JDeveloper
Oracle Reports
Oracle Supported Platforms
Commonly Oracle database supported the following OS
Linux
Microsoft Windows
Oracle Solaris
IBM AIX
IBM LINUX
HP-UX
Oracle Certification
Want to become a certified professionals in Oracle reach us Besant technologies offering certification training also we will helps you to become a global certification holder. Some of main oracle certification programs are listed below,
Oracle Certified Associate (OCA)
Oracle Certified Professional (OCP)
Oracle Certified Master (OCM)
Benefits of Learning Oracle DBA @ Besant Technologies
If you attend your Oracle DBA Training in Chennai at Besant Technologies definitely you would be shine like a valuable database administrator. Besant Technologies is one of the best training institutes offering Oracle DBA Training at the reasonable price with the well experienced trainees providing real time training. We also offering placement for our candidates, so join here to become an Oracle DBA administrator.
Job Opportunities for Oracle DBA Administrator
Today's competitive world the companies are expecting very knowledgeable candidates to work smartly to implement their own ideas. Oracle is used to build commercial applications. So, switching from MySQL to Oracle would be accompanied by a bigger career switch from an IT industry to other. Oracle ERP has a bright feature; basically it's a long term process so the job security is good.