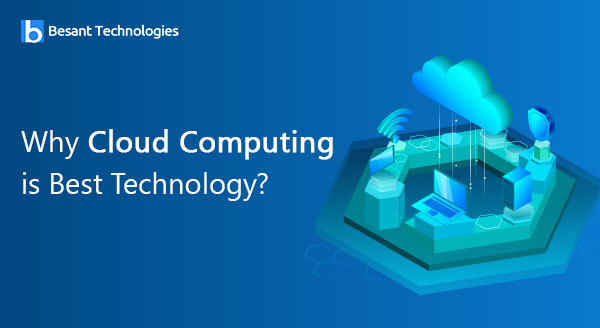 Why Cloud Computing is Best Technology??
The cloud
Cloud Computing is the fastest growing technologies now a day. It provides the various benefits to the users such as reduced in cost levels, flexibility, up-to-date software, various choices of applications. In Besant Technologies we are providing the guide of how to utilize all these sources. From this guide you can get more information about the cloud.
Cloud is a network of servers or in other words, it is a Meta form of internet. In the cloud, different people can access the cloud for different purposes. An end-user needs an application to perform the job, a business people need an infrastructure to run their website and developers need an appropriate platform. These are the computational kits. All these are available on the Cloud. Thus cloud computing is an internet-based computing technology where the application and infrastructure are available and end-users can access them as a client. When we use cloud our computer communicates with a network of servers. An application that runs on the cloud is called a web app.
What can you do with Cloud Computing?
Cloud computing is all about using other people's server to run applications. With cloud computing, we can run all computer programs and networks as a whole without an extra piece of hardware or software. When we do anything using cloud we are considered being "in the cloud". Cloud offers the possibility of file storage where we can store and access, these stored data can retrieve them from any web-enabled interface. Projects can be tested and developed efficiently using the readily available environments on the cloud.
Building Blocks
The three building blocks of cloud computing technology are
SAAS- Software as a service
IAAS- Infrastructure as a service
PAAS- Platform as a service
These allow users to run applications and store data online. However, each offers a different level of user flexibility and control.
How does it work?
Clouds are proprietary technology. It having the frontend and backend. In the front end, the users can communicate with the cloud. At the back end the process of how the cloud manages data, job queues and security requirements. By using internet connection it can be accessed anytime at anywhere,
Why use Clouds?
Privacy: It provides the private cloud for the security purpose.
Backup:It gives the space for backuping the large amount of files
Disaster recovery: In case of any loss in data means we can recover all the data.
Flexibility:It is flexible in nature
Reduction of costs: It provides all the space with less cost.
Besant Technologies is the best one for Cloud Computing Training. In this training we are giving the industry exposure to all the students. We are also giving the 100% placement assistance to all the courses. If you decided to get the Cloud Computing means then Besant Technologies is the right choice