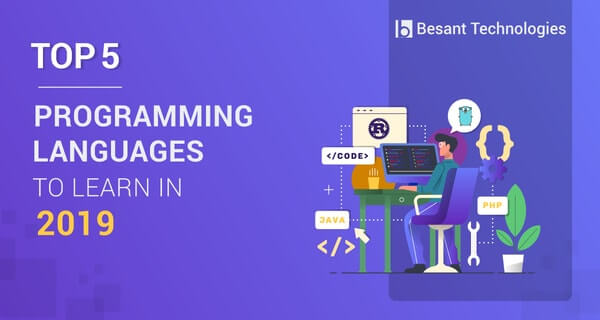 Top 5 Programming Languages to learn in 2021
Top 5 Programming Languages to learn in 2021
As a developer or someone who aspires to become a developer, knowing the top 5 programming languages that will be most popular in 2021 is essential. It will help simplify the decision while choosing the languages to learn for a fruitful career and an easy recruitment. The right language will provide you opportunities not just at present but also in the future. We have compiled this list of top 5 programming languages in 2021 based on the number of jobs with the particular language as a requirement. We have also researched on several freelancer websites to identify the programming languages that are the most demanded by clients.
Python programming language is by far the most popular programming language demanded by online recruiters as well as corporate offices. This language is used for web development. Developers also use python as a support language, which increases its scope and utility. Other than its use in web development and as a support language for software development, the language is used in machine learning, scientific computing, and data mining. Due to its vast application, learning this language can be very rewarding for an individual.
JavaScript plays an essential role in front-end web development to implement dynamic logic to a page. JavaScript is a programming language for the web; developers use the language for front-end as well as back-end website development. It is essential that you learn this programming language because 95 percent of websites run on JavaScript. As a web developer, you may not get any work if you do not know the language.
This is an ancient language among all programming languages. Over 28 million developers around the world know Java programming language. Java is popular due to the flexibility it provides to a developer while developing desktop and web applications. However, lately, the language has become even more popular due to the development of Android apps using Java. The language is ubiquitous, be it Twitter, Facebook, Amazon, or other. It runs on all operating systems.
No.4 – C++
When it comes to age, C++ is even older than Java. C++ is used in application development of any device or area. The programming language is used in firmware development, game development, or for client-server applications. This is difficult to learn a language; however, if you learn the language you can develop just about anything. Microsoft, Bing, Yahoo, and other giants in the tech space use the language on their website.
No.5 – Swift –iOS
A language developed by Apple; this is a compiled programming language. The language allows developers to develop intuitive apps and used primarily to create OSX and iOS applications. The language used C and object C to provide the developers with flexible enough tool to create applications.