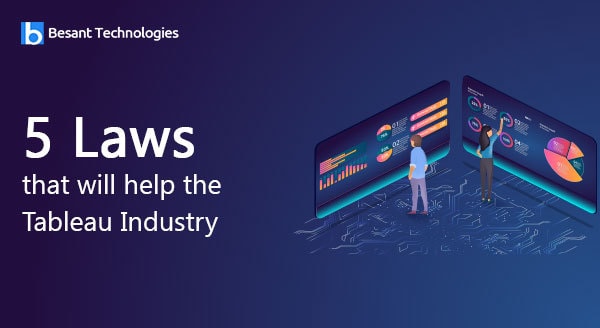 5 Laws that will help the Tableau Industry
Setting the new benchmarks in the business is a quite challenging task for many. They have to brainstorm around new techniques to manage the big data in a sophisticated manner. "Data" is a most powerful component for any scale of business to conquer the success. And handling it with care is somewhat one should look for. If businesses go ahead to handle it manually, then it will be a matter of time and money consuming. As it involves huge manpower to brainstorm. On the other hand, with the support of technology, it can be handled in a better manner, saving both time and money simultaneously. Software such as "Tableau" is a future's most powerful tool, which can be taken advantage of. It empowers everyone in the organization to see and understand the data, share their questions and answers, transform information to live data/server and combine small to large scale data in a matter of seconds. It can be better understood through Tableau Training in Chennai. This will be proven more beneficial for business organizations.
What is Tableau?
The tableau is a business intelligence tool for visual data analysis. It collects data from the different data sources and combines it together to demonstrate the accurate showcase in the form of graphics and designs on the dashboard. It becomes easier to share the data within your organisation through live or server storage option. It saves your large amount of time and millions of data can be precise in just a single dashboard screen. People mind catches those things very easy which are easy to understand and contains more convincing power. You will find "Tableau" in the same manner.
Click Here! → Get Prepared for Interviews!
Some foremost values of tableau are:
It manipulates and handle big data in an easy manner
It is available for the students and instructors around the globe
Easy to integrate with data warehousing or MS excel data sources
Business/organisation from any field can easily use and explore Tableau to serve their purpose
It is one of the fastest acting tools to stimulate a large amount of data.
The tableau is not just software, but a powerful revolution in the world of data analysis. It works very efficiently to handle a large amount of data in the most intensely competitive environment. It has following features for its users:
Conclusion:
Through an appropriate Tableau Online Training, all the aspects of it, can be understand in a healthy manner. It's a perfect tool to cultivate the hefty fruitful outcomes for your businesses. Regardless space, you can easily share the company data with its relevant concerns and also can expect their reviews on it. It has the competency to bring a huge amount of data on a single dashboard for the better analyzation experience. It saves your time and efforts, which you used to spend on data analyzation. Now easily you can use tableau as a tool to transform the definition of your organization.