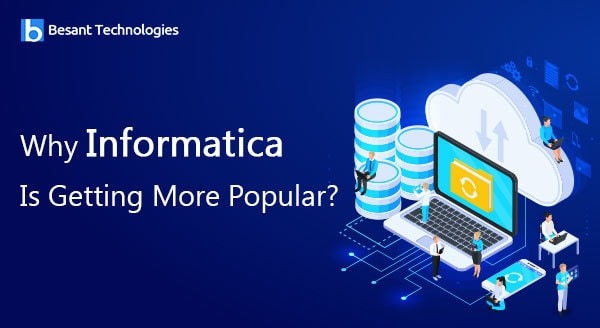 Why Informatica Is Getting More Popular?
It's not required to tell the significance of data in today's world. Data is like oxygen for the business world. On minute basis, more and more data is generating. More data means more space and more resources needed. But on the top of all, the foremost issue is with data is that it is coming from various resources. As per the study, around 35% of the overall data is still on mainframes, obsolete data structures and languages that are hardly available!
So the question arises that how such data can be integrated? Even if it gets integrated, will the result be fruitful and delivers value? Here Informatica makes a heroic entry! It is a single solution for all the data integration problems. We can call it a leading ETL tool.
Click Here! → Get Prepared for Interviews!
We, at Besant Technologies in Chennai, have scholarly Informatica instructors. We are cognizant of the pace at which awareness of Informatica is circulating and what's the market value of Informatica and the aspirants having proper Informatica training. This tool has specifically gained multifold popularity in last 10 years. Questions like "Why Informatica?", "What is Informatica?", "Why Informatica training in Besant technologies?" must be shaking your heads right now! Let us bring a crystal clear picture of these in front of you
Criticality of data: Today, Informatica is reliable enough that the highly important data, valuable transactions and critical records are being stored using Informatica.
Huge data coverage: Informatica drives smoothly with HUGE amount of data without any speed breaker!
Combined revenue: No doubt there are other ETL tools also in market but still Informatica has a tight hold over market from last many years without facing a downfall even once! Informatica training will make you dependable enough so as to take the benefit of this profitable market. Study has proved that if we sum up the combined revenue of some other known ETL tools like datastage, SSIS, Abinitio and similar ones, even then the total can't even touch the revenue of Informatica! Such is the power of this tool.
Lifeline for business people!: Thinking to run a good business without any ETL tool is next to impossible for business people. From the outlook of business intelligence, Informatica is of utmost importance!
Datawarehousing: This word must be familiar to most of us. And in the software field, where soft copies and digital data holds a very high weightage. Informatica and Datawarehousing are interrelated. Informatica assists users to create a datawarehouse in an efficient manner. A full-fledged training at Besant Technologies can train you well in Datawarehousing as well.
Relationship Management with customer: Unlike other tools, Informatica focus on this area as well. Thus getting a good Informatica training is the need of the hour!
Interface that is easy to use: Informatica offers an easy-to-use interface that helps users/organizations in creating and controlling their own warehouse adequately.
Connectivity with other major DBs: This feature is quite a unique one! Informatica is having the capability to connect with the major databases which are present there.

There is a lot more that can be added into this list as Informatica is like an ocean. The more deep you'll dive, the more pearls you can find! So if planning for a bright future in software line and with ETL tools, then buckle up yourself and pull the Informatica rope and take a ride of the business intelligence world through this tool. Besant technologies in Chennai will offer you the best and up-to date Informatica training and knowledge which is present in market. We emphasizes more on giving practical and project demo sessions so that you can get a feel of working in a live project!
Related Blogs