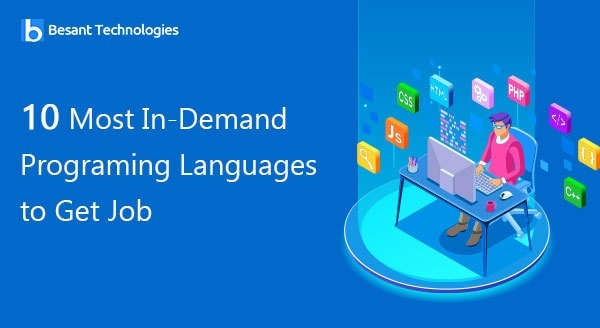 10 Most In-Demand Programing Languages to Get Job
Year 2016 has been a phenomenal year especially for IT techs. According to a survey done by Indeed.com the demand for high to medium skilled programmers has notched up a new high this year. The demand from the employers this year has been higher than the supply of the candidate thus opening up a huge gap. The IT industry is on a lookout for skilled programmers who can fit in these demands and stabilise the work flow. In other words, it is a golden period for all those IT enthusiastic who are eagerly waiting for their chance to shine.
In this blog we cover Top 10 In demand programming languages in 2017 that will not only get you jobs but also some handsome pay checks.
Pega: Pega systems specialise in developing customer relation management systems and business process management. Since year 2010, there has been a tremendous boost in its use worldwide. In 2015 its CRM was named as one of the largest CRM in the market. This CRM ranks alongside heavy giants like Salesforce, SRP and Oracle. The demand for skilled programmers who can operate Pega with flair is high in the market. With Cloud computing taking over and big data occupying such an important place, Pega is an excellent programming skill to have in your resume.
Java: Java is an open source language that is maintained by Oracle corporations. The best part about this language is that it can run on any device. This is the reason why this language is used for all kinds of computer programing, App developments & Smart TV's. This language is in market since 1990 and all large to medium scale organizations depend upon its applications to run their businesses. Some of the most popular Apps such as angry birds and Temple run are coded in this language. You can enrol in some good Java Online training courses to skill yourself up in it. People who are good with this language can easily go for the job titles such as: JEE App Developer, Solutions developer and Software engineer.
DevOps: The job trends in DevOps have been touching new highs since 2015. According to a survey, by the end of 2016 almost 25 percent of the top 2000 organizations in the world will be working with DevOps strategies. According to Foote Partners' report this skill has gained 14.3 percent increase in American markets. The pay scale of Devops Online Training programmers is also quite impressive. If you are trained with this skills you can opt for job titles such as:

DevOps Architect
Automation engineer
Security engineer
Release manager

Cloud Computing: It will not be wrong to say that the world in on cloud. Yes, if year belonged to cloud computing then 2016 has seen it cement its foot holes. Close to 22 million jobs were generated in Cloud computing in year 2016 alone. Giants like, Amazon, Oracle, IBM and Microsoft are among the top recruiters in this field. Profiles such as:

Security managers
Data managers
Enterprise architects

Are open for professionals who are skilled in Cloud computing. This is one skill that has a massive potential in future. If you are looking to give your IT career a massive shift upward then this is the skill to go for.

Big Data: Every company irrespective of its size is becoming data driven. Data analysis is the next big thing. Reports suggests that period in between 2016-2030 is going to be dominated by those who will be able to process and analyse data accurately. According to the list printed by CIO.com Big data skill has moved from position 10 in 2015 to position 4 in 2016 in the job segment. Today all the big organizations are hunting for Data scientists, Database technology engineers and data managers to run their operations. This skill is definitely a hot cake in IT sector today, an opportunity that is too tempting to resist. Want to learn big data Hadoop Online Training reach us at GangBoard.
Business Intelligence: Though some may argue it to be a part of big data but it has its own meaning and a scope of its own. Business intelligence programming is again based on data analysis and requires thorough data mining. SQL is the core component needed to excel in this field. Experts predict massive job opportunities in this sector in coming years. The role of expert in this field isn't restricted to data analysis only; rather it is their job to come up with reports in a clear and actionable format. It is an excellent field to get in if you love analysing data. R Programming Online Training at GangBoard will helps you to achieve your career in Business Intelligence field.
Perl: Perl is a high level programming language that borrows its feature from languages such as C, shell script, AWK and sed. It is also known as CGI language. This language is used in graphical programming, network programming, bioinformatics and many such programs. The demand for Perl developers is always constant in the market. This programming language carries a lot of weight and is used by organizations all over the world. Like Java Training in Chennai a lot of learning module is available online for those who are willing to excel and grow in this field.
Java Script: Though some people confuse java and java script to be the same but in reality they are very different. This language is perfect foil for people who are interested in learning and growing in web design. Using this language you can enhance your web pages tremendously. Today 90% of the websites on the web uses Java script to add impetus to their content. This language enjoys a huge community and is in demand.
Data Mining: We hear it all the time that data is the king, however data alone is of no use if can't be segregated properly. Close to 2.5 quintillion data is produced every day and not all of that is relevant. This is where a Data mining expert steps in. These experts play a key role in understanding and defining the data. Today all the big brands like Amazon, Microsoft and Apple have active job openings for Data miners within their organization. Many big organizations plan their business moves as per the advice of these experts. This programming field offers a massive potential in future, so choosing it as a career option will not be a bad move at all.
Python: It started relatively small but has made giant strides in last few years. All the major applications like YouTube, Instagram and reddit work on Python. It is one of the easiest programming languages to learn and implement. Google is amongst the major recruiter of python programmers. This language is recommended for everyone who is looking to making it big as a web application programmer.