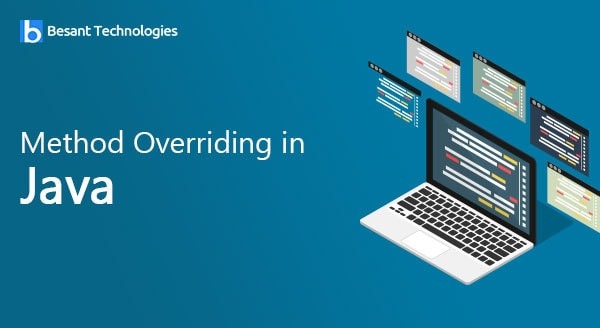 Method Overriding in Java
Method Overriding in Java
If a derived class method has the same signature as that of the parent class method that means two methods are considered having same signature (when their return type , method name, Number and type of arguments are same) then that concept is called Method overriding.
Parent class method is called overriding method.
Child class method is called overridden method.
Example:
package Mypkg;
public class MethOver {
            /**
             * @param args
             */
            public static void main(String[] args) {
                        // TODO Auto-generated method stub
                        System.out.println("Entered MethOver-Main ()");
                        System.out.println("****************************");
                        mymeth2 obj=new mymeth2();
                        obj.calculation(100, 200);
                        System.out.println("****************************");
                        System.out.println("Exited  MethOver-Main ()");
            }
}
class mymeth1
{
            int a,b;// variables
            void calculation(int a, int b)// method at Base class
            {
            System.out.println("Entered mymeth1(Baseclass)-calculation(a,b) ");
            System.out.println("Area of rectangle");
            this.a=a;
            this.b=b;
            System.out.println("ARea is" + this.a * this.b);
            System.out.println("Exited mymeth1(Baseclass)-calculation(a,b) ");
            }
            }
class mymeth2 extends mymeth1  // sub class
{
            int c,d;
            void calculation(int c, int d)  // Method at derrived class
            {
            System.out.println("Entered mymeth2(derrived)-calculation(c,d) ");
            System.out.println("Area of triangle");
            this.c=c;
            this.d=d;
            System.out.println("ARea is" + (this.c * this.d)/2);
            System.out.println("Exited mymeth2(derrived)-calculation(c,d) ");
           }        

}


Output:
Entered MethOver-Main ()
****************************
Entered mymeth2(derrived)-calculation(c,d)
Area of triangle
ARea is10000
Exited mymeth2(derrived)-calculation(c,d)
****************************
Exited  MethOver-Main ()
Click Here-> Get Java Training with Real-time Projects