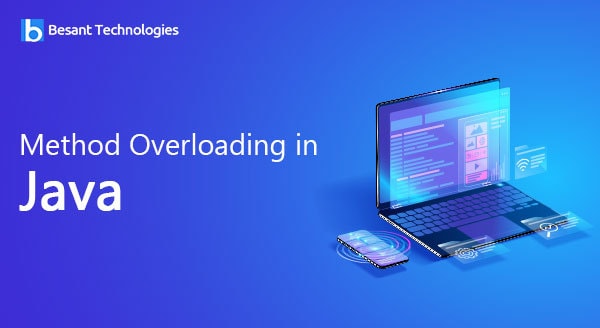 Method Overloading in Java
Method Overloading in Java
Two or more methods with the same name under same class, it is called method overloading.
It example for static polymorphism.
Binding of the method call, is done during compile time and hence it is called static bindingorearly binding.
The overloaded methods can differ by the number of arguments or argument type or sequence of the arguments.
Example:
package Mypkg;
public class MethodOverLoadex {
            /**
             * @param args
             */
            public static void main(String[] args) {
                        // TODO Auto-generated method stub
                        System.out.println("Entered MethodOverLoadex Main() ");
                        myOverloading obj=new myOverloading(); 
                       obj.getCal();// method calling                      
                        obj.getCal(10,20);
                        System.out.println("Exited MethodOverLoadex Main() ");
            }
}
class myOverloading
{            int num1,num2;// actual paramters
            void getCal(int a, int b)// Two input
            {
                        System.out.println("Entered myOverloading getCal(a,b) ");
                        System.out.println("&&&&&&&&&&&&&&&&&&&&&&&&&&&&&&");
                        num1=a;
                        num2=b;
                        System.out.println("multiplication "+ " =>  "+  num1*num2);
                        System.out.println("&&&&&&&&&&&&&&&&&&&&&&&&&&&&&&");
                        System.out.println("Exited  myOverloading getCal(a,b) ");
            }
            void getCal()// Taking zero input
            {
                        System.out.println("Entered   myOverloading getCal() ");
                        System.out.println("*************************");
                        num1=100;
                        num2=200;
                        System.out.println("Addition "+ " => " +  (num1+num2));
                        System.out.println("*************************");
                        System.out.println("Exited   myOverloading getCal() ");
            }
}


Output:
Entered MethodOverLoadex Main()
Entered   myOverloading getCal()
*************************
Addition  => 300
*************************
Exited   myOverloading getCal()
Entered myOverloading getCal(a,b)
&&&&&&&&&&&&&&&&&&&&&&&&&&&&&&
multiplication  =>  200
&&&&&&&&&&&&&&&&&&&&&&&&&&&&&&
Exited  myOverloading getCal(a,b)
Exited MethodOverLoadex Main()
Click Here-> Get Java Training with Real-time Projects