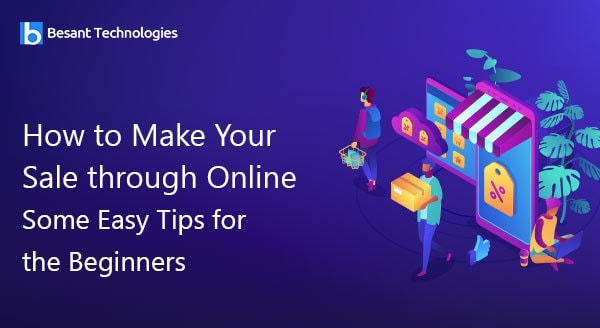 How to Make Your Sale through Online – Some Easy Tips for the Beginners
Recently, a broad trend can be seen among the business people to market their services online and sell them over the web for maximum profits. So, if you are also the one who is thinking about selling a service online, here we bring you some tips that can help you in making your web presence a little better and this blog dedicated to the special discussion on training related services will offer few unique insights to this business too.
Let's have a look
1. Focus on your services-
If we are talking particularly about selling the training services then letting your customers know what kind of training you are providing and what are the results you are offering is a crucial part of the selling process. Your service is a product here which you need to sell by telling its characteristics to the target audience.
2. Decide the way to offer-
Services can be offered in three ways basically-direct, indirect and a mix of both. In the direct way of selling, you provide online services to the clients for ex: online training, and in the indirect way of selling, you take help of some website from which clients can contact you and then get your services in an offline mode. A mix of both is in more trend these days.
3. Domain name holds importance too-
Choosing the domain name which is most related to the services can make the great impact in your sales, we call it a part of SEO. Descriptive names related to the keywords of your service domain will be easy to remember and hence hold more chances to get typed by the customers.
4. Choose the target audience-
Targeting the local audience will be more fruitful in the case of training related services as most of the customer base is local in these type of services. So, target the sources that can get you that relevant audience for your business.
5. Promote it once you have it-
Merely having a website is not sufficient to grow your business online if you are not marketing it. Proper SEO Training in Chennai is needed to get the attention of the viewers which can be caught by being in the top search engine rankings. Use of social media such as Facebook, Twitter and LinkedIn has also grown to a significant amount from past some years, and thus businesses are concentrating more on advertising through these channels.
6. Maintain your brand value and credibility-
Once you get your customers through online selling, the next step that is of utmost important for being, in the long run, is, you need to provide quality services to the current students so that they can get you more students. Hence, spending your efforts and time in an honest way today will lead you to a better brand value tomorrow.
7. Get listed-
Getting your site listed in local search directories and earning from the search engine queries of these listings is easy and trending these days. Students generally search the web to find training centers close to their homes and these local search services can show your presence in their search results. Registering for these services is free, and almost all the businesses are using it these days.
8. Other marketing sources-
Content marketing is the growing trend, and you can be the part of this community by adding blogs to your website, apart from which one must also use email marketing and ad-words for the maximum reach.
This way selling your business online is easy and effective, but only with the condition of proper use of Digital Marketing Training in Chennai techniques.