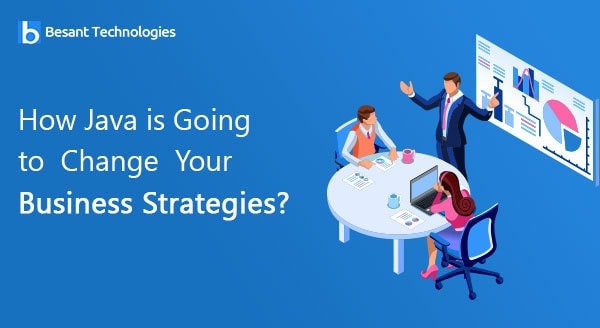 How Java is Going to Change Your Business Strategies?
IT industry holds the first place in India or may be all over the world. This trend is in continuation from last many years and seems going to flow like this in the coming future too. After all, today is a techy world. Everything is turning into a technology and automation is replacing the manual work! All thanks to IT. And IT industry sounds half-done if Java is not there. Java is an essential ingredient in the recipe of a successful business.
Java has all the reasons to hold the number one flag of the best programming language. It has already given a 360 degree turn to the business world and its strategies. Let us, Besant Technologies, pour some good light on our reason behind firmly saying this and to answer the 'how' and 'why' questions that might be cracking in your head at the moment.
Click Here! → Get Prepared for Interviews!
Innovation Platform – Developers gets all the free space in Java to create the best of the applications in an easier way. Java 8 is coming into limelight for its innovative and unique features.
Sense of security & Reliability – Security aspect is by default is there in Java's design. Each of the Java running environment, compiler and interpreter were developed keeping security in mind. Robustness is another flying wing of Java. While there are several errors that occur only during the time of execution in case of other languages, but in case of Java it's not the case. Java is designed in such a way so as to detect the possible errors during compilation itself. This feature saves much of the time of business. Security and reliability are two of the most important trait or strategies behind any business that is ahead of the game.

Multithreading feature to save time – Java is having a potential to make run several tasks altogether in a program. In other languages this feature needs to be enabled by operating some system specific procedures. But in java it exists by default.
Subtracted the code – Latest version – Java 8 comes up with less coding. Less coding not only improves the developer productivity but also it's easy to maintain. Lambda expressions or Lambdas brings up this lesser code feature in Java 8.
Increases Programmer Efficiency – This feature results into lesser development time, which again means the benefit in business. Java is a bundle of intuitive, powerful and well-designed APIs.
A Fanciful Graphics Toolkit – The latest version, JDK 8, comes up with eye-popping features and graphics. Name of this toolkit is JavaFX 8. It includes a new Modena theme that will give a freshening and a cutting-edge look to the applications. Other features of this toolkit are – support for HTML5, 3D Graphic features and the brand new UI controls. All these sums up and will give the applications a stunning look and your business a great boost! Java already shining from last many years, and its surely going to bring another revolution in business world and its strategies in the coming future.
When it comes to counting the Java, features are endless, and so are the reasons to join Besant Technologies to get Java Training. If you want to go hand-in-hand with today's IT, Java training is mandatory. If planning to get Java Training in Chennai, then Besant technologies is the only best institute that serves all your Java related queries. We have plenty of Java gurus with us. They will train you in Java with real time examples and gives the industry project sessions.