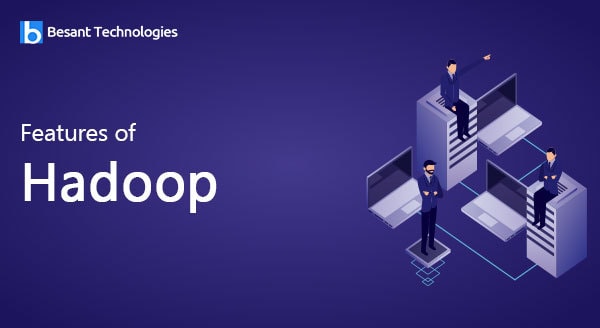 Features of Hadoop
HADOOP – Name might sound uncanny but this name is ruling like a king in the world of technology today. This technology was invented and designed by Doug Cutting and his toddler named this technology! Yes, this is a name of his son's toy elephant!
Elephant is not only giant in size but also have its exceptional traits, and so is Hadoop! With growing data and demands, technology is also spreading its wings widely and speedily. Thanks to Hadoop that came into picture when market was flooding with data! We at Besant Technologies in Chennai is having a well-established name in providing the best Hadoop Training in Chennai. Our trainers are not just teachers, they are Hadoop professionals! They will give you immense of hadoop knowledge and exposure to collect, store and play with data through Hadoop! Let's have a deep dive into the features of this surprise-packed technology and what we have in our kitty to offer you: –
3 main Vs of Hadoop –> Volume, Velocity and Variety. These three are actually the reason behind the invention of Hadoop. First V is about the huge volume of data that is generating and uploading on internet on daily basis. This is burdening the usual databases a lot. Second V is about the rate at which this data is incoming. And the third V is the discrepancy in data which is coming in the form of text, pictures, audio, video, comments, likes, and much more. Here Hadoop acts as a 'one man army'!
Robust Ecosystem –> From small organizations to the large ones, from data analyst to the developers, Hadoop ecosystem is well suited for all.
Buoyant –> Fault Tolerance –> By default, Hadoop's database (HDFS) makes two replicas of the data at two other locations. In our institute, you'll get to know more about these replicas during Hadoop training.

Reliability of Data –> As the name suggests, HDFS stands for Hadoop Distributed File System. Being a DFS, it provides reliable and more data storage.
It is Scalable too! –> Here in HDFS, data is stored on the multiple nodes in cluster, so when more data floods in, we can scale up the cluster.
Highly Available –> Replicas of blocks are prepared and made available on the nearest node in that cluster. So if one node fails, other can come to the rescue!
Open-Source –> Thus Hadoop's code can be altered and adjusted as per the business needs.
Easy to learn and use –> Hold on basic Linux-unix commands, an ignition to learn and Chennai's Besant technologies' Hadoop training classes are enough to make you an expert of Hadoop! Hadoop is easy to use as well as its framework itself manages distributed computing thus evicts the need of calling a client to deal with this area!
Data locality –> "Move calculation to data instead of data to calculation" is the prime data locality principle of Hadoop.
Easy on the pocketbook –> Hadoop is quite cheap. The main reason for this is that Hadoop runs on the cluster of commodity hardware. Thus one can save a huge amount and then if business swells up, can use this money to add more nodes to the cluster!
Click Here! → Get Prepared for Interviews!
The above and other Hadoop features helps in making life better.
We at Besant Technologies in Chennai are not here to give you just theoretical and bookish knowledge on Hadoop, instead Practical classes is the foremost agenda of our Hadoop training. Our trainers are very well familiar with Hadoop. They are having an amazing hands-on experience and a complete professional exposure on Hadoop. So, if searching for best Hadoop training in Chennai, then please take a step into Besant Technologies. In turn, we will not dash your hopes at all. Along with proper hadoop training, we'll give you practical exposure, enough space and time of self-practicing and on-project sessions!