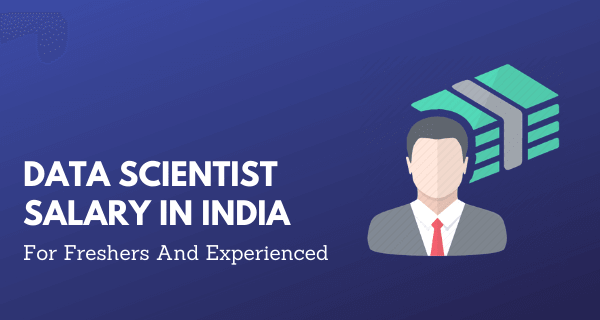 Data Scientist Salary In India For Freshers and Experienced 2021
What is Data Science?
Data Science is an interdisciplinary field that seeks to extract meaningful information from large amounts of data. Data Scientists use algorithms, mathematics and science to uncover hidden patterns in data and increase efficiency, productivity, profitability for businesses.
Data Science, in simpler terms, uses technology to discover data patterns and ways to make data more useful. Data Science is indeed "science" which means that it is, by definition and in essence, is exploratory.
What is a Data Scientist and the skills you need to become a Data Scientist?
A Data Scientist is a data expert who has the technical and analytical skills to solve complex business problems. Data Scientists use statistics, maths, and computer science to identify patterns in data and create actionable strategies for companies.
Data Scientists thoroughly organize, model, and analyze data and find solutions to problems with such insights. Data Science doesn't offer a single path from problem to solution. Since this field is exploratory in nature, solution finding is an elaborate process.
About Data Scientist Career
The Data Science industry has many more job opportunities today than it used to have a few decades back. Data is everywhere. And companies are falling over themselves to capitalize on this abundance of data. With access to data, organizations are able to get hold of valuable information about the happening of things.
But data, as it appears to a layman, holds no value or meaning. Data needs to be analyzed and interpreted so it can be put to perspective and then to use. However, analyzing and interpreting data is not everyone's cup of tea. It is a specialized area which only data scientists are skilled to handle.
With the growing importance of data, the importance of data scientists is also growing. And that is why companies do not hesitate to offer lucrative salaries to data scientists. This directly explains the rapid increase in Data Scientist Salary in India for freshers and experienced.
The skills you need-
Data Science is one the fastest growing fields out there for employment. There are many job opportunities in this domain. Data Science is a powerful tool that has made many seemingly impossible tasks possible- from sales prediction to personal assistants and self-driving cars, almost everywhere Data Science is at work. And that is why, it's no surprise that every company is looking for skilled Data Scientists. Here are the skills you need if you want to be a Data Scientist-
First of all, you need a good grip on concepts of Data Science. This is the foundation, and should not be ignored.
Some knowledge in statistics is equally important.
With programming knowledge, you will be able to take your career as a Data Science professional to the zenith.
You need to possess some data manipulation and analysis skills.
You also require data visualization skills.
Machine learning is an important aspect of AI. Hence, having knowledge in this field would prove helpful.
Keep your deep learning knowledge up-to-date if you want to be a Data Scientist, or learn its basics.
You must be familiar with big data and its working.
A Software Engineering degree could just boost your career in the field of Data Science.
Model Deployment is also important.
One of the most vital soft skills that you will require is communication. So, work on it.
Your thinking should be coherent and structured.
Have a lot of curiosity in "Hows" and "Whys".
Various job positions you can take up in the field of Data Science:
1. Data Scientists
What is a Data Scientist?
Data Scientists are big data experts who gather and analyze large amounts of unstructured and structured data. Data Scientists combine computer science, mathematics, and statistics to make data meaningful. They process, analyze, and model data, then interpret the results to develop actionable plans for companies and other organizations.
Data Scientists are experts in technology and social sciences who use their knowledge to manage data and identify data trends. In order to solve various business problems, they use their industry knowledge, subject expertise, and scepticism about existing assumptions.
Data Scientists are responsible for making sense of unstructured, messy data from various sources, including smart devices, social media feeds and emails.
Responsibilities that a Data Scientist shoulder:
Automate data collection by identifying valuable data sources.
Pre-process structured and unstructured data.
To discover patterns and trends in data and analyze them.
Building predictive models and machine-learning algorithms.
Combining models with ensemble modelling.
Data visualization techniques to present information.
Provide solutions and strategies for business problems.
Collaborate with product development and engineering teams.
Responsibilities of data scientists include a collection of huge data sets so that they can be made ready for analysis.
Analyze the gathered data so that it can be converted into strategies to be executed for sorting out business problems.
While analyzing data, data scientists try to uncover patterns and trends that might remain hidden in a set of complex-looking data. And for this analysis, different analytical techniques are used such as deep learning, machine learning, and text analytics.
To solve business problems with data-oriented solutions.
To ensure that the data at hand is accurate and valuable, data scientists need to cleanse and validate it.
Why should you be a Data Science professional?
This is an emerging field and has got very little competition.
You can become a freelancer in the field of Data Science.
Data Science is a diverse field when it comes to education.
Data Science professionals can explore Big Data Analytics.
You can work remotely as a Data Science professional.
The compensation earned by Data Science experts is impressive.
There are different job roles that you can choose from to engage in.
There is a growing demand for Data Scientists in the job market.
The most important determinants of Data Scientist Salary in India
Data Scientist salary in India depends on a lot of factors like skills, experience, job location, and of course, the employer. We will cover all of these aspects in detail here. Have a look-
Data Scientist salary in India
The mean salary for Data Scientists is INR 698,412. With less than one year of experience, an entry-level Data Scientist can make around INR 500,000 per month. The average salary for an entry-level Data Scientist with 1 to 4 years of experience is INR 610,811.
An Indian mid-level Data Scientist who has 5-9 years of experience can earn INR 1,004,082 a year. Your earnings as a senior-level Data Scientist in India can be significantly high as per your skills and experience. Some senior Data Scientists earn about INR 1,700,000 per year.
Data Scientist Salary in India based on Location
If you live in Mumbai, then you are certainly lucky as the highest number of job opportunities in this field are in Mumbai. Also, the average annual salary for Data Science experts here is the highest in India. Next comes Bangalore in the list, which is followed by New Delhi. One thing that you need to note here is that if you are looking for entry level jobs or you have no issue taking up a job in any startup, then Bangalore is the city for you. After all, Bangalore is known as the startup capital of India. Also, you can earn better as a Data Science professional in Bangalore than in in most other cities in the country.
The salary of Data Science professionals is lowest in Calcutta, pegged at INR 402,978. The job prospects and compensations are a little higher in Pune than Calcutta. A Data Scientist in Pune can earn somewhere around INR 725,146 per annum. Hyderabad comes next in the list with an annual average offering of INR 795,023. Then we have Bangalore which offers a pretty decent compensation of INR 984,488 per year to its Data Science experts. The second best city for Data Science professionals is Chennai where you can earn around INR 794,403 per year on an average. And the best city, of course, as mentioned above is Mumbai. Mumbai offers its Data Science experts somewhere around INR 788,789 per annum.
Data Scientist salary in India based on Experience
Data Science jobs are mostly sought by IT professionals that are young. Why? Because even the entry level salaries in this field are good compared to a lot of other IT jobs. Let's take a look at the Data Science job salary scenario based on work experience-
Salary based on Experience
The entry-level salary of a fresh graduate in India can be something around INR 511,468.
If you are in the beginning of your career and have earned an experience of about 1 to 4 years, then you can make around INR 773,442 per annum. If, however, you have 5 to 9 years of experience, then you can earn about 12 to 14 lakhs per year. For Data Scientists in the middle of their careers, the average per year salary would be INR 1,367,306. If in case you are highly experienced, have spent decades working in this field and have also probably held managerial roles, then you won't earn anything less than 24 lakhs a year. The best thing about working as a Data Science expert is that your salary increases manifold with just one promotion.
Data Scientist Salary in India based on Skills
To be able to grab a lucrative Data Science job position, it doesn't matter how educated you are. If you don't have familiarity with the software and programming languages used in the management of data, you will stand nowhere.
You need to have knowledge of R to be a Data Science expert. The next important area is Python. With Python skills alone, you can expect to earn somewhere around INR 10.2 lakhs per annum on average.
Having knowledge in Data Science is great, but with additional knowledge in Big Data, you can see a 26% boost in your salary as a Data Analyst. This is way better than having knowledge in only one of these.
While experts in SPSS make somewhere around 7.3 lakhs per annum, SAS users can earn a compensation of INR  9.1-10.8 lakhs on average.
Machine learning experts working in the field of Data Science earn a starting salary of INR 3.5 lakhs. With more experience, you can receive around 16 lakhs per annum.
Added knowledge in AI can help your Data Science career take a flight. You can easily earn 5 to 6 lakhs, even as a fresher.
Hence, if you want to earn better as a Data Science expert then adding the above-mentioned skills in your kitty would be the best bet.
Data Scientist Salary in India Based on Companies
Pretty obviously, you make big money when you associate yourself with big brands. Employees also love the huge jump in salaries they witness with each promotion in such companies. Some of the best brands to work for include McKinsey and Company which offers a yearly compensation of INR 1,080,000 to its employees. American Express has a slightly better reputation than McKinsey in this field and offers an average compensation of around INR 1,350,000 per year. Next in the list is IBM Corp. with a yearly offering of INR 1,468,040 on an average. Wipro Technology has even better reputation in the field of Data Science and keeps its employees happy with an average compensation of INR 1,750,000 per annum. The top two companies are Impetus, with a yearly compensation offering of INR 1,900,000, and Accenture, which pays the highest Data Science salary in India, at INR 1,986,586 per year.
The mean Data scientist's Salary in India is INR 708, 012. Newbies can make something around 500,000 annually, with just a year of experience or even less. Data scientists having an experience of 1 to 4 years can earn something close to INR 610, 811, a year.
If you are a data scientist with around 5 to 9 years of experience, you could get a salary of INR 1,004,082 annually. With the improvement in your skills and also a boost in your experience, your income can overwhelmingly increase. You will be surprised to know that senior data scientists make something around INR 1,700,000 per annum in India.
Data Scientists and their Specific Roles
Data scientists are nothing but experts in the field of Data Science. They have incredible analytical capabilities and can sort out both structured and unstructured data by gathering and analyzing them in large sets. They don't just process and model data after analyzing it, they also interpret the outcomes or the results they obtain. These results are then used to prepare actionable plans for companies to solve problems.
So, data scientists boast of both IT and business skills, which they artfully combine to help their employers. But their skills are not sharply defined. They are partly mathematicians, partly analysts of trends and partly computer science experts. To be honest, they enjoy unprecedented popularity all across India. And that is the reason why data scientist salary is one of the most lucrative in the entire country.
Let's now take a look at some of the skills you might need as a Data Scientist
What skills are needed to be a data scientist? This is an important question if you consider pursuing a career in data science. To help you understand it better, we have dished out a few skills that you might need to be a competent data scientist-
You need to have good knowledge of machine learning, mathematics, statistics, and algorithms.
You might also benefit immensely from having command over certain programming languages like Hive, SAS, SQL, Python, and R.
A little bit of knowledge about basic business and how to find answers to critical questions from available data.
Good communication skills will make sure you can express your knowledge to your employer when you appear for a job.
What does Data Expert Do?
This seems like a simple question, but its answer covers everything that is important for someone who is only beginning to learn about the opportunities this career can offer. The answer specifically tells you what positions you can hold professionally, as someone having expertise in data. So, why wait? Let's discuss the roles in detail.
Data Scientists
Data scientists, as discussed above, are involved in the gathering and analysis of data for practical solutions to business problems. In India, people having knowledge of python earn better than data scientists having command over other programming languages.
Data scientists are overly popular in all major cities in the country including Bangalore, Pune, Chennai, Mumbai, and Delhi NCR.
2. Data Analysts:
What is a Data Analyst?
Data Analysts, as their name implies, are professionals who analyze data for businesses. They help their clients achieve their strategic goals by moving their businesses forward.
Without proper analysis, any data collected is useless. Data Analysts are responsible for adding value to companies' operations by making data easy to understand and insightful for them. With their knowledge and skills, they help clients make informed business decisions.
Responsibilities that a Data Analyst shoulders?
Data collection and interpretation is the main responsibility of Data Analysts.
After interpreting data, they analyze the results.
The results should be reported back to the appropriate members of the business.
Identifying trends and patterns in data sets.
To fulfil business needs, they need to work with other teams in the business or the management staff.
New data collection and analysis methods are defined by them.
Data analysts mine data and analyze it to spot patterns and correlations in it.
With their skills, they help companies identify the preference patterns of their customers, their tastes, and also effective marketing strategies.
Data analysts have to work with a customer-centric approach.
They help in consumer data research and analytics by implementing statistical analysis methods.
Data Analyst Salary in India-
If you have an experience of around 1 to 4 years, you can make an annual earning of INR 3,96,128. If, however, you are in the middle of your career and have an experience of 5 to 9 years, then you can earn somewhere around INR 6,03,120, depending on where you work and which company you are associated with. In case you have a good experience of 10 to 19 years, then you can easily earn an average salary of INR 9,00,000 per year.
According to some studies, about 80% of Data Analysts earn up to INR 6 lakhs per annum, when they enter the industry. For people having an experience of 4 to 6 years, the average annual salary can be pegged at INR 8.7 lakhs. If you are a senior Data Analyst with more than 12 years of experience, you can expect a highly impressive compensation per year.
If data analyst sounds fancy and you have always wondered, "What does a data analyst do?" Then here is the answer for you. Data analysts are basically analysis experts who convert figures, statistics, and numbers into an understandable form so that anyone can comprehend it.
If you have a strong grip over business principles, computer science, statistics, and mathematics, the data analyst can be a great career option for you. When it comes to skills, you might have to have command over python or SQL, besides having an understanding of data mining. These skills are required so that you can derive valuable insights from the data sets that you study.
Trends of Data Analyst Salary in India
If you are a data analyst in India with an experience of 1 to 4 years, then you can earn somewhere around INR 3,96,128 per annum. In case you have an experience of 5 to 9 years, then your earning could be about INR 6,03,120 annually. For experienced data analysts, having an experience of 10 to 19 years, the average salary can be somewhere around INR 9,00,000.
Factors on which Data Scientist salary in India Freshers and Experienced Depends
Although you find the average data scientist salary in India above, those compensations are not fixed or static across conditions. In fact, there are a lot of factors on which the compensation depends. Let's now discuss some of these factors-
Data Analyst Salary By Location
The salary of data scientists varies from place to place. Usually, you are paid the highest when you are employed in Mumbai. The second position is bagged by Bangalore and then New Delhi. Bangalore is considered as the startup capital of India. And that is why there are many startups in this city. If you are in Bangalore then it becomes easy for you to engage as a data scientist in these startups. Data scientist salary in Bangalore is generally higher than in other cities, as it is the technological hub of India.
As per Analytics India Magazine, Mumbai offers a mean annual pay of INR 11.4 lakhs. Bangalore, on the other hand, pays around 10.3 lakhs per annum to its data scientists. Talking about New Delhi, the payment figure is INR 9.9 lakhs a year. Pune lags behind New Delhi at INR 8.8 lakhs per annum. While Chennai offers compensation of INR 8.4 lakhs a year, Hyderabad's figure is pegged at INR 8.3 lakhs.
As per Payscale, the compensations are as follows. Mumbai offers a sum of INR 788,789 per annum. Chennai stands second, with a compensation offering of INR 794,403. Bangalore follows Chennai at INR 984, 488. Finally, Bangalore is followed by Hyderabad, Pune, and Kolkata with their salary offerings of INR 795,023, INR 725,146, and INR 402,978 respectively.
If you look at this data from a broader perspective, it becomes clear that Chennai, Hyderabad, and Bangalore are some of the best paying cities in the data science industry.
Data Analyst Salary By Experience
A little bit has been discussed above how data scientist salary in India increases with increase inexperience. What, however, we are trying to highlight at this point is that a data scientist can expect a hike of about 50% with their promotion to a higher position.
Data Analyst Salary By Skills
If you are a data scientist in India with knowledge in Python, then you can earn something around INR 10.2 lakhs per annum. Having knowledge in the programming language 'R' can also prove immensely beneficial to your career.
You can expect your salary to get a boost of 26% just by having command over big data and data science.
If you are a data scientist with SPSS knowledge, you can make an earning of INR 7.3 lakhs per annum. In case your expertise is in SAS, then you can expect to get somewhere around 9.1 to 10.8 lakhs per annum.
A data scientist having expertise in machine learning can easily earn somewhere around INR 3.5 lakhs. As you grow your experience and knowledge in this field, you become eligible for lucrative packages, something like INR 16 lakhs per annum.
Artificial intelligence salary in India is around 5 to 6 lakhs for beginners.
Hence, if you want to be a data scientist, make sure you hone your skills in the mentioned areas.
Data Analyst Salary By Companies
This is no secret that you can earn better in multinational companies and bigger firms. Most big enterprises would happily increase the salary of a data scientist by about 15%. Some of the companies that pay generously to data scientists include IBM Corp, Accenture, JP Morgan Chase and Co., American Express, McKinsey and company, Impetus, Wipro Technology, etc. From data derived from various sources, we can state that while IBM offers a salary of INR 1,468,040, Wipro which stands last in the list, makes an offering of INR 1,75,0000.
3. Data Engineers
What is a Data Engineer?
Data Scientists and Analysts analyze data sets to gain insights and knowledge about the same. Data Engineers create systems to collect, validate, and prepare such data. So, while Data Engineers are responsible for preparing and gathering data, Data Scientists make use of it to ensure improved business decisions.
The main role of a data engineer is designing infrastructure to help convert data into formats that can conveniently be used by data scientists. So, they are responsible for transforming structured and semi-structured data into formats that can be used. Identifying trends in huge data sets that make sense is also an important role that data engineers perform.
Raw data needs to be made useful for operational and analytical use. Thankfully, this task is handled with great precision by data engineers. Note than the position of a data scientist and a data engineer is equally important for the growth of an organization. The reason why we don't hear of data engineers much is that they are less associated with the end result. Whereas data scientists are directly linked with the result of data analysis.
Responsibilities that a Data Engineer shoulders
Data Engineers are responsible for testing, constructing, maintaining and developing architectures.
They, then, align such architectures with core requirements of the business.
They are also responsible for the acquisition of data.
Data set processes are effectively developed by them.
They make use of programming languages and tools as and when required.
They identify and define ways to better the quality, efficiency and reliability of data.
They are also required to undertake research to solve important business questions.
They are capable of resolving business issues with the help of large data sets.
They are experts in deploying statistical methods, machine learning and complex analytics programs.
They are required to prepare data for both prescriptive and predictive modeling.
They can utilize data by finding hidden patterns in them.
They are responsible for identifying tasks which can be automated. They do this with the help of data.
They give updates to stakeholders on the basis of analytics.
Data collected from different sources need to be cleansed, integrated, and then consolidated. This job is done by data engineers.
In order to build data pipelines, data engineers make use of statistical techniques, machine learning algorithms, and sophisticated analytics programs.
To make sure the data at hand is quality data, it is efficient and also reliable, data engineers develop or identify different innovative ways.
Data architectures are maintained, developed, constructed, and tested by data engineers
Data Engineer salary in India
If you are a Data Scientist with a considerable experience of about 15 years or more, then you can easily earn somewhere around INR 1,579,282 a year.
Further, there are numerous opportunities to grab when you are a data scientist. You can fill in positions of engineers, data analysts, and scientists. And trust us, this is a fun job which proves intellectually rewarding.
Different surveys have found out that India ranks second in the world with respect to recruiting employees in the data science industry. And not much surprise, the demand for this talented lot of people is only growing, that too at an unabated rate. Starting from small startups and e-commerce outlets to large companies, every business entity is interested in data scientists who can help make sense of all the data available with them.
Hence, if you have the strengths and skills to become a good data scientist, there is no reason why you shouldn't choose it as your career. Note that to remain relevant in this field through time, it is important to keep yourself updated with different innovations and routine happenings in this industry. One thing that you need to keep in mind here is that data scientist salary in India is heavily dependent on how informed you are, how sharp your skills are, and also, how valuable you might prove to an employer.
By now, the discussion above must have intrigued you enough. It also probably makes you want to know what is a data scientist and what is the typical data scientist salary in India. Well, we will discuss both as we progress.
The mean salary of a Data Engineer is INR 8,56,643 per annum. However, the compensation depends on a lot of factors like where the engineer works, their experience, their educational qualifications, city of service, company reputation etc. Some of the most important companies in the field of Data Science are Accenture, IBM, Amazon, Deloitte, Netflix and Spotify. When you to get recruited by such big companies, it's natural for you to earn better than your counterparts employed with other firms. Also, if you have a lot of experience in Big Data, then it can offer a big boost to your value as a Data Scientist.
If you are an entry level Data Engineer with 1 to 4 years of experience, then you can earn about INR 7,37,257 per annum. Data Scientists in the middle of their career, having an experience of about 5 to 9 years can earn about INR 1,218,983 per year, on an average.
Conclusion
India's current opportunities for Data Science professionals are pretty impressive. Due to the huge amount of data generated by businesses, the availability and tools to extract it, and the desire to gain insights into it, the demand for people having expertise in Data science has grown exponentially. And this is the primary reason why Data Scientist Freshers & Experienced Salary 2021 is so lucrative.
Data scientists are being hired at a never-before rate. Their demand is only growing with each passing day. If you are thinking of building a career in the field of data science, then it's only natural that you would want some guidance to be decisive about whether or not to pursue it as your career. Thankfully, the discussion above regarding Data scientist salary in India for freshers and experienced serve as that guide for you. After having read the details presented above, we believe you will be in a better position to decide whether or not you wish to take the plunge.