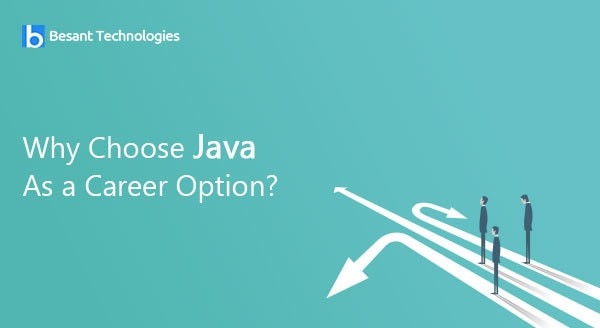 Why Choose Java As a Career Option?
Do a simple Google search by typing the best programming languages for career development. The result you'll encounter is a head-spinning list of programming languages in different websites. But, there will remain one constant in each of those lists, Java.
Java is a simple readable programming language that is used by thousands of developers in millions of devices across the billions of users worldwide. The number of job opportunities for individuals skilled in Java has spiked up immensely since last year. The cause of this may be due to the growing Android market. All of the native Android applications are building with the help of Java. Although there are various other programming languages which are rising up the ranks, Java remains one of the most in-demand languages. With the upcoming launch of Java 9 in the coming months, its demand is soaring high.
What is Java?
Java can be simplified as an object-oriented programming language that makes the job of coding for developers and programmers easier. It can be used to build applications and install it in a cross-platform setting. For the purpose of development of applications, Java technology is the most widely used software platform today whether it be client-side or server-side.
Why Java?
It is an Open Source Platform.
It offers an easy to access application programming interface.
It is supported on multiple platforms.
It permits you to generate reusable codes.
It is an independent platform.
It supports garbage collection through which it can automate memory management.
It can be used to build dynamic web applications.
It is completely free.
It has powerful developmental tools.
Career Opportunities in Java

Career outlook
Most of the leading companies in the software development industry are using Java as their preferred programming language. They are using it to develop online applications, firm applications, and software applications. Experience in this field leads to high rate of income in the long run. Reputed companies like TCS, Infosys, and IBM search for those individuals who have certifications in Java. Thus, Java Training courses are highly important.
Salary
Beginning level Java programmers, usually earn between Rs 2lakhs to Rs 5lakh per annum. Again, certifications and experience play a major factor in this.
Career Options
Web developer
Web programmer
Software developer
Apps developer
EJB programmer
With proper training and certification courses on Java, one can quickly climb the ladder of success in today's competitive IT sector. Top posts like Senior Programmer, Project Manager, and various others are up for grabs for aspiring individuals. As evident from the above lines, a career in Java is a lucrative and rewarding choice.
Converting the demand for Java professionals into opportunities is the key. Certification courses or training courses can firmly put your name one step ahead than your competitors in this field. Institutes like Besant Technologies, coined as the best institute for Java Training in Chennai, can create those opportunities for success for you. The availability of different career options, the probability of high income and the opportunity to work in reputed companies makes Java an ideal career choice.