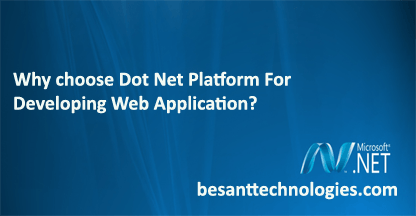 Why Choose Dot Net Platform For Developing Web Applications ?
Launched by Microsoft Corporation in 2002, Dot Net is one of the most sophisticated and reliable software development technologies that is widely utilized at this time to build rich websites as well as to generate web applications. Dot Net Training covers the Visual Studio IDE, Dot Net Framework and additional technologies for the server. It proffers supplementary resources and local library that enables dot net developers to craft flexible, vastly scalable and valuable web applications with ease and on time.
The prime advantages of Dot Net Platform to construct web applications:
Supports copious languages
Robust Security Features
Rich Toolbox Attribute
Click Here! → Get Prepared for Interviews!
Supports Copious Languages
By means of supporting various languages within one environment, Dot Net has taken language interoperability to greater heights. Dot Net, by default, comes with programming languages including C# (C Sharp), VB.NET, J # and managed C++. It offers a common class library, which can be called from any of the supported languages, which ensures that developers need not learn a lot of libraries when they toggle between languages. Merely the syntax differs for every language.
Irrespective of whether a code is written in C# or VB.Net, the methods in the same .NET class libraries are being called. The C# and VB.NET applications are executed by the same Dot Net framework. Hence there won't be any performance variation based on the language the code is written.
Robust Security Features
Creating an application that resides on a local machine and using its resources is not a tough task. In this setting, security isn't a concern as all the resources are accessed locally. On the other hand, if an application needs to access data on a remote machine, security is vastly significant and needs to be robust as the application is acquiring data from a distant machine.
With Dot Net, the Framework facilitates the developer and the system administrator to indicate method level security. It employs industry-standard protocols such as TCP/IP, XML, SOAP and HTTP to aid distributed application communications. This ensures that distributed computing is more secure as Dot Net developers cooperate with network security devices rather than working around their security restrictions.
Rich Toolbox Attribute
As Visual Studio, is incorporated within ASP Dot Net of the Framework, it assists the designers to the highest degree by allowing them access to WYSIWYG editing . Moreover it has a number of tools that aids automatic deployment along with drag-and-drop server controls, thus helping to create feature-rich web applications and web portals.
From developing simple web portals for petite business to developing complex web applications for big corporate organizations, Dot Net can formulate solutions that reorganize business processes and amplify business productivity.
In view of the above key benefits and the verity that Dot Net permits web developers to swiftly develop, deploy and handle web applications, it would be a prudent move to master this technology by seeking a Dot Net Online Training center.
We at Gangboard bestow highly experienced trainers who provide in-depth coverage of all the topics of this 'here to stay' technology of Dot Net.