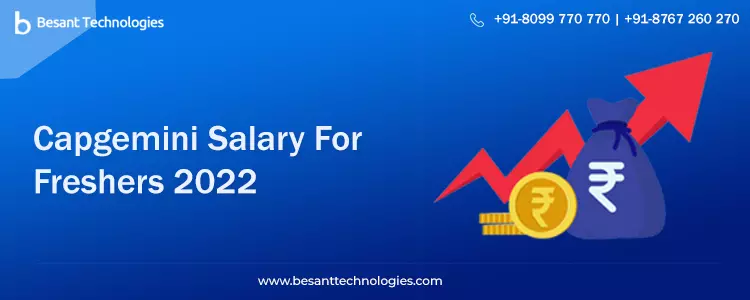 Capgemini Salary for Freshers
Capgemini Salary for fresher's in India 2022
Capgemini is a French multinational company that specializes in technology, professional and outsourcing services. Described as an international leader in consulting, technology, engineering, and digital conversion, Capgemini prides itself on being a global technology company.
It has developed its technologies within the world of cloud and digital platforms and is at the forefront of innovation. There are 365,000 people working for Capgemini, and the company has a presence in nearly 55 countries. Capgemini is headquartered in Paris, France.
Pay Structure: Capgemini Package for Fresher's 2022
Let's have a look at the latest and updated salary package for fresher's and experienced in Capgemini, India.
Software Development:
Typically, salaries are paid in lakhs per year, with Software Engineers making 4 lakhs, Senior Software Engineers earning 4.9 lakhs, Developers receiving 8.5 lakhs, Java Developers receiving 7.3 lakhs, and .NET Developers earning 4.3 lakhs.
Help Desk Operations and IT Support:
In the SAP consulting field, salary is 8.5 lakhs per annum, in database administration it is 3.9 lakhs, and in systems administration it is 4.65 lakhs.
The NET Software Developer:
A software developer gets 2.5 to 9.5 lakhs CTC every year.
Associate Consultant:
A Capgemini associate consultant can earn 3.5 to 9 lakhs in every year.
Business Analyst:
If you are a fresher business analyst you can earn 3.5 to 18.5 lakhs per annum.
Finance manager:
A finance manager can earn 6.24 to 23.53 lakhs per annum.
Java Developer:
A Java Developer Capgemini in hand salary for fresher's 2021 salary starts from 3.15 to 9.16 lakhs every year.
Lead Consultant:
A fresher lead consultant in Capgemini can earn up to 6 to 17.2 lakhs every year.
Manager:
A Capgemini manager can earn 12 to 19 lakhs per annum in India.
Other Jobs' – Capgemini CTC in 2022
Job post like Project Manager can earn 12 to 20 lakhs, Quality Managers 5.41 to 25 lakhs, Consultant 3.38 to 12.88 lakhs, Senior Consultant 5.6 to 17 lakhs, Senior Software Engineer 5 to 15 lakhs, Test Engineer CTC 3 to 8 lakhs, and Vice President gets 72 lakhs per annum.
Capgemini Package for Fresher's 2022 – Top Cities in India
Find out your cities below and check out the latest and updated salaries for Capgemini salary for fresher's in India.
Capgemini Salary in Bangalore, India 2022
It is estimated that 30% of Capgemini's people hail from Bangalore, since the city is India's largest IT hub. An average salary for a fresher at Capgemini is between 4 lakhs and 6 lakhs.
Capgemini Salary in Delhi, India 2022
If you're a fresher and want to work at Capgemini, you can earn up to 35,000 to 50,000 rupees in any department if you're in Delhi.
Capgemini Salary in Pune, India 2022
Besides Mumbai and Bangalore, Pune is another Indian smart city where a Capgemini salary for freshers begins at 6 lakhs and reaches 9 lakhs.
Capgemini Salary in Mumbai, India 2022
The city is famous for its information and marketing hub, and many international companies prefer to hire employees here. Capgemini for example hired 43% of its staff from Mumbai. An average salary for a fresher in Capgemini (Mumbai) can earn up to 7 lakhs.
Capgemini Salary in Hyderabad, India 2022
In 2022, Capgemini employees in Hyderabad can earn up to 8 to 12 lakhs and win incredible gifts, bonuses and benefits as well.
Capgemini Salary in Chennai, India 2022
Moreover, Chennai is a desirable city for both a secure career and a better lifestyle. A data entry employee in Capgemini can earn up to 13 lakhs per annum.