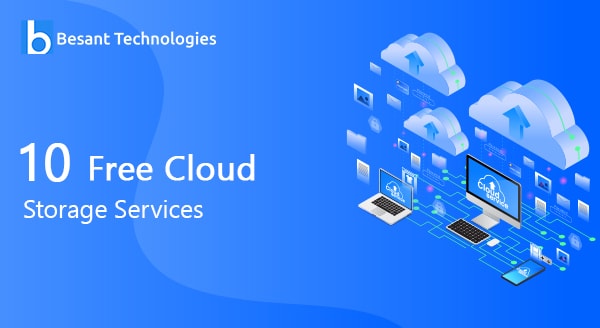 Best Free Cloud Storage Services in 2021
Free Cloud Storage
In-house or on-premise storage is out-dated in today's cloud generation. Every business is relying on cloud-based technology for securely storing their data in the cloud. Your valuable files which can be termed as data center, hard drive, server, connectivity, etc. are simplified and essentially stored on the cloud. In this blog let's understand everything that needs to be known about cloud services, from cloud computing, its benefits to best free cloud storage services in 2021. Before getting into the free cloud storage, let us first discuss what is Cloud Storage and how it works.
What is Cloud Service?
The word "Cloud" is a buzzing word in the current technology world. Cloud storage is a wonderful and effective computing service model, where we can store the data on remote servers and a cloud storage service provider is responsible to preserve, operate and manage the stored data. With the help of Cloud storage, applications can easily upload data to a remote network or connected servers.
Later, it is possible for the applications to uphold those data and access from anywhere in the world. Using a web-based API, applications can access data. For this cloud data storage process, users normally pay on a basis of per-consumption, monthly rate. Operating expenses are added by the Cloud storage providers which would make the technology significantly more posh for usage.
The term cloud service is pervasive. We notice cloud services everywhere in our day-to-day life such as e-mails in your phone, maps in your phone, your coding and file-sharing applications like Github and Box, etc. We have been experiencing cloud services for a long time now. However, we still wander with several questions like:
Where is the cloud?
What is a cloud service?
What are the types of cloud services?
Are the cloud and the Internet different from each other?
How many types of clouds are there?
So let's first understand the cloud and try to arrive at a precise answer to these questions.
Cloud services can be called IT services which are provisioned by a cloud computing provider. There is a close connection between the cloud and the internet, all cloud services are delivered and accessed over the internet. Cloud services deliver many types of IT services; some of them are listed here:
Hosting in-house cloud
Providing application database through cloud
Providing an application server through the cloud
Replacing in-house data storage centers with a cloud storage system
Proving accessibility to applications and software systems from a web browser without initial setup or installation
Any kind of service which is made available to users via the internet from a cloud computing provider's server is called as cloud-based service. This is exactly opposite to the company's on-premise server owned and managed by the company itself. Cloud services are intended to offer easy and scalable access to your applications, database, network, and server that are securely stored and managed by cloud service providers. They are designed, operated, managed, and maintained, by the service provider in order to guarantee end-to-end reliability, availability, and cloud security.
The service provider provisions the software and hardware requirements mandatory to manage the cloud and its components. In this case, the company needs not to deploy special staff for maintenance of the database. Some examples of cloud services are backup solutions, online data storage, hosted office suites, e-mail services, database processing, document collaboration services, etc.
What is Cloud?
Cloud is delivery of computing services including databases, storage, servers, software, networking, analytics and intelligence over the Internet for enabling flexible resources, fast innovation and economies of scale. You pay only for those cloud services that you use, run your infrastructure smoothly, lower your operating costs and scale if your business needs change.
What is Cloud Computing?
In very simple words cloud computing is the delivery end of cloud service. This includes storage, servers, databases, software, networking, etc. through the internet. Cloud computing ensures flexible resources, faster innovation, scalable delivery system. You potentially pay only for the cloud services that you use. This will help you in reducing the company's operational cost and also run the infrastructure even more efficiently.
Why cloud storage?
Cloud storage is a way of preserving the data online through disk drives. Nowadays, large or small business groups rely on cloud storage more than buying hard drives or disks for storing the data. The cost of hardware is very high and most of the companies are unable to afford the same. Most people do not have any idea of free cloud storage available in the market.
What is Free Cloud Storage?
IT sectors are in a dilemma when it comes to switching to new technologies or software as it makes them hire new employees. If they have the best free cloud storage available, their investment gets reduced to a great extent. The best free cloud storage members have introduced many free plans for businesses for the ease of search for free storage.
Free cloud storage is the method of storing the data online for free on a cloud service provider's cloud. You can manage, maintain, and share your documents, spreadsheets, presentations, images, videos, and audio files in the cloud. This service generally comes with a limit on the free space provided. However, sometimes you will also get exclusive options top boost your free space. Free cloud storage tools allow you to access your data from any device through your free account.
Free cloud storage services are easy to use and provide free storage space up to 50 GB. The storage solutions can be used for personal as well as business storage. All one requires is the basic knowledge of free cloud storage services and choosing the best storage service out of the available options. Below is the list of best free cloud storage services and you can choose the suitable one for your use.
Why Cloud Storage?
So, now what is the use of Cloud Storage? Here are some of the top-most important reasons to use Cloud Storage.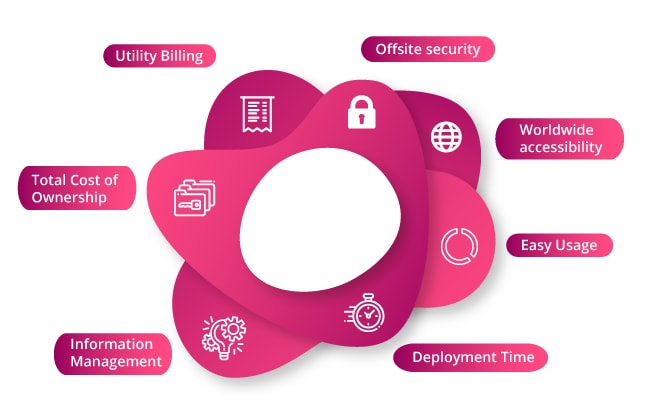 Utility Billing:
As the customers are paying only for the used capacity, many organizations and business-people are using Cloud Storage. The cost of cloud storage decreases when there is a reduced usage of cloud storage. This is a contrast of using an in-house storage system, which would require more costly initially, and the price will never decline at any point in time.
Offsite security:
For the purpose of security purposes and backup, public cloud storage affords a method to move data copies to a remote site. When compared with a company upholding its own remote capability, cloud storage signifies an important cost-savings method.
Worldwide accessibility:
People can access the Cloud storage at any time and from anywhere. Operating system competence or allocation procedure is not required to access cloud storage.
Easy Usage:
It is quite easy to access and use Cloud storage. Thus, software testers or developers and business users are not expected to wait for IT people for the allocation or configuration of storage resources.
Deployment Time:
Cloud storage permits IT to rapidly distribute the precise quantity of storage desired. Through this point, IT can easily pay attention to cracking multifaceted application difficulties rather than managing storage systems.
Information Management:
Through the lifecycle management policies of Cloud Storage, you can accomplish influential information management jobs along with locking down data or mechanical tiering.
Total Cost of Ownership:
If using Cloud Storage, no need to purchase hardware, provision or storage. It would be easy to add or remove volume based on the demand, rapidly modify retention features and performance. Data that are not often used can also be routinely moved.
Types of Cloud Storage
The most significant aspect of cloud storage is to know that not all clouds are the same, several different types, models and services have emerged to fit into your requirements. There are 4 types of storage options – Public cloud, Private cloud, Personal and Hybrid cloud.  Let's understand them in detail.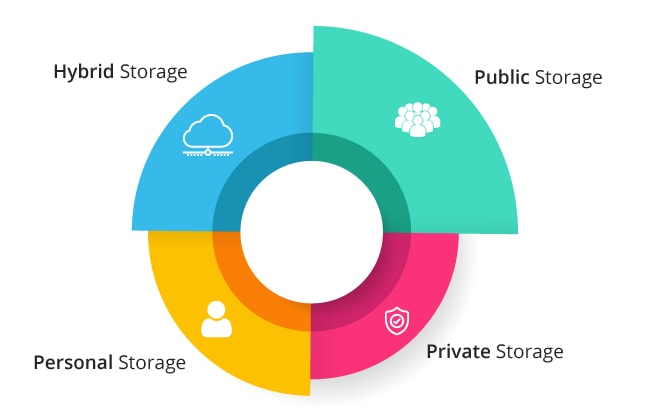 Public Cloud Storage:
Public cloud storage is a storage model that allows an organization or individual to stock, manage and oversee data. Public storage occurs on a remote cloud server and using the internet, public storage can be accessed with a payment-based utility billing technique. The users can pay for only the used storage capacity. The other words for Public Storage are Online Storage, Service Storage, and Utility Storage.
They are operated and owned by a third-party service provider. All the hardware or software set-up and supporting infra is owned and managed by the provider itself. The service provider will deliver services like servers and storage through the internet. You can access these services through your account via the internet using a web browser. One good example of a public cloud is Microsoft Azure.
Private Cloud Storage:
Private cloud storage is a storage mechanism that can store an organization's data at in-house storage servers. This can be done by executing storage technology and cloud computing. Similar to Public Cloud Storage, Private cloud storage affords scalability, usability, and elasticity of the storage architecture. But the private cloud cannot be accessible publicly, and this is always possessed by a solo organization which can be authorized by peripheral associates. The other word for Private Cloud Storage is internal cloud storage.
Here, a private cloud is used only by a single organization. It can be physically located on the organization's on-premise data center. You must pay to the third-party to host a private cloud for you. All the infrastructure operations are managed by the provider on your private network.
The company and the service provider are integrated into the company's data center. Here the infrastructure which belongs to the cloud storage provider is present in the organization's on-premise data center. In this case, the performance of cloud storage is highly increased.
Personal Storage:
Personal Storage is the one that is available to store an individual's data in the cloud and affording the individual with data access from anywhere in the world. Syncing and distributing stored data across numerous devices like tablets, computers and mobile phones is possible through Personal Storage. Personal cloud storage is otherwise named as pocket cloud storage or mobile cloud storage.
Hybrid Storage:
Hybrid Storage is a combination of both private and public cloud storage. It allows the sharing of common data and applications between two parties. The facility to move data and applications among public and private clouds, the hybrid cloud offers greater business flexibility; optimize existing infrastructure, more deployment options, additional security & compliance.
In this storage, we have some dangerous data that exist in the enterprise's private cloud, whereas the other data is deposited and reachable from a public cloud storage provider. Hybrid cloud storage syndicates the rewards of scalability, dependability, speedy deployment and probable cost savings of public cloud storage.
Top 10 Free Cloud Storage for 2021
Today, cloud services have revolutionized computing which has businesses to develop virtualized infra and delivery systems for their software services through cloud and internet. Now, let us have a glance at the best free cloud storage options available in 2021.
In the current market, there are numerous free cloud storage options. The entire free cloud storages are easy to use and upto 50GB free storage space is made available for the users. You can use this storage for both personal and business purposes. Better get the understanding of each Free Cloud Storages and pick the right one.
Google Drive
Google provides a wonderful free online storage called Google Drive, launched in the year 2012. Google Drive assimilates with other systems and services of a company which includes Gmail, Chrome, Google Docs, Android, Google Analytics and YouTube. Google Drive is a great competitor for Apple iCloud, Microsoft OneDrive, Dropbox, SugarSync, and Box.
Online storage works like normal storage that is we use a file, store the same on the web and synchronize it with our computers. However, there are many other features of Google Drive which makes it different from other cloud storage services. It lets the users store their personal documents in a personal way. The Google free cloud storage provides excellent free storage of 15 GB and is the best free cloud storage offered by Google.
Google Drive offline services help its users to view all photos and files that are being saved online even if their network service is not good. Scanning documents have become comparatively easy by taking a picture of the document and the rest of the work is done by the drive-by storing it in the PDF format.
Google free cloud storage is the best cloud service as it can be integrated with all other Google services. You can build docs, sheets, and slides. One can also build forms through the drive which helps in conducting a survey. The tool can be used for mac OS. It is integrated with many external apps like diagram tools, mind maps, etc. It can store documents up to 1.02 million characters' spreadsheets up to 5 million cells, presentation up to 100 MB and Google Sites up to 2000,000 characters per page.
Benefits:
Google Drive makes use of a file, saves it on the web, and easily synced with the computers.
There are various outstanding features in Google Drive which make it special when compared to other cloud storage.
Users can easily store their personal information in a personal method and 15GB free storage is available on Google Drive.
You can easily edit and modify the files anytime and anywhere in the world.
To make the files more collaborative, you are allowed to create and receive comments and feedback.
With just a single click, you can share the files with your friends and set permissions to either view, edit, and comment on your information.
Disadvantages:
Hackers can easily hack and remove vital information from the drive.
As many people are uploading and downloading files together, speed becomes very low.
The number of plugins available in Google Drive is very limited.
You need to refresh the page often, sometimes re-login is required when making changes to the Google Drive files.
2. Mega
Kim Dotcom made the cloud storage called Mega. Kim Dotcom had a dissimilar method and he achieved to generate a tremendously protected cloud service. MEGA is a boundless storage service that helps you maintain your data safe at a reasonable cost. MEGA offers you a single free plan and four (4) premium plans.
Mega has a good storage facility similar to dropbox storage. However, the major difference is the amount of space provided by cloud storage. There is a free space of 50 GB available for mega storage users. Mega storage helps the user in downloading multiple files in a zip file and files can upload through a mobile app as well.
50 GB storage has made it one of the popular and free cloud storage available and people are attracted towards mega cloud storage. Users searching for an excellent backup file location should sign up for mega storage as it not only provides the best storage but has other security features as well.
Mega makes use of keys to encrypt files and chats. You can sync files and folders through mega online storage. It is available for Mac, Windows, and Linux platforms. You can upload or download 1 GB data every six hours. It is a file hosting service provided by Mega Limited.
The files can be encrypted on the client's side even before they get uploaded. 50 GB returns to 15 GB after 180 days if a user does not make use of additional achievements. The basic free cloud space is 15 GB and the additional 35 GB will get expired after one month of signing up.
Benefits:
Mega Cloud Storage is very popular for its security feature which is useful in encrypting files even before uploading files on the client-side.
The real everlasting storage which makes the user enjoy is 15GB of free storage and additional 35GB gets expired in a month of signup.
File versioning, File sharing, Robust Encryption, and File Syncing is possible in Mega.
Mac, Linux and Windows platform can make use of Mega Cloud Storage.
Disadvantages:
As the Mega has additional security, you need to remember the encryption key and on losing or forgetting the key, just say goodbye to all your valuable information.
Mega is a bit costly for premium plans when compared to a few other cloud storage options.
In the collaboration department, Mega is not suitable for the storage system as the integration and editing features are very difficult.
3. Box
The box was formerly called as Box.net is the best largest and packed-featured cloud storage. It also serves as an online backup service. Historically, Box is mainly focusing on businesses as it offers more storage for data storage. There are different plans available on purchasing Box based on business use and personal use. It is possible to negotiate the storage and price of Box.
Benefits:
For a better cloud file management and sharing provision, you can opt the cloud storage Box.
You can share confidential and huge files securely using a simple link, password-protected link or custom URL.
From any device, you can open, create, and edit the filed directly from Box. Co-authors can be assigned to the files and in this way, multiple users can access the files.
Preview option is available like previewing the videos and presentations without downloading the files.
The latest versions of the files can be saved by Box automatically whenever you upload a fresh version or perform modifications.
Repetitive tasks and processes are simplified using Automation concepts like contract approval and onboarding employees.
Disadvantages:
Copy on each file is created by Box on every device and this would lead to confusion if using the system on more than three devices.
While using large files, it might take some time to sync with the system.
4. pCloud
pCloud, founded in the year 2013, is one of the topmost cloud storage services which afford you space to stockpile your preferred photos, videos, and music, including personal and work documents. Using iCloud, you can simply access the important files from any location in the world and anytime when required. There are more than 3 million users using pCloud in just a few years of launching. The servers of pCloud are located in Switzerland and this is a competitor of Copy and Dropbox.
pCloud is the best free cloud storage option that provides 2TB storage and unlimited remote upload traffic. It offers 10 GB free storage space to basic accounts. Resizing pictures without the help of any software has become easier with My pCloud. It provides a wide range of resizing options for users.
The archive features pCloud offers is excellent as files can be archived with creating an archive option that it provides. pCloud drive helps users in automatically locking crypto folders each and every time they log out from the device. There is no file sharing security in pCloud. You can earn additional space and there is multimedia streaming as well.
It offers more free storage than other services. You can earn additional space as well. A desktop client can be used for Mac, Windows and Linux operating systems. There is a mobile app that is easy to use. Shared folders can be downloaded as ZIP archive. Mobile apps can upload videos and photos directly to the pCloud account.
Folders and files can be shared with non-users. An email address gets generated which helps you email files directly to a folder on your pCloud account. You can backup photos from social media handles like Instagram, Facebook, and Picasa.
Benefits:
Possible to send and receive files easily to colleagues, friends with the help of uploading links and sharable downloads.
iCloud Drive does not take your local storage volume unless you indicate specific folders or files for offline purposes.
There are hundreds of frequent questions and answers on pCloud and therefore users can make use of those answers if any clarifications required by the users.
pCloud permits you to save images directly from the web to the cloud. It is possible for you to save a group of text or paragraphs and save directly to the cloud as a Word document.
pCloud is available for Android and iOS systems to develop mobile applications.
Disadvantages:
pCloud Android apps are always crashing and hence improvement is required.
Zip and download options are afforded by pCloud for downloading folder, but you cannot expect the same when downloading huge files. In this case, we need to find out the inner folder inside the primary folder and it consumes time-consuming.
5. Dropbox
Dropbox is an American company for cloud storage where the entire team content appears together in a single place, and you can use the tools that you love the most. There is no automatic process to copy the files through Dropbox on your computer and hence you need to choose the right one. Once the selection is done, you can see the files available in the cloud if the files are required again. This process is completed by Dropbox.
Dropbox is the latest and powerful free cloud storage when compared to other storage services because of the excellent backup features. All types of small and large videos, photos, PowerPoint presentations or other large CAD files can be kept safely in the Dropbox.
Dropbox gives users with safe and easy synchronization features which help inconvenient access of documents and files to Dropbox from any device.
The free storage offered by Dropbox provides users with features that are very helpful. One of the features of Dropbox is that a user can protect all documents and files in the lost devices by clearing documents from the device with remote wipe features.
Dropbox free storage offers free storage space of 2 GB. If users require more space, there are many plans which can help them in getting the desired storage of their choice. Dropbox is available on Linux, Windows and Mac operating systems.
The file size is 50 GB or smaller. It is a file hosting service that provides file synchronization, personal cloud, client software, and cloud storage. It is designed to collaborate on your projects whether working in a team or alone.
Benefits:
Centralizing the content together in a single place is a great advantage of Dropbox. From Google docs, slides, Docs and sheets, you can easily create, stockpile, and share cloud content.
As Dropbox is combined with Dropbox Smart Sync, it is easy to maintain your entire projects at your fingertips without consuming the hard drive.
You can directly upload videos and photos to Dropbox from your mobile and later delete it from your mobile to recover valuable space.
Possible to create numerous versions of the identical file so that you can view the files from different environments.
Recovering a file later is possible when a file is deleted from the storage facility.
You can upload or download the files from Dropbox from anywhere and at any time.
Dropbox user interface is very easy for users to operate and especially, there is an appealing appearance for the new users.
Disadvantages
For a business, uploading, downloading, or syncing the files with Dropbox is very slow most of the time. So, you need to wait for some time to view the files.
Sometimes, locating the deleted copies or older versions of files becomes difficult.
The search feature in Dropbox is not good enough to retrieve the required large amount of data. Hence, file organization is needed in Dropbox.
Encryption can be done only by the Dropbox developers and no one else can perform encryption.
A number of folders cannot be uploaded onto the web applications.
6. Amazon Drive
Amazon Drive, otherwise called as Amazon Cloud Drive, is managed by Amazon. Amazon Storage was initially announced in the year 2011. Amazon Drive affords various features like file backup, protected cloud storage, photo printing, and file sharing. With the help of the Amazon account, you can easily manage and transform the folders within multiple devices including mobiles, web browsers, tablets, and desktop applications.
Amazon Drive helps the users in saving files and photos securely. Cloud storage has many features that makes it easy for handling the files. Maintaining perfect workflow which means sharing videos, photos, and documents have become very easy with the powerful features of Amazon Drive. It provides 24×7 support and 5 GB of free storage after signing up.
It lets you sync files and folders. You can edit and organize photos as well. The photos and videos automatically get backed up on your phone through the drive. It provides services like secure file sharing, photo printing, cloud storage, and file backup.
There is no folder sharing in Amazon Drive and it is free only for Prime members. You can also go for a 30-day free trial in Amazon drive. You can upload from desktop and mobile apps.
There is unlimited photo storage provided by the drive. Users can share files to create a public link accessible by anyone who uses it, even if they do not have any Amazon account. Files can be uploaded through desktop client software or web version though the former allows folder uploads. The mobile app is also available for uploading photos and videos from Android and IOS devices.
Benefits:
We have two important methods to backup the files through Amazon drive which are web app and desktop app. There is a wonderful feature called drag-n-drop to easily copy the files to your Amazon cloud account from the system.
Sign-in and password are some of the terms used to access the files stored in Amazon drive and hence all the important security measures are taken. You will able to login to the drive using your amazon account. This is much useful for personal purposes alone.
One of the top-most advantages of Amazon Drive is its flexibility. You are allowed to select the preferred programming languages, Operating system, web application platform and so on.
You can have the best user interface for both websites and applications.
As this is an organized platform, it quite simple and easy to use for both business and personal intention.
Friendly technical support is available for Amazon Drive in case of any queries and classification at any time.
Disadvantages:
You cannot do file versioning in Amazon Drive.
To use Amazon Drive, you need to have a credit card details to set up an account in Amazon.
While uploading the folders, we may face some issues with speed.
7. MediaFire
MediaFire is an online storage service founded in the year 2006 and this company is based in Shenandoah, Texas. You can simply use MediaFire for file synchronization, and file hosting. The best features of MediaFire are downloading resuming, unrestricted downloads, no wait times and many more. It is a simple process to store any documents, audio, video, and photos using MediaFire.
Media Fire is easy to use and one of the best free cloud storage for storing photos and documents online. The free storage provided by Media Fire in initial stages is 10 GB but one of the excellent features they have is that the free storage can be increased up to 50 GB. The cloud storage makes the handling of files very easy.
Media fire helps in uploading multiple files at once from any browser which is a unique feature and makes it different from other free cloud storage services. Organizing files in file manager of Media fire have become very easy. Media fire eases your search as it helps users in sending documents with free and specialized one-time links which enable recipients to share it further. It offers an ad-free and professional experience to employees. Media Fire can be used for OSX, Web, Windows, iPhone, and Android. It lets you specify access control. It manages digital stuff online as well as offline. It is a file hosting, cloud storage, and synchronization service.
Media Fire is well-known for online streaming like music or video streaming directly from the cloud platform. Their single file size is 4 GB which is average of a single HD movie size.
Benefits:
Using MediaFire, users can automatically sync videos and music to the cloud.
To get more space in your system, download the MediaFire app.
"Shared folders" feature in MediaFire provides a comfortable method to share and collaborate files with friends. When a person is sending you a file through MediaFire, just click the "Follow" button available in the upper corner of the screen. Instantly, you can see the files added in your MediaFire home folder.
If installing MediaFire Desktop, users are allowed to select the files which you need to sync locally in your system. Anytime you can add or eliminate the files that are synced using the options available in MediaFire Desktop.
Disadvantages:
At times, you can experience slow downloads through MediaFire.
8. iCloud
All the Apple device users are very lucky to have the cloud storage service called iCloud, launched in the year 2011. The whole files and documents maintained by iCloud can be safely stored and quite easy to use. People who are using Apple iCloud can easily share videos and photos with their friends and family members. Without much effort, you can organize folder and files using Apple iCloud. Sending messages and automatically saving the messages are possible with this storage type. The quite interesting concept of iCloud is you can start discussions from the precise point where you have stopped previously.
Apple iCloud is the best free cloud storage available for Apple users. It provides users with 5 GB of free storage. All files and documents can be stored safely and it is easy to use. Users of Apple iCloud can share videos and photos with ease with their family members.
Folders and files can be organized easily with iCloud. iCloud sends messages automatically and saves them. Users can start a conversation from the point where they have stopped earlier. It is a cloud storage service that is managed by Apple. It is a service where users can save files on the cloud. iCloud automatically syncs with your device. This service can be used for Windows and Mac PCs.
iCloud provides 5 GB free storage and uploading limit of file size is 15 GB. Many people can work together by sending a link and lets you collaborate with a keynote, pages, numbers, and notes.
Benefits:
You can sort the files, manage and store in iCloud with just a fingerprint touch. This process is possible using iPads, iPhones, and Macs.
Users are not required to synchronize a specific part to place the selected element into iCloud. iCloud automatically stores the selected item once you point out and upload in your system.
If using iCloud, you will never lose your vital documents and favorite music. In case of losing from your device, you can still retrieve it from iCloud.
It is not required to delete one item to provide space for another item when you run out of space in iCloud. Initially, you can use the afforded space and later you can extend the space when required.
Disadvantages:
It is difficult to manage in the cloud as the cloud storage systems contain its own structures. The prevailing storage system may not constantly assimilate fine with the cloud retailer's system.
Based on the regulation level in your industry, sometimes it is not possible to work inside the public cloud. For industries like financial services, healthcare, and publicly traded corporations should be careful when opting for this storage option.
Many people have noticed that transferring large files through iCloud is slow.
Without the internet, you will not be able to back up the files.
9. OneDrive
For hosting files, Microsoft's storage service called OneDrive can be used. OneDrive was initially launched in the year 2007. If you have a Microsoft account, you can easily get the OneDrive storage for free. Using OneDrive, you can simply store, sync and share different file types with others and various devices on the internet.
The files and documents can be kept within reach through Microsoft OneDrive. If you sign up with Microsoft it can help users to keep everything in one place. Earlier, it provided 15 GB free space to users which got reduced to 5 GB. It can be accessed from any device at any point of time but comes pre-installed with windows.
Cloud storage is the second most wanted storage among businessmen after the Dropbox storage cloud. One of the major drawbacks of outlook was saving attachments from emails because of the many steps involved. It is convenient for businesses to choose email attachments and save it in folders directly. It is easy to create excel surveys and save it in OneDrive. You can upload files up to 15 GB. You can use your phone to scan receipts, business cards, whiteboard notes and store paper documents in One Drive.
It is a synchronization service provider and internet-based storage and. It is available for free to the people who have Microsoft account. One Drive apps can sync files on Windows or Mac operating systems. You can set an expiration date of shared photos, files, and links for security.
Benefits:
Users can access files from any device like a tablet, mobile or computer. Any modifications done to the files are updated in the files.
You can always be productive even when you are offline. Without being online, it is possible to access the files, which means you are always with your files.
Sharing folders, files, and photos with family and family is possible through OneDrive.
OneDrive is a reasonable storage service in the current cloud storage market. When compared to other storage providers, OneDrive is very cheap.
The organization of files is perfect in OneDrive so that users can get the required file anytime and from anywhere with a simple search.
Disadvantages:
Presently, OneDrive used in business does not permit third-party app integrations which is possible in personal use. Not possible to sync your business account with any apps like message boards or calendars.
Files over 15GB are not supported for business by Microsoft OneDrive. Make use of a compression utility for larger files.
10. IDrive
IDrive is one of the best data backup storage technology that runs on Mac, Windows, Android, and iOS. On successful installation of IDrive, you can select files and folders that have to be backed up at specified times. Compressed and incremental backups are afforded by IDrive and hence the users can upload only the changed parts of a backup file. It is possible to update the files in real-time with an incessant backup choice.
Benefits:
Using IDrive, you can manage data backups of all the entire remote computers with vigorous reporting tools.
The snapshot feature of IDrive assists in restoring the data when we can see your system attacked by ransomware, malware or get into some trouble.
The iDrive storage service is cross-platform. Without worrying about devices, you can access the data from anywhere and through any device.
The archiving feature of IDrive confirms that the data stored by you are not lost because of inattentiveness.
An additional layer for data security is afforded by iDrive for businesses and by this method, you can maintain numerous data copies.
Social Media Images and videos can be backed up from different websites like Facebook and Instagram.
Disadvantages:
Users are experiencing poor upload and download of data.
The User Interface of IDrive looks a little challenging and not possible to understand the interface by everyone that easily.
When exceeding the storage limit, you need to pay for the extra space.
Now let us have a small comparison of free cloud storage available in the current market.
11. Sync.com
Sync.com is another best free cloud storage available. Sync.com gives free storage of around 5 GB. It is easy to back up files with Sync.com if the users have already used something better than sync folder because it is productive to explore sync.com panel which offers great features. The best feature of suync.com is that it can restore all the deleted files which stop the user from regretting over lost important documents mysteriously.
Free space is also one of the features of sync.com. If a user is interested in getting some more space for photos and files you can tell your friend about sync and number of friends who sign up for sync get a free gigabyte along with the user who recommends it to others.
Sync Vault helps the user in saving documents and files in a special storage space known as Vault. It is different from the sync folder and one has to select a file and choose the option copy to the vault where all your important data gets backed up.
It supports Windows, Mac, IOS, and Android. There is an unlimited data transfer for all the plans in Sync.com. The storage service allows you to send files of any size to anyone even if they are not registered. It helps in sharing and storing sensitive and confidential data. It can share files from any computer or mobile. If the uploaded files are larger than 40 GB, the performance tends to become slow.
12. Next Cloud
Next Cloud is online free storage that protects data and has many features for attracting the users. It provides a good backup feature which helps users in tracking their data even if the device gets lost. The next cloud provides two-step authentication for providing extra protection towards account usage.
Comparison of Free Cloud Storage
Cloud Storage
Storage Space
Available in Platforms
Pricing
Google Drive
15 GB of storage is free in Google Drive. If required, you can upgrade the space as per the requirement. Unlimited space can be expected.
Google Drive is supported by Mac OS, Android, Windows, and iOS.
Initial 15 GB is free and for further use, 100GB is available for $1.99 per month
Mega
50 GB of storage is free in Mega Storage. 15 GB can be used anytime and remaining 35 GB expires after one month.
Mega is supported by all platforms like Mac OS, Android, Windows, and iOS.
Mega has a free plan and also paid plans. The paid plans range from $4.99 to $29.99 per month.
Amazon Drive
5 GB of storage is available for the user at free of cost. For more storage space, you can extend the space anytime.
Amazon Drive is supported by Linux and Windows.
100GB of Amazon Drive storage space is available for $11.99 per year, or 1 TB of storage for $59.99,
iCloud
Initially 5GB of space is afforded at free of cost. Later, you can get more when required.
MacOS is the only platform that supports iCloud storage
On using iCloud,
1. 5 GB is free
2. 50 GB for 99 cents
3. 200 GB for $2.99 per month
4. 2 TB for $9.99 per month
Dropbox
Primarily, you will get 2 GB of storage space and thereafter you can purchase for more space.
Windows, Linus and MacOS are the platforms that support DropBox
Dropbox affords 2GB of free space. 1TB is for $9.99.
IDrive
IDrive afford 5GB of free space and later you can purchase for more space.
IDrive is available on platforms such as Linux, Windows, iOS and Mac
Once the free 5GB is used, you can purchase the storage space of 2TB for $52.12 (for one year)
Benefits of Cloud Computing
Today cloud computing is the most ideal method of delivering business applications and the most preferred way for a company to extend its infrastructure solutions and launching new innovations towards the company's growth. This is a big shift in the traditional way of running businesses to an innovative way of creating potential business opportunities. Let us see some of the common reasons why enterprises are shifting to cloud computing: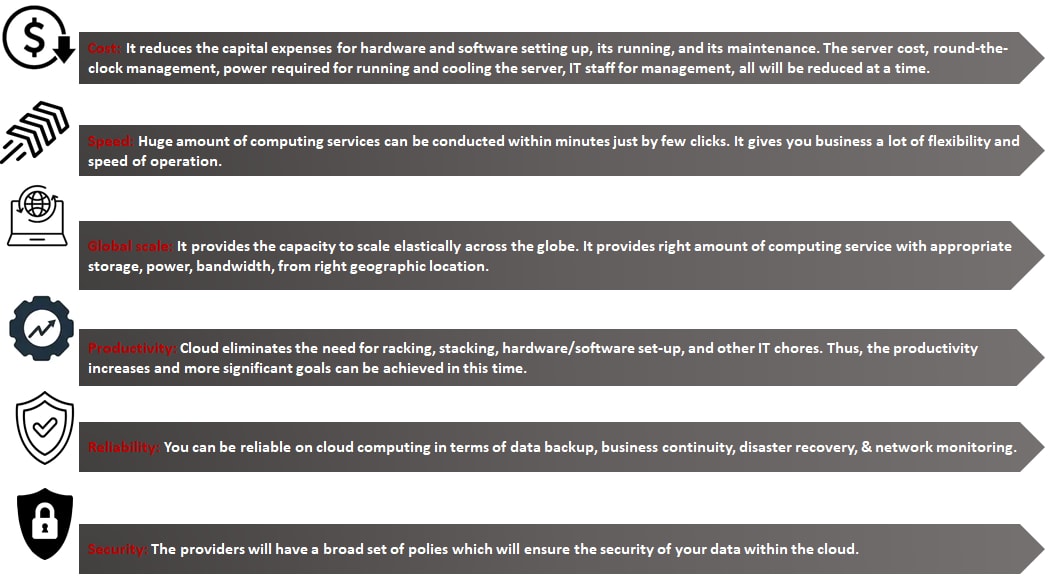 Types of Cloud Services
Typically there are four types of cloud services: Infrastructure as a service (IaaS), Software as a Service(SaaS), Platform as a Service (Paas), and Serverless Computing. Understanding each one of them to make your business goals easy.
Infrastructure as a service (IaaS):
This is the first and basic category of cloud computing. Here, you can rent IT infrastructure like virtual machines, servers, networks, storage, operating system, etc. You can rent these based on the policy called pay-as-you-go.
Platform as a Service (Paas):
They provide an on-demand system or environment for your development, testing, managing, and delivering of software or applications. This service is basically designed for allowing the users a quick creation of mobile or web applications without the worry of underlying infrastructure development.
Serverless Computing:
This overlaps with PaaS. It focuses on creating applications, without investing time in continuously managing the infra. The service provider handles the end-to-end server management activities.
Software as a Service(SaaS):
This is a unique method of delivering applications via net typically on a subscription basis. Here, cloud providers manage and host applications, infra, and manage the maintenance and security aspects. You can connect via net using web browsers, on PCs, mobiles, or tablets.
How Can You Make Optimum Usage Of Cloud Services?
Let us see some example of how optimally today we can use this cloud service from any provider:
Create applications on the cloud.
Store, recover data and get a backup of your data.
Stream video and audio by connecting to your audience anywhere in the world, anytime, and on any device.
Deliver software on-demand by offering the latest updates and versions of your products and services to your customers.
Build applications and test them. Cloud infra has all the necessary applications deployed in it which reduces your time and cost.
How to Choose a Cloud Service Provider?
Once you decide to opt for cloud computing, next is a very wise step to be taken. You must analyze the reliability, capability, security, and accessibility aspects of any provider. Here, we shall see some of the points to consider while choosing an ideal cloud service provider for your business:
Business health & processes: You must consider your company's financial health, sufficient capital, etc.
Formal management structure, planning and risk management structures must be in place.
You must a proper policy in place with the vendor for formal proceedings.
The vendor's business knowledge and technical capabilities must be analyzed in detail.
The provider must authenticate compliance with your requirements with the help of a third-party audit.
You must receive the Service Level Agreements (SLAs) for a basic service level.
You must get the performance reports of the cloud.
You must have formal processes change management like for requesting, categorization, approving, the changes demanded by you in the future.
The process for deployment, management, and upgrading software must be easy.
The security aspect must be very clear. It should be comprehensive for all types of cloud and at all levels.
Make sure you have appropriate policies in place for the recovery of your data.
So far we have seen the benefits of free cloud storage. But, there are some disadvantages to this technology. The biggest one is the limited bandwidth. If you have an unstable internet connection, you will face too many problems regarding accessing your file and sharing them immediately. If you are looking from an organizational point of view where the amount of data storage will unexpectedly increase, then you must not consider the free cloud storage options.
Conclusion
It is very important to understand the features of free cloud storage before opting for one. There are many cloud storage features available in the market which might have some features or lack other features. The importance of cloud storage keeps on increasing with improved cloud growth and the latest cloud computing trends. Demand for cloud professionals keeps on increasing as the cloud gets adopted by businesses and enterprises.
Hope you are aware of the importance of data storing, data syncing, and data management either with private or public storage system. Now, are you ready to pick the right storage and plans for your business or personal storage requirements? Then do not wait for any more discussion or information. Just go ahead and try with the exact option that suits your needs.