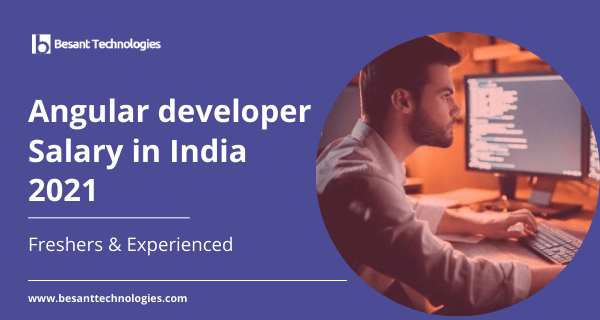 Angular Developer Salary in India For Freshers & Experienced [2021]
Angular developer Salary in India
Are you always Wondering to know how much an Angular Developer professional earns annually or monthly in India?
The average salary of an Angular Developer in India is between 2.1 lacs and 5.6 lacs INR annually. The per month average salary of an Angular Developer professional is between 25,000 and 40,000 INR. The salary ranges differ from company to company and also depend on your skills, experience, and location.
What is Angular?
Angular is a widely open-source and front-end framework developed by Google for creating dynamic, unique and new web applications. It's first introduced in 2009, the framework has increased massive traction over the few years for removing useless code and confirming clearer & faster apps.
In the past 5 years, the popularity of Angular has increased in the IT sectors. As an open-source front and backend framework with new and advanced JavaScript support, Angular has become an outstanding solution for creating web applications. Angular is created, maintained and supported by Google and has a strong code root. It is the conclusion of creative work by Google architects, Misko Hevery and Adam Abrons. The relationship with Google and seamless support are some of the reasons why Angular is popular among architects over other JavaScript frameworks.
4 Reasons to choose Angular for development:
choosing an Angular framework when developing a large-scale application that is filled with various aspects.
Angular developer responsible and scalable framework designed by trusted Google.
The angular framework makes the development of real-time message apps like chatbots easy.
Also, if you have mastered Typescript then AngularJS is a good choice.
Is it worth it to learn Angular Developer in India 2021?
YES!!!, It is worth learning angular in India 2021
Angular is the most demanding and favourable framework, has good backing in terms of supporters and is a complete package by Google.
It is a Javascript framework that is used by Angular developers for building web pages, mobile applications. Advancement of Angular applications involves usage of Typescript, which is a set of Javascript, along with HTML, CSS, Bootstrap etc. So, Angular is a good choice for IT organizations with large teams and developers who already use TypeScript.
Advantages of Angular
1.One place access
This includes all tools to take maintenance of routing, so you can easily retrieve the data you want to present in your application. You won't require to use any third-party libraries to create basic functionality for your application. Angular has an official library, which is provided by the Angular team. It provides you with better security and higher code quality.
2.Consistency
Angular is a fully responsive web design framework. There is one recommended way to create an element, service, or module and clickable items.
3. Maintenance
No need to manually update its version of packages. because from one primary version to another, all Angular-related packages are updated at the same time – this means that HTTP, Routing, and Angular Material is time-saving.
Angular Developer Salary in India 2021
Based on the latest report by Indeed 2021,
The average salary of an angular developer in India is 10-13lakhs annually. You can search this insight on Glassdoor, the average salary of an Angular front-end developer is 4-5lakhs per year in India. You can filter it by your location to see Angular Front End Developer salaries.
How to become an Angular Developer?
Angular is very popular because of its highly responsive performance. It is very easy to learn and run code. The goal of learning an angular language is to provide you with debugging expertise, smaller bundle sizes, improved build errors, and faster testing.
To Be a professional Angular developer in India, it is important to develop several skills in a diversity of programming areas. After developing these skills, you have to learn how to apply them at the exact position and time. Keep hands-on practice is one of the useful ways to handle Angular development because it delivers you some extensive acknowledgment of the framework that you will be using in web and mobile development.
Having experience, a developer can provide some adequate solutions and design and develop apps that any firm would love to obtain and use. Angular language is rapidly changing, though, which suggests many of the skills mandatory will change over the period. Staying up to date on the latest programming skills and more learning from the best online e-learning site in India.