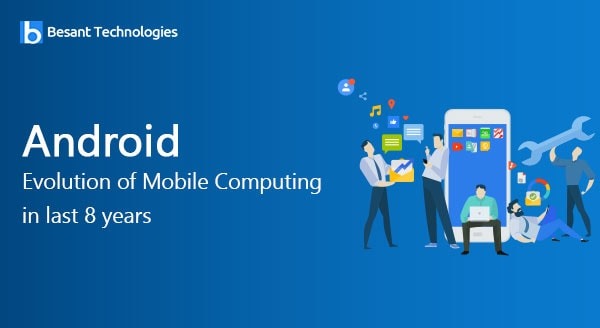 Android : Evolution of Mobile Computing in last 8 years
Android
Android is the one type of operating system and released in November 2007.It is developed by Google and having many version from Android 1.0(Cupcake) to Android 6.0(Marshmallow).For each and every version they are updating different type of features. Android user interface is mainly deals with the direct touch and it's related to the real world scenarios.
Uses
Now a day's people are more handling the smartphones. They using the many of the application in android like Google for search anything, Google maps, etc.,
Advantages:
Some Advantages of Android are listed below:
External Storage
Language Support
Video Calling
Accessibility
External Storage
Android OS supports the external Storage. Maximum 64GB Supported by Android.And android giving the maximum of inbuilt storage also.
Language Support
It supports multiple languages
Video Calling
It also supports the face to face recogonization.Many people are getting benefit on this application in android
Accessibility
It can accessible by text, audio, video. Physically challenged people are getting more advantage by using different application
Future Scope
Now a day's more than 90% of people using smartphones even the rural people are trying to use and getting the use of Internet and other application in android phones. So the Scope of the android technology is increasing day by day.Android Training in Chennai is the most wanted technology in future
How you are going to utilize the scope of Android?
Android technology is the specific one because in this you can create your own application and it can use by everyone. If you understand the concept clearly means you won't expect for job. In this you can sell your product (Application) to other companies or other people.
How Besant Technologies helping for students to get the placement?
We are taking the training in real time scenarios. The training People having more than 10+ years of experience in this field. We are giving the placement assistance to all the people. Training is related to interview point of view.After completing Android Training in Chennai with Besant Technologies 90% you trained for interview remaining 10% is your presentation.