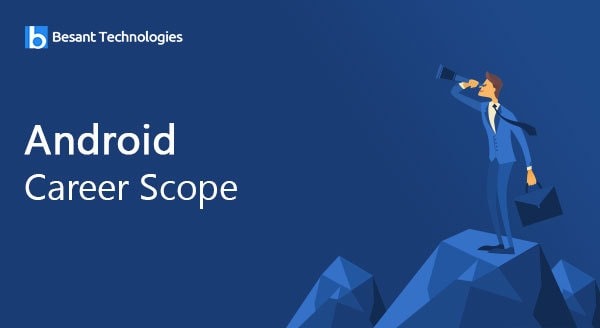 Android Career Scope – Too sweet to ignore
There are 1.6 billion Android devices in the entire world. 87.5% of the Smartphone users have Android as their operating system. These staggering numbers give us an idea about the monumental popularity of Android.
There is an old quote by Cuban writer Jose Marti, concerning the three things which every human must do within their life span, "Every person should plant a tree, write a book and have a child." It is fair to imagine that in today's world, there would have been an added line in that quotation, "build an Android application."
A career as an Android developer is one of the most in-demand and trending options in the employment circuit. Small and large industries are all looking towards entering this market by building their own apps. This has inflamed the demand for professionally trained Android developers or programmers.
Career Scope
Other than the fact that a career in Android is rewarding it is also an interesting option as well. Through this expanding platform, you can create and develop many applications comprising from different genres. From entertainment to gaming, from education to productivity, from businesses to health industries, each and every sector needs applications. Thankfully, there are many options available for aspiring individuals to pursue Android Training and learn how to develop applications. Android Training in Chennai is the number one hubspot in India for most people.
Once you do an Android Training course, the opportunities ahead are endless for you. You can work for a particular company under the headline of an app developer, a software engineer, a support system staff, a coder, a programmer or as a mobile user-interface designer. You can also prefer the individualistic and independent route by becoming a freelancer in this field.

Reasons to Choose Android as a career option?
It's an open source platformAndroid apps can be easily built and developed according to the choice of the developers because of its open source nature. Anyone and everyone who spends some time learning and training in Android can be capable of creating an app and launch free of cost.
High RemunerationThis is a definite positive as developers are much more likely to get paid higher revenue than a corporate employee. If you are able to develop an app that is popular among the masses or is liked by a large audience then you will earn a hefty income from the revenue.
Opportunities to ShineThe demand of Android trained professionals is on the rise due to the increasing market of smartphone users. Big companies want to engage, interact and ameliorate their goodwill. They are doing so by gaining visibility and interacting with their customers through the apps they are creating. They are on a constant lookout for expert individuals for their companies.
It's too sweet to ignore
Android operating systems have always been named after some form of sweet dish or desserts. Be it ice cream sandwich, eclair, lollipop, KitKat, marshmallow or the upcoming nougat and various others. Android can be the sweetest thing for your career in the future and you can start tasting it by doing the right Android Training Course.