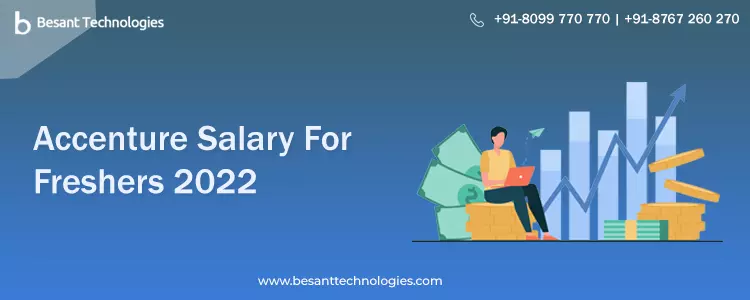 Accenture Salary for Freshers
Pay Scale in India (Fresher/Experienced): Accenture Salaries Structure 2022
A question that arises in everyone's mind before applying for any job is what will be the package salary. Accenture Salary Structure In India 2022 for Fresher's and Experienced professionals both is impressive and of high range. As a result, individuals seeking to know Accenture Salary Structure in India are at the right place. Read the article below to know complete Accenture package for fresher's 2022. It specializes in IT services, outsourcing, and worldwide management consulting. Accenture has more than 2, 41,000 employees who earn a salary between *407,650 and *1,953,646 annually. Accenture employees earn on average *852,034 a year.
Pay Scale for Fresher's at Accenture:
Senior Software Engineer – A senior software engineer will earn Rs 486,558 – 984,017 every year. Additionally, they will earn bonuses, profile disbursement in Accenture Company.
Software Engineer – A fresher software engineer will earn Rs 546,558 – 994,717 every year. Additionally, they will earn compensations, profile disbursement in Accenture firm.  
Associate Software Engineer – A fresher associate software engineer will earn Rs 746,558 – 994,717 every year. Moreover, they will earn bonuses, profile disbursement in a few years.
Accenture Employee Statistics and Accenture Salaries:
Accenture starting salary for fresher's range for females is INR 5 lakhs to INR 7 lakhs while the salary range for males is INR 5 lakhs to INR 7.4 lakhs Employees without more than one year of experience are 7 percent, while employees who have more than one year of experience are 65 percent. Employers with at least five years' experience constitute 44 percent of the total Employers with at least ten years' experience constitute 14 percent of the total.
Top Location for High Pay Scale in Accenture Company for India:
Accenture Company is highly demanded across the world. There are many cities in India offering opportunities in Accenture companies. Some examples include Delhi, Bangalore, Mumbai, Pune, Chandigarh, Gurgaon, among others.
Check your city-wise Accenture fresher's package 2022:
Delhi/Gurgaon:
There are major IT hubs in both Delhi and Gurgaon in India. An Accenture salary for fresher's can earn between Rs.42,563 and 54,679 every month, so you may want to move and live in these cities if you are planning to earn money.
Hyderabad:
Accenture offers WFH (work from home) jobs and a typical fresher's package in Hyderabad starts at 3-4 lakhs. Hyderabad is one of the biggest cyber cities in India.
Bangalore:
Many start-ups and e-commerce companies are established in Bangalore, so it is not difficult to find a job there. An employer at any level can earn anything from 25,000 to 55,000 per month. For example, a software engineer at Accenture with a valid certification can earn between 8-9 LPA.
Chennai:
A fresher at Accenture can find a starting salary of Rs. 33,437 to Rs. 56,678 per month, and their salary can easily increase as their experience increases. Chennai has a fast-growing economy, so one can easily earn and further their career in Chennai.
Mumbai:
It's a great choice for someone to start working at Accenture, as Mumbai has a booming economy. An entry-level HR can start their career in Mumbai earning 5 to 6 LPA. With sharp skills and experience, a candidate can earn up to 8 LPA.
You need the following skills for entrepreneurship:
A candidate for Accenture must possess the following skills:
Analyzing  business development and strategy Business Intelligence Enterprise
Product Lifecycle Management
Information technology Marketing and communications Data management
Information technology
safety Information technology
Customer relationship management Finance
Accuracy Few Key Facts:
Its chief operating office is located in Dublin, Ireland. Accredited by the Fortune Global 500, Acme is the world's largest management consulting firm based on revenue.
Conclusion:
Accenture Salary India is all about Accenture Salary Structure. Aspirants are suggested to get updated information regarding Accenture Salary Structure by visiting the official Accenture website and bookmarking the website.