Oracle Training in Chennai
We Rated as Best Oracle Training institute in Chennai –We Provides 100% Assurance on your Oracle Training & Certification Completion in Chennai.
Besant technologies a leading Oracle Training Center in Chennai Offers Job Oriented Oracle Courses in Chennai are taught by 15+ Years experienced Certified Professionals. Get Practical exposure on Oracle Concepts from this Real time Oracle training.
Besant technologies Oracle Trainers
Most of Our Trainers are currently working in TCS, Cognizant, Oracle Corporation, IBM, Accenture, Microsoft etc. Since they are working in Oracle domain they will Share all the day to day challenges at work in this training Session.
We Provides Certification training on Oracle latest versions like Oracle 10g, Oracle 11g and Oracle 12c release along with basic Linux Comments. We designed Oracle Developer and DBA training Syllabus which is suitable for both fresher and Working Professionals. Our Oracle Course materials and test cases are developed by project Mangers in Oracle Corporation.
Oracle Job Opportunities
For Oracle SQL, PL/SQL Developers Top MNC Offering 200% Hike from their Current CTC. Example for 2+ Years of Oracle Experienced Professionals Can get up to 6 to 8 Lakhs/annum in Chennai and other Cities.   Same like Oracle DBAs are having more demand in Banking, Telecom, and HealthCare & Insurance Projects in India, USA, UK, UAE, and Dubai.  According to the latest survey, Oracle Certified DBA are the most demanding and high paid jobs in the world. Enroll for Oracle Training in Chennai with us and get placed in Top MNC with good Package.
Available Oracle Certifications
We are the Oracle Authorized Training Center in Chennai Can Provide WDP Certificate to Our Students directly. For Global Certifications like OCA, OCP, and OCM candidates can take exams from our Pearson Vue Exam Center in Chennai with 25% offer.
Oracle Online Training
We Conduct Oracle Online Training for the US, UK Students in flexible timings. Every Wednesday we provide Online Demo sessions on Oracle Courses. Pay Once You Satisfied with Our Demo Classes. End of this online Training we get feedback from our students suppose students not satisfied with the Course we will return their full tuition fee. We ensure that this Course will be 100% Practical Only with No 1 Oracle Trainers.
Learn Oracle Course from Authorized Training Center
we are the Authorized Oracle Training Partner in Chennai for all Oracle Related Course like Oracle Developer, Oracle DBA, Oracle Apps Technical & Functional etc. Once you Complete Oracle Course in Chennai from  Besant technologies you will get Placed directly in Oracle Corporation.
Oracle Training Classes Venue
Oracle Courses are run in our Chennai training centers (Velachery, OMR, Tambaram, Porur, Anna Nagar, T.Nagar, Maraimalai Nagar, Siruseri, and thiruvanmiyur). If you are looking for Best Oracle Coaching Center in Chennai please contact 9962528293/4.
Why Should I learn Oracle Course?
If you want to become an Oracle database developer then you are in the right place. We are providing Best Oracle Training in Chennai by industry standards and the trainers are certified by Oracle Corp. We are specialized to provide RDBMS and especially for Oracle SQL and PlSQL. Our trainers are coming from various IT companies who have nearly 10+ years in IT industries. As of now we trained nearly 1000+ Oracle Professional.
Demand increases day by day for professionals in the information technology (IT) industry and the same time the competitions also very strong between the professionals. Particularly for oracle® database professional the level of demand continues to growing gradually and they need a spark to achieve what they are really looking for. Ever green Scope in Oracle technologies like DBA (Data base Administrator), Oracle SQL PlSQL Developer, Application Developer (D2K), Backend Developer.
Learn Oracle SQL
Learn Oracle PlSQL
This oracle® training course syllabus designed with the help of several working professionals. After finishing this training you can able to write complex sql and plsql scripts and which will be real-time scenarios in all companies.
Oracle Training in Chennai Topics
We are providing the Best Trainers to our Students who have Extensive Knowledge in Oracle Technology. Our Trainers are having 10+ Years Experienced and Certified Professionals.  They will give Clear Picture on Oracle Developer & DBA Tracks. Most of Our Training Based on Practical based One rather than teaching theory Classes.
Our Trainers will make you  Expert in the following Topics
(DDL,DML,TCL,DCL, SQL Statements,Views,Sequences,Synonyms,Constraints,Joins,Anonymous Block, Variables, Data Types, Cursors, Loops, Procedure, Functions, Triggers , Ref Cursors , Packages, Database Creation , Backup, Restore, RAC ,Performance Tuning, High Availability, Essential Linux Comments and Materialized View).
Oracle Certification Training in Chennai
Best Oracle Certification Oriented Training in Chennai with unique Study Material on Oracle 9i, Oracle 10g, Oracle 11g R2, Oracle 12c Certification. Here we listed available Oracle Global Certification for Developer, DBA, RAC and Performance tuning experts. we will guide you Step by Step with latest Dumps.
All the above  Oracle certification  Cost will change dynamically from each country by Oracle Corporation.
Oracle Certified Associate (OCA)
Oracle® Certificate Associate exam exactly suitable for fresher and who want to become an Oracle developer in the IT Market and there is the basic level exam conducted by Oracle® Corporation. Eligible to take this exam is a candidate should have interest in developer track. We already providing Oracle training in Chennai for the students who want to become OCA. This certificate gives the opportunity for the graduates to get the job in the MNC's. The responsibilities of Oracle SQL PlSQL Developer is to develop the basic level SQL queries and simply named blocks for the applications.
Oracle Certified Professional (OCP)
Oracle® Certified Professional certificate provides by the Oracle corporation once you cleared two papers. Eligible to take this exam is need to clear first part in OCA. End users always look for quick results from any internet application. Besant Technologies oracle training plays a major role for the students who wants to write OCP. The Oracle® Certified Professional has the responsibility of taken care of speed up the result using their coding techniques, PlSQL is the powerful procedural language which we can do the efficient coding programs for using the bunch of data's. For example, BULK COLLECT we can use these command to fetch billions of rows and insert this into a table. These credentials have more value in the current IT Market and these Oracle® Certified Professionals have more responsibility to develop the database applications.
Oracle Interview Questions & Answers
Top 100+ Oracle Interview Questions and Answers are Prepared by Our Oracle Trainers. Hope this interview questions and answers will help you to clear interviews.
Oracle Training in Chennai Reviews
Besant Technologies Reviews given by our students already completed the Oracle training with us. Please give your feedback as well if you are a student.
Oracle Training in Chennai – Review by Jaimi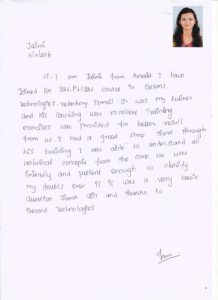 Hi,I am Jaimi from Kerala.I have Joined for SQL,PLISQL Course in Besant Technologies, velachery. Ismail sir was my trainer and his coaching was excellent. Training exercises was provided for better result from us.I had a great time here through his training I was able to understand all technical concepts from the core.He was friendly and patient enough to clarify my doubts even if it was a very basic question.Thank Sir and thanks to Besant Technologies.

Oracle Courses in Chennai – Review by Manish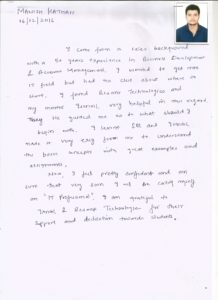 I come from a sales background with a 5+ years experience in business developement & account management.I wanted to get into IT field but had no clue about where to start.I found besant Technologies and my mentor Ismail very helpful in this regard.He guided me as to what should i begin with. I learnt SQL and Ismail made it very easy for me to understand the basic concepts with great examples and assignments. Now, I feel pretty confident and an sure that very soon .I will be calling myself an "IT Professional".I am grateful to Ismail & Besant Technologies for their support and dedication towards students.

Best Oracle Training in Chennai – Review by Akila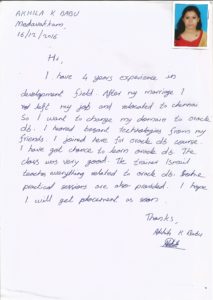 Hi, I have 4 years experience in the development field. After my marriage, I left my job and relocated to Chennai. So I want to Change my domain to oracle db. I heard besant technologies from my friends. I joined here for oracle DB Course. I have got chance to learn oracle db. The class was very good. The trainer Ismail teaches everything related to Oracle db. Some practical sessions are also provided. I hope I will get Placement as soon.