Data Science training in Kalyan Nagar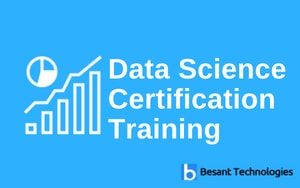 Besant technologies Offer Best Data Science Training in Kalyan Nagar with Certified Data Science Experts. Our Trainers are having more than 10+ Years IT Experience and working in Data Science related technologies. We will Provide 100% Practical Oriented Training with Certification guidance. We Train you on Data Analytics using Python, R, SAS & Excel with Real time Scenarios. Besant Technologies has an excellent reputation of being the best data Science training institute and center in Bangalore Kalyan Nagar offering well-structured courses with Hands-on experience in specially designed Lab classrooms.
Planning to become a data scientist? Besant Technologies is where you should be. Call 9108126342 Our Kalyan Nagar Branch Manager for free demo Session before joining the Data Science Course.
If you are based somewhere around the HRBR layout, kammanahalli, Nagawara, banaswadi, babusapalya, ramamurthy nagar, hebbal, hennur, HBR layout, ulsoor, rt nagar, yelahanka then Besant Technologies can be reached conveniently to take Data Science Courses in Kalyan Nagar. Our institute has great bus connectivity apart from other public transportation facilities such as Cabs and Metros.
Data Science with Python Training in Kalyan Nagar
Mostly now a day ever one wants to learn Data Science with Python Course due to 200% hike from their Current CTC. We Rated as Best Data Science With Python Training Institute in Kalyan Nagar with Job Assistance. Our Data Science with Python Syllabus Covers Basic Python, Statistics, hypothesis testing, Machine learning, algorithms in machine learning using Python Programming and 5 Real Time Projects. Book Now for Data Analytics Training in Kalyan Nagar Bangalore!
Data Science with R Training in Kalyan Nagar
R is the best Tool for Analytics Purpose. Most of the Top MNC Companies and Small Product based using Open Source R for their Analytical Process. Enroll for Data Science with R Training in Kalyan Nagar at Besant technologies and get placed with High Salary.
Data Science Training Courses in Kalyan Nagar
In the current scenario, data analysis and data management are amongst the most imperative aspects of an organization. This is the prime reason the data scientists and engineers have gotten tremendous demand, especially in the IT MNC's.
The IT industry as the name suggests is a hub of information which is required to be converted into an understandable and valuable form. This is where Data Science comes into the picture. Data Science is an ultimate blend of various disciples like algorithm development, data interference, and technology which together are utilized to solve complex problems. Data Science aspirants have the excellent scope of grabbing high paid job opportunities with various industries apart from the IT sector. Learning this course along with programming languages like Python, R and SAS can prove to be an exquisite career choice for the aspiring Data Scientists. So, if you are aspiring to become a data scientist and planning to take up data science training in Bangalore Kalyan Nagar, then Besant Technologies is your ultimate destination.
Besant Technologies offers a perfectly structured syllabus which educates the students regarding data science from beginners' level to advanced level.
Batch Schedule for Data Science training in Kalyan Nagar
Besant Technologies provides flexible timings to all our students. Here are the Data Science training in Kalyan Nagar Schedule in our branches. If this schedule doesn't match please let us know. We will try to arrange appropriate timings based on your flexible timings.
What is Data Science?
Data Science can be broadly described as the study of data and its origin. It is a methodology which through which distinct types of data are extracted and transformed into useful information which is further utilized for various purposes. This procedure is often termed as data mining as large amounts of structured and unstructured data are extracted and their patterns are identified. Once this is done, the data is used for recognizing new opportunities in the market and bring down the production cost. This gradually increases an organization's productivity and helps it in having a competitive edge.
Since data science is a blend of various disciplines, taking up Data Science training helps a person in developing excellent skills sets such as Mathematical skills, Business Strategies, and Hacking skills. Also, teaming up Data Science with Python, R, SAS, and Excel may be a great career choice as it is a great addition to the student's skill sets. Bangalore is a center of IT industry as most of the top-notch IT companies are headquartered here. Also, there are many institutes offering training in data science amongst which Besant Technologies is one of the most trusted names in offering best Data Science training in Bangalore Kalyan Nagar.
Data Science Training in Kalyan Nagar Bangalore
Data Science aspirants residing in Bangalore may attain training from Besant Technologies which is counted amongst the most reputed institutes of the city. The institute is conveniently located at Kalyan Nagar and is well connected with almost all popular destinations of the city. Most of the existing students of Besant Technologies Kalyan Nagar commute through public transport and are totally comfortable with the frequency & connectivity.
Students having private vehicles get excellent parking options near the institute edifice where they can safely place their two-wheelers and four-wheelers. Aspirants coming from other cities can get PG options at a proximity to the institute itself as there are ample hostels around this area. So, if you have been a hunt for a premium institute offering Data Science training in Bangalore Kalyan Nagar, your search ends here at Besant Technologies. The institute has kept its fee structure reasonable so that the students get the best training at affordable rates.
Need more reasons to opt for Besant Technologies? Read along!
About the Trainers
Imparting excellent knowledge to the student is the sole aim of Besant Technologies and therefore the institute has hired a team of highly qualified tutors. The tutors of data science training in Kalyan Nagar are committed to offering complete knowledge to the students. They are well aware of the fact that the level of understanding of each student is different and therefore extend excellent support to one and all. The tutors have years of experience in teaching and imply excellent teaching methodologies so that the aspirants are completely ready as Data Scientists. Also, these professionals are always ready to offer guidance to the students as and when required. We are also providing Best Python Training in Kalyan Nagar Bangalore.
Data Science training with Placement Assistance and training
After attaining a certification in Data Science, the next step is to hunt got job opportunities with the renowned organizations. Besant Technologies is aware of the aspirations of the students and therefore extend complete placement assistance post completion of the course. The dedicated team of professionals not only help the students in facing various rounds of interviews but also inform them regarding various job openings with the industries from time to time. They ensure that the students are well placed by cracking the opportunities of their choice.
Syllabus for Data Science Training in Kalyan Nagar
Besant Technologies boasts of being the Best Data Science training institute in Kalyan Nagar. And the syllabus for this course has been broken down below (not in any specific order) for your convenience.
Students Reviews of Data Science Training in Kalyan Nagar:
Raj Kumar: Data Science Training in Kalyan Nagar Course contents and very supportive tutors. I have attended the courses recently, which is really helpful for my career.
Ajmal: I have attended data science training in Kalyan Nagar, Hence, it enables both experienced professionals and freshers to attain betterment in their career. Moreover, the trainers have a great commitment toward teaching and creating a comfortable environment for learning.
Sathiya: I have finished data science training in Kalyan Nagar, Trainers are are well experienced, they could provide quality data science analytics training along with relevant professional experiences. Since they were friendly, I never find any difficulty to clarify my doubts
Ramya: I came to know Besant technologies Provides Data Science related Courses in Kalyan Nagar location. I enrolled for Data Science Training in Kalyan Nagar at Besant technologies. Really the Training was very good and 100% Practical Oriented. My Trainer is having good Exposure in Data Science Related Technologies.
Arun: I would recommend Besant technologies for Data Science training in Kalyan Nagar. I am Satisfied with Course and hope will get a good job in Data Science field.