Excel and Advanced Excel training in Bangalore
Get Excel and Advanced Excel training in Bangalore with Certified Experts. We Providing Practical & Certification  Oriented  Excel  Training in Bangalore with Live Projects.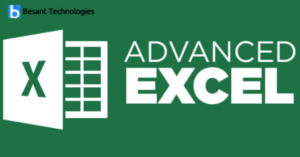 Learn Excel data analysis and visualization skills from basic to advance to start your career in finance and other high profiles. Besant technologies provide you with the best platform to learn. Get Best Big data Analytics Training in Bangalore with Experts. We Offering Big data Analytics Course in Bangalore with real-time faculty, Live Projects, Course Material & Placements. Learn the essential Excel skill for your advanced career in any field. Boost your career with advanced excel training. Besant Technologies make you achieve your dream job.
Best Excel and Advanced Excel training in Bangalore
Get enrolled for the most demanding skill in the world. Excel and Advanced Excel training in Bangalore will make your career a new height. We at Besant technologies provide you an excellent platform to learn and explore the subject from industry experts. We help students to dream high and achieve it.
Batch Schedule for Excel and Advanced Excel training in Bangalore
Besant Technologies provides flexible timings to all our students. Here are the Excel and Advanced Excel training in Bangalore Schedule in our branches. If this schedule doesn't match please let us know. We will try to arrange appropriate timings based on your flexible timings.
What is Excel and Advanced Excel?
Excel is a spreadsheet program used to save, modify and retrieve numerical data in a grid format of columns and rows. Excel is the basis for almost every profession for entering, calculating and analyzing data such as product sales, figures, plan budgets, chart data, sales taxes or commissions. Microsoft Excel is the de facto standard in the business world; excel software comes in a Microsoft office package of productivity software. There are many other excel software in the market some or specific to the business process, and some are in a general point of view.
It can also be used to extract data from external sources such as stock market feeds, automatically updating the data through different formulas in real time. Excel possess the ability to perform powerful computing capabilities in the field of financial and scientific computation capabilities. Professions like Administrative Assistant, Information Clerk, Accountants, Auditors, Cost Estimator, Financial Analyst, Sales Manager, and much more practice excel more in their working procedure to complete tasks.
Advanced Excel training in Bangalore
Besant technologies offer the most basic courses excel from basic, intermediate to advance level in Banglore and Chennai state. This course covers complete techniques to practice math, statistics, logic and text functions, organize data by sorting and filtering accordingly present data in several charts format and find value with VLOOKUP, create and format Pivot Tables, record basic Macros and many more. Excel is for every stage people for work or study. We have an advanced level of software systems and good ambiance to learn and explore. Our trainers provide easy tricks to remember formulas and easy ways to learn the excel and remember the same in the future.
Best Excel training in Bangalore
We provide study materials, videos and access to hardware and software systems to learn and explore the subject with industry experts. Our trainers help our students in all possible ways to get the subject. We provide training that is globally valid and helps the students to work on various assignments. We maintain quality in our training and never make our students regret our service. We provide assignments at the end of every concept; these assignments help our students to clear doubts easily. Mastering in excel will help you to get the most promising jobs in various fields. Get yourself trained on Excel & Advanced Excel Course in Bangalore at Besant Technologies.
 About our Trainers in Excel training in Bangalore?
We have a well-qualified pool of professional trainers, who work in a reputed organization. They work in their part-time to make our students master in excel. We provide training in a customized way and undertake both academic and corporate level training globally. We offer training in both offline and online format, and our trainers are present in different areas of the world. Our trainers are good at making our students proficient in what they learn, provides complete freedom to learn the subject. Our trainer's tips and tricks help our students to remember the complicated formulas and advanced techniques in Excel very easily. . Become Master in  Excel Concepts from our unique course syllabus and experienced Trainers.
 Excel and Advanced Excel Training With Certification
We have tied up with many prominent organizations, and at the end of the course, we send our every student to interviews. Our trainers also refer our students to various companies where they work. We have a separate job portal for our Besant Technologies students, and we have an independent team to maintain job portal and conduct mock interviews and test to our students.
Basic & Advance Excel Training (Total Duration: 25Hrs)
Module 1: Basic Excel (Duration: 10Hrs )
 Text to Columns
Concatenate
The Concatenate Function
The Right Function with Concatenation
Absolute Cell References
Data Validation
Time and Date Calculations
Conditional Formatting
Exploring Styles and Clearing Formatting
Using Conditional Formatting to Hide Cells
Using the IF Function
Changing the "Value if false" Condition to Text
Pivot Tables
Creating a Pivot Table
Specifying PivotTable Data
Changing a PivotTables Calculation
Filtering and Sorting a PivotTable
Creating a PivotChart
Grouping Items
Updating a PivotTable
Formatting a PivotTable
Using Slicers
Charts
Creating a Simple Chart
Charting Non-Adjacent Cells
Creating a Chart Using the Chart Wizard
Modifying Charts
Moving an Embedded Chart
Sizing an Embedded Chart
Changing the Chart Type
Chart Types
Changing the Way Data is Displayed
Moving the Legend
Formatting Charts
Adding Chart Items
Formatting All Text
Formatting and Aligning Numbers
Formatting the Plot Area
Formatting Data Markers
Pie Charts
Creating a Pie Chart
Moving the Pie Chart to its Own Sheet
Adding Data Labels
Exploding a Slice of a Pie Chart
Data Analysis − Overview
ypes of Data Analysis
Data Analysis Process
Working with Range Names
Copying Name using Formula Autocomplete
Range Name Syntax Rules
Creating Range Names
Creating Names for Constants
Managing Names
Scope of a Name
Editing Names
Applying Names
Using Names in a Formula
Viewing Names in a Workbook
Copying Formulas with Names
Difference between Tables and Ranges
Create Table
Table Name
Managing Names in a Table
Table Headers replacing Column Letters
Propagation of a Formula in a Table
Resize Table
Remove Duplicates
Convert to Range
Table Style Options
Table Styles
Cleaning Data with Text Functions
Removing Unwanted Characters from Text
Extracting Data Values from Text
Formatting Data with Text Functions
Advance Excel (Duration: 15Hrs)
Module 2: Date Formats (Duration: 2Hrs)
Converting Dates in Serial Format to Month-Day-Year Format
Converting Dates in Month-Day-Year Format to Serial Format
Obtaining Today's Date
Finding a Workday after Specified Days
Customizing the Definition of a Weekend
Number of Workdays between two given Dates
Extracting Year, Month, Day from Date
Extracting Day of the Week from Date
Obtaining Date from Year, Month and Day
Calculating Years, Months and Days between two Dates
Module 3: Conditional Formatting (Duration: 2Hrs)
Highlight Cells Rules
Top / Bottom Rules
Data Bars
Color Scales
Icon Sets
New Rule
Clear Rules
Manage Rules
Module 4: Sorting (Duration: 2Hrs)
Sort by Text
Sort by Numbers
Sort by Dates or Times
Sort by Cell Color
Sort by Font Color
Sort by Cell Icon
Sort by a Custom List
Sort by Rows
Sort by more than one Column or Row
Module 5: Filtering (Duration: 2Hrs)
Filter by Selected Values
Filter by Text
Filter by Date
Data Analysis with Excel
Filter by Numbers
Filter by Cell Color
Filter by Font Color
Filter by Cell Icon
Clear Filter
Advanced Filtering
 Filter Using Slicers
Module 6: Other Topics  (Duration: 2Hrs)
Subtotals with Ranges
Subtotals
Nested Subtotals
Quick Analysis
Quick Analysis with TOTALS
Sum
Average
Count
%Total
Running Total
Sum of Columns
Module 7: Lookup Functions (Duration: 3Hrs)
Using VLOOKUP Function
Using VLOOKUP Function with range lookup TRUE
Using VLOOKUP Function with range lookup FALSE
Using HLOOKUP Function
Using HLOOKUP Function with range lookup FALSE
Using HLOOKUP Function with range lookup TRUE
Using INDEX Function
Using MATCH Function
Module 8: Pivoting (Duration: 2Hrs)
 PivotTables
Creating PivotTable
Recommended PivotTables
PivotTable Fields
PivotTable Areas
Nesting in the PivotTable
Filters
Slicers
Summarizing Values by other Calculations
PivotTable Tools
Using Pictures in Column Charts
Band Chart
Thermometer Chart
Gantt Chart
Waterfall Chart
Sparklines
Pivot Charts
PivotChart from PivotTable
PivotChart without a PivotTable
Working with Multiple Sheets
Multiple Worksheets with same Structure
Creating a Formula across Multiple Worksheets
Summarizing Data in Multiple Worksheets
What-If Analysis
Placement Assistance after Excel Training
We even provide interview questions and answers to our students and prepare them well before any interviews so that students feel confident during interviews and crack job of their interest. We provide certification to our student at the end of every course, our certification helps our students to stand out from the group of same profile and improves the chances of getting a job.
Excel and Advanced Course in Bangalore Location
We have our branches spread across different areas in Banglore and Chennai state. We have ten branches in Chennai and 8 Branches in Bangalore state, And we are striving hard to spread our presence globally. We understand the need of our students and get motivated with the reviews of our students and spreading our branches. Students who are put up near to Bangalore areas like-BTM Layout, Marathahalli, Jaya Nagar, Rajajinagar, Electronic City, Indira Nagar Egipur, Domlur, Kalyan Nagar, Kammanahalli Jeevan Bhima Nagar, RT Nagar, and Banaswadi can easily reach us. Check our Microsoft Excel Training in Chennai
Related Courses
Students who were enrolled for this course most likely joins in any of these courses additionally to enhance their profile in IT industry.
Data Science Master Program
Big Data Master Program
Hadoop Training
FAQs
Student Reviews:
Excel and Advanced Excel training in Bangalore
Average rating:
23 reviews
Apr 30, 2019
I am Gowsalya from Bangalore and I have completed my Advanced Excel training institute at Besant technologies. my trainer was very comprehensive and the learning experience was good. thanks for Besant technologies. one of the best institute in Bangalore.
Apr 30, 2019
Am Ragini from Bangalore. I completed BE graduation. Currently am doing excel course in Besant Technologies, Bangalore. My Trainer is having excellent Training Skills and with in-depth Explanation. By joining in this institute I gain more Knowledge. I`ll refer someone who wants to learn something related to IT. Definitely. I`m Feeling happy by joining this Institute.
Apr 30, 2019
Mytraining
Resources like the one you mentioned here will be very useful to me! I will post to this page on my blog. I am sure my visitors will find that very useful. Thanks to Besant Technologies.


Apr 30, 2019
I have completed excel and advanced excel training in Bangalore. It is a very good experience to learn from Besant Technologies. The training was very informative and practical.The tutors not only provide a very good theoretical explanation, but also helped to co-relate it with some real time examples. This gives a edge to the students and the working professional who attend the course.Management team people is also really very cooperative and helps out at there best.
Apr 30, 2019
Excel
I have searched a lot of institutes before joining here, for advanced excel and advanced excel training institute in Bangalore, after taking classes in was completely satisfied with the course sessions and the trainer was so good and thought us all the tools and concepts very well.


Apr 29, 2019
I have joined excel and advance excel course in Besant technologies at Bangalore this is the best institute to learn excel and advance excel training best coaching and best materials and good environment. Teaching is exceptionally good. Full coverage is there. A very good option for the freshers.if you want to learn Besant technologies as well as job.
Apr 29, 2019
Hi Friends, This Merlin I did my advanced excel training institute in Besant Technologies Bangalore. The infrastructure is very good. Truly they teach the course in a wonderful way especially my trainer. He takes a class without getting bored and he gives real project training and now am working in one MNC's. Thanks, Besant Technologies, Bangalore
Apr 29, 2019
I am johnsy, my Advanced Excel course in bangalore. my trainer was very friendly and cleared all my queries throughout the course. Good experience. Good service by the organization. Thank You Besant Technologies to give wonderful trainer!!
Apr 27, 2019
I am zasi and i got a job in a reputed companies after get trained in Besant Technologies Advanced Excel Training Institute in Rajaji Nagar, Bangalore.And Mainly it is very important for my career Besant Technologies Provide Best Excel Course Training in Bangalore and proper material were supplied me after get joined in Besant Technologies. It is useful for me thanks to the managers and my wonderful trainers for a wonderful training.
Jan 12, 2019
It was a nice experience with Besant Technologies. I have completed excel and advanced excel training in Bangalore. I would highly recommend them for those who are looking for various professional certifications. The study materials are relevant and very easy to understand and have a really good support team as well and will help out with the best possible way. Thank you! Happy learning!"
Oct 25, 2018
My self Preethi, I completed my advance Excel course in Bangalore at Besant technologies, they provide good trainers, they provide me classes regularly and good environment, classes he explained each every topic practically, he shares real-time give me practical assignments these assignments help me a lot,we got practical knowledge to thank you very much, sir.
Oct 22, 2018
I have done my excel and advanced excel Training in Bangalore. It was a good experience with Besant technologies.
I learned about advanced excel and i got some new ideas about it. If anyone asks me I would suggest them to learn excel and advanced excel in Besant technologies Bangalore only.
Oct 19, 2018
Hi this is jazz ijaz and i am here to say that Besant Technologies is the best training institutes which i have learnt Advanced Excel training in Bangalore BTM Layout Branch and it's mainly for my business it is very useful and good to learn and thanks to the management and team Besant Technologies Bangalore.
Oct 18, 2018
Hai I am divya. Working in IBM . I joined Besant Technologies - BTM Layout for excel and advanced excel training in Bangalore. The course is very useful to all. With in training of class, we can grasp advanced excel easily. The faculty is very cooperative and the teaching style is in such a way that everyone can understand. In the practical session, we can able to do lots of exercise with faculties guidance. All the studying material and worksheet provided by the staff is useful for enhancing excel skill.
Sep 28, 2018
In have completed excel and advanced excel training in Bangalore at Besant Technologies, the training was more flexible and in a convenient manner, My trainer has more knowledge in this area, he was very good in Practical Training. He also guided me to learn the latest things in excel and advanced excel to get knowledge up to date. The trainer was too good and friendly. I had flexible timings for classes. Thanks so much for your valuable time. And Thanks again to Besant Technologies & Personally my Trainer.
Sep 18, 2018
I have completed excel and advance excel courses in Besant technologies at Jaya Nagar Bangalore. I had a wonderful experience at Besant Technologies at Bangalore. It gave me satisfaction. To be frank this is the best in the vicinity. The best part was attention and care was given to everyone individually with patients.
Sep 2, 2018
"I came to know about Besant Technologies Excel Training Institute when I reached Kalyan Nagar, Bangalore. I decided to attend excel and advance excel course for two months but then due to a shortage of time, I have taken the Fast Track course. It was excellent in the way of teaching. I understood each topic of excel thoroughly and am very happy since I also got the soft copy of the material. It is a Best Excel Training Institute in Bangalore. Thank you
Aug 18, 2018
I am John studied Excel training in Bangalore in Besant technologies. It was a nice experience. My trainer taught us in an understandable manner and cleared all the doubts. Thanks to Besant technologies for the support given.
Jul 26, 2018
I did a course on advanced excel training in Kalyan Nagar Bangalore, I found a great learning environment with additional opportunity to learn things beyond books, thanks to besant technologies.
May 15, 2018
It was a wonderful experience pursuing the excel and advanced excel course in Bangalore at Besant Technologies. Got a new wonderful experience, Everyone was so supportive, the coordinator, the trainer, they supported a lot. Whenever extra class was needed to be arranged, and the trainer was always ready for it. The trainer was very helpful, he helped me a lot to understand the concepts. Even in between the trainer used to conduct mock tests to ensure we are really understanding the concepts.Thanks to Besant Technologies and my Trainer.
Apr 15, 2018
Hi...myself charumathi working in mnc company. I have undergone my excel and advanced excel training in Bangalore, BTM Layout. I had a very good experience with them, where I started my career and it was a good start in my life. It was a good infrastructure learning in Besant technologies. I will suggest besant technologies is the best training institute in Bangalore.
Mar 17, 2018
I searched many institutes to learn excel and advanced excel training in Bangalore and at last found besant technologies which is the best training institute in marathahalli, very good and professional trainers, good learning environment, materials are distributed to prepare for job interviews. Finally, I found a good institute, worth for money!
Feb 21, 2018
Super coaching. Best trainer with all experience and capabilities. A good way of communication great connectivity between the trainer and the students. I've been selected by many companies after finishing advanced excel training in Bangalore at Besant Technologies.