Big Data Analytics Online Certification Course
Big Data Analytics certification online training is designed to provide in-detailed understand about Big Data Analytics with the help of various algorithms, techniques, and more through real-time scenarios, hands-on approaches, and use cases. Our online Big Data Analytics training course will help to explore how to extract valuable data and how to improve the business ROI efficiently. The critical reason why you should go with our online Big Data Analytics certification and the training course is that the industry has excellent opportunities in the future. Recent research on the Big Data Analytics has reported that there will be 30% new revenue from the AI technology and the industry is developing at 33.5% CAGR. 
The online Big Data Analytics certification course will provide an overview of the Big Data Analytics technological landscape and demonstrate the probability of performing Big Data Analytics ad-hoc analysis quickly. Engineering graduates, non-engineering graduates, beginners in the Big Data Analytics domain, Big Data Analytics aspirants can make use of the Big Data Analytics training course online from Besant Technologies.
About Big Data Analytics Online Course
Big Data Analytics online training course from Besant Technologies will make the students proficient in systems and tools in Big Data Analytics. The students will get a good understanding about different knowledge and skills in Big Data Analytics namely Exploratory analysis, probability, tableau, regression modeling, data mining, statistics, data visualization, advanced SAS procedures, Bayesian inference, data manipulation, and more in our Big Data Analytics training and certification course. Apart from this, the students also will learn about the complete Big Data Analytics ecosystem, Hive, Sqoop, Apache Spark, Pig, HBase, and relevant Big Data Analytics tools.
After the students complete the projects, assignment, and Big Data Analytics online training course successfully, our placement assistance crew will conduct different mock interviews, provide career guidance, help to develop a successful portfolio and resume online to be noticed by the reputed companies and recruiters. We will train the students what to put in resumes and how to make your resume get noticed on different job portals and social networks like LinkedIn, Stack Overflow, Naukri, Git, and more. Besant Technologies has tie-up with more than 500 companies across the globe, and therefore placing the students in the top-reputed company is easily possible for us. 
Answer 3 Simple Questions
Get upto 30%* Discount in all courses. Limited Offer. T&c Apply.
Register now
Big Data Analytics Online Training Syllabus
Business Statistics
Introduction to Statistical Analysis
Counting, Probability, and Probability Distributions
Sampling Distributions
Estimation and Hypothesis Testing
Scatter Diagram
Anova and Chisquare
Imputation Techniques
Data Cleaning
Correlation and Regression
Introduction to Data Analytics
Data Analytics Overview
Importance of Data Analytics
Types of Data Analytics
Descriptive Analytics
Diagnostic Analytics
Predictive Analytics
Prescriptive Analytics
Benefits of Data Analytics
Data Visualization for Decision Making
Data Types, Measure Of central tendency, Measures of Dispersion
Graphical Techniques, Skewness & Kurtosis, Box Plot
Descriptive Stats
Sampling Funnel, Sampling Variation, Central Limit Theorem, Confidence interval
Excel: Basics to Advanced
Basic Excel
Excel tutorial
Text to Columns
Concatenate
The Concatenate Function
The Right Function with Concatenation
Absolute Cell References
Data Validation
Time and Date Calculations
Conditional Formatting
Exploring Styles and Clearing Formatting
Using Conditional Formatting to Hide Cells
Using the IF Function
Changing the "Value if false" Condition to Text
Pivot Tables
Creating a Pivot Table
Specifying PivotTable Data
Changing a PivotTables Calculation
Filtering and Sorting a PivotTable
Creating a PivotChart
Grouping Items
Updating a PivotTable
Formatting a PivotTable
Using Slicers
Charts
Creating a Simple Chart
Charting Non-Adjacent Cells
Creating a Chart Using the Chart Wizard
Modifying Charts
Moving an Embedded Chart
Sizing an Embedded Chart
Changing the Chart Type
Chart Types
Changing the Way Data is Displayed
Moving the Legend
Formatting Charts
Adding Chart Items
Formatting All Text
Formatting and Aligning Numbers
Formatting the Plot Area
Formatting Data Markers
Pie Charts
Creating a Pie Chart
Moving the Pie Chart to its Own Sheet
Adding Data Labels
Exploding a Slice of a Pie Chart
Data Analysis − Overview
types of Data Analysis
Data Analysis Process
Working with Range Names
Copying Name using Formula Autocomplete
Range Name Syntax Rules
Creating Range Names
Creating Names for Constants
Managing Names
Scope of a Name
Editing Names
Applying Names
Using Names in a Formula
Viewing Names in a Workbook
Copying Formulas with Names
Difference between Tables and Ranges
Create Table
Table Name
Managing Names in a Table
Table Headers replacing Column Letters
Propagation of a Formula in a Table
Resize Table
Remove Duplicates
Convert to Range
Table Style Options
Table Styles
Cleaning Data with Text Functions
Removing Unwanted Characters from Text
Extracting Data Values from Text
Formatting Data with Text Functions
Advance Excel
Date Formats
Conditional Formatting
Sorting
Filtering
Lookup Functions
Pivoting
SQL
Introduction to Oracle Database
Retrieve Data using the SQL SELECT Statement
Learn to Restrict and Sort Data
Usage of Single-Row Functions to Customize Output
Invoke Conversion Functions and Conditional Expressions
Aggregate Data Using the Group Functions
Display Data from Multiple Tables Using Joins
Use Sub-Queries to Solve Queries
The SET Operators
Data Manipulation Statements
Use of DDL Statements to Create and Manage Tables
Other Schema Objects
Control User Access
Management of Schema Objects
Manage Objects with Data Dictionary Views
Manipulate Large Data Sets
Data Management in Different Time Zones
Retrieve Data Using Sub-queries
Regular Expression Support
Tableau3 Module 1: Tableau Course Material

Start Page
Show Me
Connecting to Excel Files
Connecting to Text Files
Connect to Microsoft SQL Server
Connecting to Microsoft Analysis Services
Creating and Removing Hierarchies
Bins
Joining Tables
Data Blending

Module 2: Learn Tableau Basic Reports

Parameters
Grouping Example 1
Grouping Example 2
Edit Groups
Set
Combined Sets
Creating a First Report
Data Labels
Create Folders
Sorting Data
Add Totals, Sub Totals and Grand Totals to Report

Module 3: Learn Tableau Charts

Area Chart
Bar Chart
Box Plot
Bubble Chart
Bump Chart
Bullet Graph
Circle Views
Dual Combination Chart
Dual Lines Chart
Funnel Chart
Traditional Funnel Charts
Gantt Chart
Grouped Bar or Side by Side Bars Chart
Heatmap
Highlight Table
Histogram
Cumulative Histogram
Line Chart
Lollipop Chart
Pareto Chart
Pie Chart
Scatter Plot
Stacked Bar Chart
Text Label
Tree Map
Word Cloud
Waterfall Chart

Module 4: Learn Tableau Advanced Reports

Dual Axis Reports
Blended Axis
Individual Axis
Add Reference Lines
Reference Bands
Reference Distributions
Basic Maps
Symbol Map
Use Google Maps
Mapbox Maps as a Background Map
WMS Server Map as a Background Map

Module 5: Learn Tableau Calculations & Filters

Calculated Fields
Basic Approach to Calculate Rank
Advanced Approach to Calculate Ra
Calculating Running Total
Filters Introduction
Quick Filters
Filters on Dimensions
Conditional Filters
Top and Bottom Filters
Filters on Measures
Context Filters
Slicing Fliters
Data Source Filters
Extract Filters

Module 6: Learn Tableau Dashboards

Create a Dashboard
Format Dashboard Layou
Create a Device Preview of a Dashboard
Create Filters on Dashboard
Dashboard Objects
Create a Story

Module 7: Server

Tableau online.
Overview of Tableau Server.
Publishing Tableau objects and scheduling/subscription.

Power BI Module 1: Introduction to Power BI

Get Started with Power BI
Overview: Power BI concepts
Sign up for Power BI
Overview: Power BI data sources
Connect to a SaaS solution
Upload a local CSV file
Connect to Excel data that can be refreshed
Connect to a sample
Create a Report with Visualizations
Explore the Power BI portal

Module 2: Viz and Tiles

Overview: Visualizations
Using visualizations
Create a new report
Create and arrange visualizations
Format a visualization
Create chart visualizations
Use text, map, and gauge visualizations and save a report
Use a slicer to filter visualizations
Sort, copy, and paste visualizations
Download and use a custom visual from the gallery

Module 3: Reports and Dashboards

Modify and Print a Report
Rename and delete report pages
Add a filter to a page or report
Set visualization interactions
Print a report page
Send a report to PowerPoint
Create a Dashboard
Create and manage dashboards
Pin a report tile to a dashboard
Pin a live report page to a dashboard
Pin a tile from another dashboard
Pin an Excel element to a dashboard
Manage pinned elements in Excel
Add a tile to a dashboard
Build a dashboard with Quick Insights
Set a Featured (default) dashboard
Ask Questions about Your Data
Ask a question with Power BI Q&A
Tweak your dataset for Q&A
Enable Cortana for Power BI

Module 4: Publishing Workbooks and Workspace

Share Data with Colleagues and Others
Publish a report to the web
Manage published reports
Share a dashboard
Create an app workspace and add users
Use an app workspace
Publish an app
Create a QR code to share a tile
Embed a report in SharePoint Online

Module 5: Other Power BI Components and Table Relationship

Use Power BI Mobile Apps
Get Power BI for mobile
View reports and dashboards in the iPad app
Use workspaces in the mobile app
Sharing from Power BI Mobile
Use Power BI Desktop
Install and launch Power BI Desktop
Get data
Reduce data
Transform data
Relate tables
Get Power BI Desktop data with the Power BI service
Export a report from Power BI service to Desktop

Module 6: DAX functions

New Dax functions
Date and time functions
Time intelligence functions
Filter functions
Information functions
Logical functions
Math & trig functions
Parent and child functions
Text functions

Python Basics

The print statement
Comments
Python Data Structures & Data Types
String Operations in Python
Simple Input & Output
Simple Output Formatting
Deep copy
Shallow copy
Operators in python

Data Analytics Course Contents
Looking for Master your Skills? Enroll Now on Triple Course Offer & Start Learning at 24,999!
Explore Now
Upcoming Batch Schedule for Big Data Analytics Online Training
Besant Technologies provides flexible timings to all our students. Here is the Big Data Analytics Online Training Schedule in our branches. If this schedule doesn't match please let us know. We will try to arrange appropriate timings based on your flexible timings.
02-10-2023

Mon (Mon - Fri)Weekdays Batch 08:00 AM (IST)(Class 1Hr - 1:30Hrs) / Per Session Get Fees

05-10-2023

Thu (Mon - Fri)Weekdays Batch 08:00 AM (IST)(Class 1Hr - 1:30Hrs) / Per Session Get Fees

30-09-2023

Sat (Sat - Sun)Weekend Batch 11:00 AM (IST) (Class 3Hrs) / Per Session Get Fees

Can't find a batch you were looking for?
Corporate Training
If you want to give the Trending technology experience to your esteemed employees, we are here to help you!
Big Data Analytics Trainer Profile
All trainers of Besant Technologies have worked in top companies like IBM, NextGen on different fields like Big Data, Advanced Analytics, Azure, Internet of Things, Data Science, along with AI domains like deep learning and machine learning. The Besant Technologies trainers are handpicked based on the experience level, their technical background, and more.  
All our trainers have implemented different top-notch Big Data Analytics projects in major software and IT Corporation across the globe. Once the students of Besant Technologies completes the online Big Data Analytics certification course, they are provided with a Big Data Analytics training online course completion certificate which is valid across top-rated and reputed companies in the world. According to Ziprecruiter.com, the national base pay received by Big Data Analytics developer is about $130226 per year. 
Build your resume to the latest trend, and get a chance to know our Tie-Up Companies
Placed Student's list
Big Data Analytics Exams & Certification
Besant Technologies Certification is Accredited by all major Global Companies around the world. We provide after completion of the theoretical and practical sessions to fresher's as well as corporate trainees.
Our certification at Besant Technologies is accredited worldwide. It increases the value of your resume and you can attain leading job posts with the help of this certification in leading MNC's of the world. The certification is only provided after successful completion of our training and practical based projects.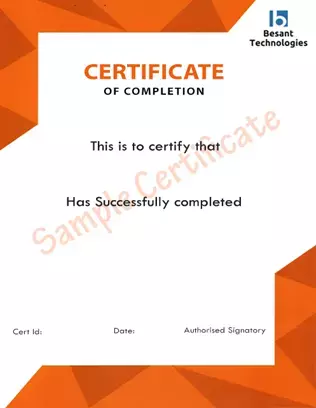 Group Discount
If you have Three or more people in your training we will be delighted to offer you a group discount.
Key Features of Big Data Analytics Training
30+ Hours Course Duration
100% Job Oriented Training
Industry Expert Faculties
Free Demo Class Available
Completed 800+ Batches
Certification Guidance
Training Courses Reviews
I would like to highlight a few points about my association with Besant Technologies. The faculty members out here are super supportive. They make you understand a concept till they are convinced you have gotten a good grip over it. The second upside is definitely the amount of friendliness in their approach. I and my fellow mates always felt welcome whenever we had doubts. Thirdly, Besant offers extra support to students with a weaker understanding of the field of IT.
Siva Kumar
When I joined Besant Technologies, I didn't really expect a lot from it, to be extremely honest. But as time went by, I realised I got from Besant Technologies exactly what I wanted- a healthy environment for learning. Cordial teachers and their valuable lectures make understanding things so much easy. I thank Besant for having been so supportive throughout the course.
Daniel
Frequently Asked Questions
Besant Technologies offers 250+ IT training courses in more than 20+ branches all over India with 10+ years of Experienced Expert level Trainers.
Fully hands-on training
30+ hours course duration
Industry expert faculties
Completed 1500+ batches
100% job oriented training
Certification guidance
Own course materials
Resume editing
Interview preparation
Affordable fees structure
Besant Technologies is the Legend in offering placement to the students. Please visit our Placed Students List on our website.
More than 2000+ students placed in last year.
We have a dedicated placement portal which caters to the needs of the students during placements.
Besant Technologies conducts development sessions including mock interviews, presentation skills to prepare students to face a challenging interview situation with ease.
92% percent placement record
1000+ interviews organized
Our trainers are more than 10+ years of experience in course relavent technologies.
Trainers are expert level and fully up-to-date in the subjects they teach because they continue to spend time working on real-world industry applications.
Trainers have experienced on multiple real-time projects in their industries.
Are working professionals working in multinational companies such as CTS, TCS, HCL Technologies, ZOHO, Birlasoft, IBM, Microsoft, HP, Scope, Philips Technologies, etc…
Trained more than 2000+ students in a year.
Strong theoretical & practical knowledge.
Are certified professionals with high grade.
Are well connected with hiring HRs in multinational companies.
No worries. Besant technologies assure that no one misses single lectures topics. We will reschedule the classes as per your convenience within the stipulated course duration with all such possibilities. If required you can even attend that topic with any other batches.
Besant Technologies provides many suitable modes of training to the students like
Classroom training
One to One training
Fast track training
Live Instructor LED Online training
Customized training
You will receive Besant Technologies globally recognized course completion certification.
Yes, Besant Technologies provides group discounts for its training programs. To get more details, visit our website and contact our support team via Call, Email, Live Chat option or drop a Quick Enquiry. Depending on the group size, we offer discounts as per the terms and conditions.
We accept all major kinds of payment options. Cash, Card (Master, Visa, and Maestro, etc), Net Banking and etc.
Please Contact our course advisor+91-9677 266 800. Or you can share your queries through info@besanttechnologies.com