Artificial Intelligence Training in Kolkata
Artificial intelligence is associated with many other technologies which we know like Robotic process automation, AI tutors, AI virtual assistants, and AI as a service for supporting the hardware and software of many applications. Reactive intelligence, limited memory intelligence, understanding mind intelligence, and self-awareness intelligence are the four types of divisions inside artificial intelligence taught during Artificial Intelligence Course in Kolkata.
Reactive intelligence aid for taking decisions, limited memory handle the live data with different situations, mind intelligence understands concepts, and self-awareness is about understanding concepts and own existence. Artificial intelligence course fees in Kolkata is on the higher side as learners are eager to get a premium salary in the software Industry.
We offer the best price with the best syllabus to bridge the gap in learning. Artificial intelligence certification cost in Kolkata is the cost for the dream to join MNC companies as a product manager, data scientist, consultant, and Artificial intelligence Engineer.
Best Artificial Intelligence Course in Kolkata
The admission percentage and the placement percentage after Artificial intelligence training in Kolkata are determined with par numbers in our training institute which shows that more than 90 percent of the students are qualified professionals to enter into the job roles. Talk to our Course advisor regarding Artificial intelligence course details in Kolkata.
If you are searching for the best Artificial intelligence training in Kolkata then we are the inspiration for you. Learn artificial intelligence in Kolkata from our institute to get innovative ideas and continuous growth in the career. Artificial intelligence certification cost in Kolkata from Besant technologies is reasonable for the content which covers the traditional model of supervised and unsupervised learning, statistical techniques, projects, and learning resources, events.
In this Artificial Intelligence Training in Kolkata learners would be involved in the experimentation of algorithms, tools, and frameworks of artificial intelligence to get deeper knowledge into the implementation of artificial intelligence. Scikit-learn, Amazon machine learning, Apache mahout, Microsoft Cognitive toolkit, Tensor Flow and Keras are some of the trending frameworks which use Artificial intelligence.
Answer 3 Simple Questions
Get upto 30%* Discount in all courses. Limited Offer. T&c Apply.
Register now
Artificial Intelligence Course in Kolkata Syllabus
Module 1: Introduction to Data Science (Duration-1hr)
What is Data Science?
What is Machine Learning?
What is Deep Learning?
What is AI?
Data Analytics & it's types
Module 2: Introduction to Python (Duration-1hr)
What is Python?
Why Python?
Installing Python
Python IDEs
Jupyter Notebook Overview
Module 3: Python Basics (Duration-5hrs)
Python Basic Data types
Lists
Slicing
IF statements
Loops
Dictionaries
Tuples
Functions
Array
Selection by position & Labels
Module 4: Python Packages (Duration-2hrs)
Pandas
Numpy
Sci-kit Learn
Mat-plot library
Module 5: Importing Data (Duration-1hr)
Reading CSV files
Saving in Python data
Loading Python data objects
Writing data to csv file
Module 6: Manipulating Data (Duration-1hr)
Selecting rows/observations
Rounding Number
Selecting columns/fields
Merging data
Data aggregation
Data munging techniques
Module 7: Statistics Basics (Duration-11hrs)
Central Tendency

Mean
Median
Mode
Skewness
Normal Distribution

 Probability Basics

What does mean by probability?
Types of Probability
ODDS Ratio?

Standard Deviation

Data deviation & distribution
Variance

 Bias variance Trade off
Distance metrics

Euclidean Distance
Manhattan Distance

Outlier analysis

What is an Outlier?
Inter Quartile Range
Box & whisker plot
Upper Whisker
Lower Whisker
Scatter plot
Cook's Distance

Missing Value treatment

What is a NA?
Central Imputation
KNN imputation
Dummification

Correlation

Pearson correlation
ositive & Negative correlation
Module 8: Error Metrics (Duration-3hrs)
Classification

Confusion Matrix
Precision
Recall
Specificity
F1 Score

Regression
Module 9: Machine Learning
Supervised Learning (Duration-6hrs)
Linear Regression

Linear Equation
Slope
Intercept
R square value

Logistic regression

ODDS ratio
Probability of success
Probability of failure Bias Variance Tradeoff
ROC curve
Bias Variance Tradeoff
Unsupervised Learning (Duration-4hrs)
K-Means
K-Means ++
Hierarchical Clustering
SVM (Duration-2hrs)
Support Vectors
Hyperplanes
2-D Case
Linear Hyperplane
SVM Kernal (Duration-2hrs)
Other Machine Learning algorithms (Duration-10hrs)
K – Nearest Neighbour
Naïve Bayes Classifier
Decision Tree – CART
Decision Tree – C50
Random Forest
Module 10: ARTIFICIAL INTELLIGENCE
AI Introduction (Duration-9hrs)
Perceptron
Multi-Layer perceptron
Markov Decision Process
Logical Agent & First Order Logic
AL Applications
Module 11:  Deep Learning Algorithms (Duration-10hrs)
CNN – Convolutional Neural Network
RNN – Recurrent Neural Network
ANN – Artificial Neural Network
Introduction to NLP (Duration-5hrs)
Text Pre-processing
Noise Removal
Lexicon Normalization
Lemmatization
Stemming
Object Standardization
Text to Features (Feature Engineering) (Duration-5hrs)
Syntactical Parsing
Dependency Grammar
Part of Speech Tagging
Entity Parsing
Named Entity Recognition
Topic Modelling
N-Grams
TF – IDF
Frequency / Density Features
Word Embedding's
Tasks of NLP (Duration-2hrs)
Text Classification
Text Matching
Levenshtein Distance
Phonetic Matching
Flexible String Matching
Looking for Master your Skills? Enroll Now on Triple Course Offer & Start Learning at 24,999!
Explore Now
Upcoming Batch Schedule for Artificial Intelligence Training in Kolkata
Besant Technologies provides flexible timings to all our students. Here is the Artificial Intelligence Training in Kolkata Batch Schedule in our branches. If this schedule doesn't match please let us know. We will try to arrange appropriate timings based on your flexible timings.
04-12-2023

Mon (Mon - Fri)Weekdays Batch 08:00 AM (IST)(Class 1Hr - 1:30Hrs) / Per Session Get Fees

07-12-2023

Thu (Mon - Fri)Weekdays Batch 08:00 AM (IST)(Class 1Hr - 1:30Hrs) / Per Session Get Fees

09-12-2023

Sat (Sat - Sun)Weekend Batch 11:00 AM (IST) (Class 3Hrs) / Per Session Get Fees

Can't find a batch you were looking for?
Corporate Training
If you want to give the Trending technology experience to your esteemed employees, we are here to help you!
Trainer profile of Artificial Intelligence Training in Kolkata
About Artificial Intelligence Trainer
My name is Venkat Reddy. I have 10 plus years of experience in predictive modeling, data mining, machine learning, data science, data visualization, big data, Azure machine learning, and data mining. I have used my skills for revenue forecasting, credit risk analysis, social media analysis, and marketing. I work as one of a trainer at Besant technologies for an Artificial intelligence course in Kolkata and love to share my knowledge to create professionals which the IT industry needs.
Build your resume to the latest trend, and get a chance to know our Tie-Up Companies
Placed Student's list
Besant Technologies Certification is Accredited by all major Global Companies around the world. We provide after completion of the theoretical and practical sessions to fresher's as well as corporate trainees.
Our certification at Besant Technologies is accredited worldwide. It increases the value of your resume and you can attain leading job posts with the help of this certification in leading MNC's of the world. The certification is only provided after successful completion of our training and practical based projects.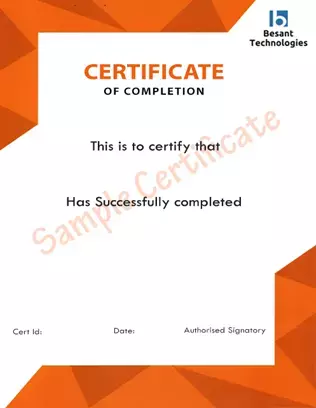 Group Discount
If you have Three or more people in your training we will be delighted to offer you a group discount.
30+ Hours Course Duration
100% Job Oriented Training
Industry Expert Faculties
Free Demo Class Available
Completed 800+ Batches
Certification Guidance
Artificial Intelligence Project
Project 1: Create financial advisor chatbot with a website
In this project patters of data related to the stock market, tax guidelines and corporate news are given to the system. Machine learning, neural network, and quantitative analysis aid for analyzing the unstructured data and real-time patters with financial markets. Artificial intelligence is used to create robot advisors with websites for analyzing the stock market or tax-related issues. This helps in making money and reducing tax losses. The algorithm will analyze the data points of 35,000 financial institutions using natural language processing. The website chatbots create a conversational website with live chat and personalized experience.
Project 2: Create a mobile app with travel recommendations
Travel Mobile app is developed with the data input of flight prices, hotel addresses, and hotel rental details during Artificial Intelligence Certification in Kolkata. Based on the theme or plan the robot will provide advice related to travel. By using the data related to user activity and search experience of the user the app suggests the recommendations to the user. Natural language processing, deep learning, machine learning, big data analysis, and marketing are some of the skills used in this project.
Training Courses Reviews
My name is Sheetal. I am interested in robotic tools, algorithms, and cognitive science theory. I joined artificial intelligence training in Kolkata to upskill my intelligence in the field of artificial intelligence. The trainers and the course advisors are very friendly. The trainer shows special interest over every student to make them strong in the subject. I got placed in an MNC company as an analyst. Thanks for the Artificial intelligence training and the ambiance extended to me for better learning.
Sheetal
I would like to thank Besant Technologies for giving such a wonderful learning experience. It is a great platform to learn trending technologies with practical knowledge. I have completed Artificial Intelligence
Ramya Shukla
Hi, I'm Anita. I have joined Artificial Intelligence Training from Besant Technologies. The training was scheduled properly and the support team helped me to manage the classes at my convenient time. It leads to learning the course without any confusion. Thanks to Besant Technologies.
Pranish
Frequently Asked Questions
Besant Technologies offers 250+ IT training courses in more than 20+ branches all over India with 10+ years of Experienced Expert level Trainers.
Fully hands-on training
30+ hours course duration
Industry expert faculties
Completed 1500+ batches
100% job oriented training
Certification guidance
Own course materials
Resume editing
Interview preparation
Affordable fees structure
Besant Technologies is the Legend in offering placement to the students. Please visit our Placed Students List on our website.
More than 2000+ students placed in last year.
We have a dedicated placement portal which caters to the needs of the students during placements.
Besant Technologies conducts development sessions including mock interviews, presentation skills to prepare students to face a challenging interview situation with ease.
92% percent placement record
1000+ interviews organized
Our trainers are more than 10+ years of experience in course relavent technologies.
Trainers are expert level and fully up-to-date in the subjects they teach because they continue to spend time working on real-world industry applications.
Trainers have experienced on multiple real-time projects in their industries.
Are working professionals working in multinational companies such as CTS, TCS, HCL Technologies, ZOHO, Birlasoft, IBM, Microsoft, HP, Scope, Philips Technologies, etc…
Trained more than 2000+ students in a year.
Strong theoretical & practical knowledge.
Are certified professionals with high grade.
Are well connected with hiring HRs in multinational companies.
No worries. Besant technologies assure that no one misses single lectures topics. We will reschedule the classes as per your convenience within the stipulated course duration with all such possibilities. If required you can even attend that topic with any other batches.
Besant Technologies provides many suitable modes of training to the students like
Classroom training
One to One training
Fast track training
Live Instructor LED Online training
Customized training
You will receive Besant Technologies globally recognized course completion certification.
Yes, Besant Technologies provides group discounts for its training programs. To get more details, visit our website and contact our support team via Call, Email, Live Chat option or drop a Quick Enquiry. Depending on the group size, we offer discounts as per the terms and conditions.
We accept all major kinds of payment options. Cash, Card (Master, Visa, and Maestro, etc), Net Banking and etc.
Please Contact our course advisor+91-9677 266 800. Or you can share your queries through info@besanttechnologies.com